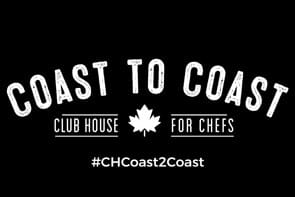 Coast to Coast with Club House® for Chefs : Winnipeg Edition Episode 2
April 30 2019
Have you caught road trip fever yet? Club House® for Chefs continues their Coast-to-Coast Tour across the culinary communities of Canada this season, and you can view the recap of their inaugural stop in Edmonton, Alberta here.
Following the city tour of Winnipeg with Chef Hitzer, it was time to take the day's inspiration and create some brand-new dishes with other local restaurateurs. First on the collaboration list was The Merchant Kitchen, a contemporary restaurant serving Asian and Latin American dishes by Chef Jesse Friesen.
Club House® and Chef Friesen formed a spring/summer feature worthy of a menu's front page, the Piri Piri Fried Chicken Salad. This was made with boneless chicken thighs which were brined in a blend of Club House French Mediterranean Sea Salt and brushed with a Club House® Piri Piri-seasoned oil. The chicken is then served alongside the salad portion of the recipe and a lime wedge.
The team was then humbled to team up with Feast Cafe Bistro's Chef Christa Bruneau-Guenther, known for serving 'modern dishes rooted in First Nations foods.' Chef Guenther demonstrated the creation of the Shaved Bison Roasted Sandwich. This dish is comprised of bison eye, peeled and sliced onion, diced carrots, garlic cloves, red wine, beef broth, oil and Chef Guenther's favourite, Club House® Juniper Berries.
Next up was Oxbow, a locally-focused shared plates restaurant and wine bar, featuring the culinary talents of Chef Sean Bernard. Wielding his Club House® Sriracha and Lime blend and Club House® Cumin Seeds, he made a collaborative Sriracha & Lime Labneh, complete with cumin-roasted beets, local quinoa, kale and pickled carrots.
The end of the Winnipeg restaurant adventure was soon partaken with none other than Chef Hitzer right within his own kitchen at deer + almond. Together, Club House® and Chef Hitzer concluded their day with the making of the Falafel Burger, complete with chickpeas, toasted Club House® Cumin and Club House® Coriander Seeds, garlic, white onion, cilantro, lemon, Club House® Turmeric and Club House® Crushed Red Pepper.
Keep up with Club House® for Chefs on Instagram @CH4Chefs / #CHCoast2Coast as they continue to meet top chefs, explore new places and create new dishes just for you across Canada. Next stop, British Columbia!