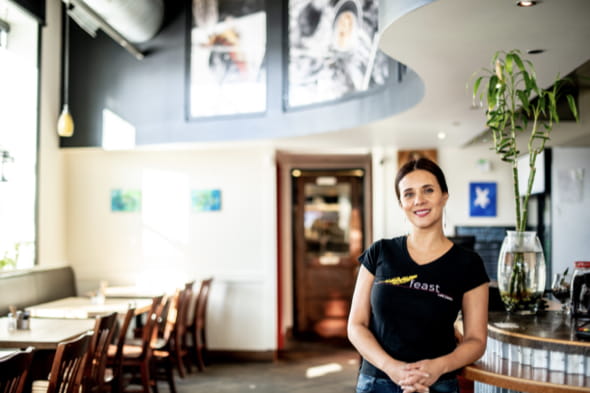 A Winnipeg Feast for the Indigenous Souls
April 30 2019
From her dedication toward proper daycare nutrition to celebrating her First Nation culture through her restaurant, Feast Café Bistro, Winnipeg's own Chef Christa Bruneau-Guenther is truly one to watch in 2019 and beyond.

We sat down with Chef Bruneau-Guenther to find out more about her Indigenous journey within Manitoba's culinary landscape and what inspires her as she dedicates her career to the food and people native to the land.
Before starting up Feast Café Bistro, you were creating healthy dishes with the intention of showing the children of your former daycare how to eat well while connecting with their Indigenous roots. What were the original reactions, from children and the adults, to that part of your initiative and how did you progress from there, leading up to FCB?
Honestly, the children and many adults didn't like nor want to eat the healthy foods I prepared! There was a curiosity and interest; but to actually consume the food, they were reluctant and often refused, only because it was so foreign to them. The only solution I could think of was to include the children in my grocery shopping and cooking process, which also evolved into growing our traditional foods in a mini garden!
Once they could touch, smell, even place the ingredients into the grocery bags, identify and understand which of the food groups they belonged to, this spiked more comfort in trying new foods. The biggest impact was teaching them how to prepare the meals and including them in the whole cooking process. From washing the vegetables, chopping, serving the foods to one another and even the clean-up, learning these skills resulted in the desire to eat the food they made. They felt a sense of pride, self-worth, and even confidence from participating hands on with the food.
To reconnect to our First Nation culture through food was elating and empowering! After continued years of learning, gardening, developing recipes, teaching children, youth, and community members how to cook and gain more traditional First Nation food knowledge, the opportunity came to open Feast Café Bistro.

How does your approach to cuisine at Feast Café Bistro differ from that of the First Nations Food Guide-inspired meals at your daycare?

My food style is very much the same; how I incorporate as many Indigenous ingredients into one dish that will be delicious, family-style and celebrate my culture. The one big change is that we didn't use bison at first; it was still very expensive and not as readily available at that time.
What were some of the biggest challenges in growing and promoting Feast to the mainstream Canadian consumer? How did you overcome this and what were the reactions?

People were not as willing to accept that there was no beef on my menu, only bison. Many people haven't tried bison and were afraid they would not like it. We had to assure and educate the customers on how delicious bison was. It's lean, healthy, has 85% less fat than beef and has a sweeter flavour. We also had to tell customers if they did not like it, their meal was on us and let's just say we have not had to give away free meals. People always love our bison!
Through Feast Café Bistro, we also inform and educate customers on the history of the buffalo; its importance to our culture and how they are humanely raised, free of hormones, therefore as close as you can get to a wild animal. It leaves customers feeling good about the food they are consuming in body, mind and spirit!

Who, would you say, are the majority of your patrons?

Such a mix. We have a lunch working crowd, art and theatregoers, university students, immigrants, delegates, community members, leaders, and our very own Indigenous Peoples!

Where do you continue to find indigenous inspiration for your menu development and flavour processes?
Growing our traditional foods in my own garden is always inspiring. Plus, Elders with food knowledge, plant-based books, other Indigenous chefs, visiting farms, getting gifted wild game from friends and family, traveling to other countries where foods and restaurants are dominated from the local culture, people and foods from that land.

Name your best-selling dish, and why you believe it's such a hit.

Our Roasted Butternut Squash Bannock Pizza which has pine nuts, squash, bannock, and maple, four Indigenous ingredients plus local Bothwell cheese. We finish it with bison sausage, just to take it up a notch!

There are also our Bison Burgers with Wild Blueberry BBQ Sauce and Pow Wow Bison Traditional Tacos. For dinner, our Bison Roast with Potato Squash Mash, and Local Lemon Pepper Pickerel would be another!

The Squash Pizza is the ultimate hit because it's unique and so people are curious to try it. Once they do, they are hooked! As of the other meals, you just can't beat home-cooked, fresh, simple dishes made with love!
Describe your favourite occurrence/memory that has taken place, or story that has been told, at Feast Café Bistro so far.
Visiting the bison farm that supplies all our meat. It was one of the most moving, spiritual experiences my staff and I have ever had. We wanted to give an offering to the buffalo, pay our respects, pray for the land and thank them for sacrificing their lives to nourish and feed our customers and us at Feast Café Bistro. To walk among them out in the fields and have that moment with them was a memory no one will forget. The bison's reaction to our offering was something even the farmer hadn't seen before. It was nothing short of a miracle to realize and know that those bison knew exactly why we were there and truly gave us their blessing!

How do modern spices and seasonings come into play with the more traditional ingredients used in your Indigenous-inspired dishes?

When you cook for as long as I have, and you experiment with different spices, you quickly realize that there are so many modern spices that can enhance and complement traditional Indigenous ingredients. That's the beauty of cooking; you can evolve, infuse, and create dishes that are your own, yet still highlight and pay homage to your traditional native foods!

Where do you hope to go from here in terms of restaurant development, and personal initiatives regarding Indigenous food and health? What dish would you like your restaurant to offer in the near future as well?

I hope to start sharing recipes and write a cookbook that is holistic with family-style recipes that are realistic for the home cook while being family-friendly. I'll maybe start doing food and gardening videos and start the conversation about healthy food choices plus the importance of cooking as a necessary life skill.

Ultimately, I hope to inspire people to get back in their kitchens and gardening, all while highlighting and incorporating our traditional First Nation foods that grow right here on this great land! As for Feast Café Bistro, I hope to expand the catering department, maybe open more locations. How great would it be to see a Feast Café Bistro in every city across the country? I would also like to see another protein on my menu like venison.
What do you believe Winnipeg itself needs to be to be the next culinary destination?
I think Winnipeg already is a culinary destination! We are smack middle in Canada, we celebrate all four seasons and our city has one of the most culturally diverse food scenes in the country. We also have the largest population of First Nation People and celebrate this in so many positive ways. We have festivals during all the seasons that are highly culinary food-based. There is a lot to love about Winnipeg as a culinary destination and now it has one of just a handful of restaurants in the country that celebrates the food, people and culture truly native to this land - Feast Café Bistro!