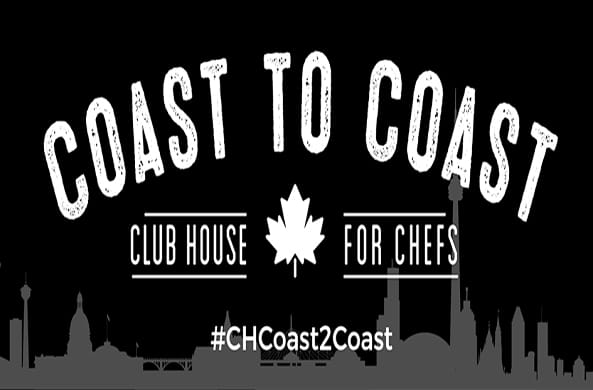 Coast to Coast with Club House® for Chefs :: Winnipeg Edition Episode 1
April 02 2019
Have you caught road trip fever yet? Club House® for Chefs continues their Coast-to-Coast Tour across the culinary communities of Canada this season, and you can view the recap of their inaugural stop in Edmonton, Alberta HERE.
After Club House® and top chefs from Alberta created new dishes like the Brazilian BBQ Pork Sausage Bao and Fiery Habanero & Roasted Pepper Popcorn Shrimp, it was time to head to the next tour destination - Winnipeg, Manitoba! With temperatures in the negative double digits and plenty of snowy, icy ground to cover, it was deer + almond's Chef Mandel Hitzer to the rescue, acting as honourary storyteller and tour guide for the day.
Chef Hitzer is a Manitoba Ambassador for the Terroir Symposium and the Executive Chef behind the RAW:almond, a pop-up event that brings international chefs to Winnipeg each year. He has also been one of the most major witnesses to the city's foodservice evolution. From a simple, historic city to a new, rising culinary destination, Winnipeg is attracting more and more aspiring food lovers, who are uncovering the potential to learn, cook and succeed in the city's many changing wards, especially Chef Hitzer's South Osborne neighbourhood.
The team started the day with a visit to Luda's Deli. Run by Tracy Konopada, and only open for breakfast and lunch, Luda's is quite literally a place where everyone knows your name, and it might even be on the menu.
"When I was asked to do a city tour, Luda's was the first place I thought of because when I come to eat here, it makes me feel like I'm at home," Chef Hitzer explained. "I tried to bring the RAW:almond chefs here but they were closed, so I definitely want to bring the chefs here next time."
Some items on Luda's menu are directly inspired by the people who have ordered them like the Wally Fries, a huge order of fries, and the Ronnie Omelet, an omelet with everything you can imagine thrown into it. While there's no Mandel option yet, he did inquire about the possibility of a custom Pierogi Poutine.
It was then time for the group to weather the cold for a small outdoor walking tour of permaculture with Tiffany Grenkow, Orchard Steward at the Sustainable South Osborne Community Co-op.
This initiative was launched in 2009 when members of the South Osborne community decided they wanted to makeover weeded property sites to improve and help their neighbourhood. Eventually, their gardening and production efforts garnered the participation of representatives from organizations like the Riverview Garden Society and even the City of Winnipeg, making the co-op location one of the biggest outdoor gardens in Winnipeg.
"People spend their free time in the summers with others from the community here in South Osborne, all tending to the garden," said Chef Hitzer. "You can apply to take over a lot; or if you're not from the neighbourhood, you can come visit and still have a stab at farming or gardening for the first time. There's a group, South Osborne Permaculture Workers Cooperative, who get together to grow food for restaurants. They even planted an apple orchard."
Upon arrival at the South Osborne Permaculture Commons, the crew learned how Tiffany had first showed up at deer + almond 6 or 7 years ago, beginning Chef Hitzer's journey in inspiration and being challenged as a chef to learn more about food. So far, he notes having learned where his restaurant's food comes from, how it's grown, when it grows plus how and when to use it. The group was able to see where items like Russian paragon, bergamot, sorrel and mint had already been planted in the cold, snow-covered gardens. They even had the opportunity to taste fresh sea buckthorn right off the tree.
After, Chef Hitzer brought the spice squad to Little Sister Coffee Maker, home of 'thoughtfully-sourced' coffee, also located in South Osborne. With a wide-ranging patronage from artists to farmers to corporate executives, and great music in the background to boot, Chef Hitzer couldn't help but relish it all as if it was for the first time.
"They make some of the best coffee in Winnipeg, it has the best environment to come hangout in and have a beautiful cup of coffee before I start my day."
Caffeinated and ready to see more food growth processes from warmer indoors, it was time for a chat at Braman's Greens, Chef Hitzer's go-to when he needs naturally grown micro-greens for his dishes.
This family farm is located in the country, has been operating since 2005 and remains by its standards of sustainable, chemical-free farming. No herbs or produce are picked or cut from their gardens until the ingredients are ordered, avoiding the need for storage and optimizing their freshness and quality.
"The legendary Braman's Greens," Chef Hitzer proclaimed inside the greenhouse, "best salads and greens, in my opinion, in all of Manitoba. It even has a heated ground and then the sunlight powers the rest, allowing the greens to grow all year long."
And just like the spices in Chef Hitzer's restaurant, Adele Braman has her many greens' seeds in Club House® containers for easy "seasoning" of the boxed soils. In summer, it's not uncommon for some of Braman's produce to have an easy 7-day turnaround, compared to the 1.5 to 2-week turnaround in the wintertime. While natural light is the biggest necessity for the greenhouse throughout the year, their micro-greens and popular items like kale and baby romaine often receive a little help from Adele's sounding bowls, crystal bowls which are used for musically-assisted growth via widely resounding vibrations.
Ready to head back out into the chill of the afternoon for one last activity, Chef Hitzer brought the crew to meet Trevor Kristjanson of Kristjanson Fish along with his father, Chris Kristjanson. A fifth-generation fisherman, Trevor took everyone out onto the still-frozen Lake Winnipeg via his Bombardier, a machine from the 1940's that can travel on all winter weather terrain. These were once used to transport remote community children to school and are perfect for making one's way on and off the icy, snowy water bodies. On-route to the perfect fishing spot, Chris gave a lesson on the various islands, how they were landed upon in the 1800's and how the pioneers had fished to survive. This whole opportunity was a dream come true for Chef Hitzer who has held a long-term relationship with the Kristjansons but hadn't yet taken in the full commercial fishery experience.
For citizens of Winnipeg, a popular time to fish is the spring and the fall. Kristjanson points out that those who call themselves fishermen and fisherwomen will fish the "long" season, the winter season, which is considered November to April, as ice can last on the lake until the end of April.
"The more people you get in the world to try the fish that nobody knows about, the better that is for us commercially, sustainably and financially," Kristjanson informed Hitzer. "People all over the world are talking about the food that you're preparing using our fish. Without chefs like you, where would we be?"
Keep up with Club House® for Chefs on Instagram @CH4Chefs / #CHCoast2Coast as they continue to meet top chefs, explore new places and create new dishes just for you across Canada. Next stop, Vancouver, British Columbia!