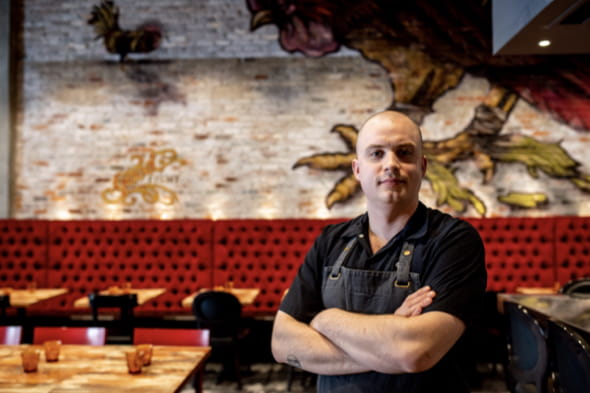 From Pizzeria Great to Gold Medal Plates
April 08 2019
A graduate of Red River College's Culinary Arts Honours program, Chef Jesse Friesen has never slowed down, no matter the climate of Winnipeg's weather or food scene.
While also working as Executive Chef of Pizzeria Gusto and The Merchant Kitchen, Chef Friesen has competed in the Canadian Culinary Championships and been awarded two medals in Gold Medal Plates, among many other competitive standings.

We recently sat down with Chef Friesen to learn more about his work-life-competition balance while maintaining both consistency and inspiration in each of his restaurants.
Here in Winnipeg, you're not only known for your work at The Merchant Kitchen and Pizzeria Gusto but also your participation, and victories, in competitions like Gold Medal Plates '16 & '18. What inspired you to take on such a tough event?
When I was an apprentice, I never actually saw a point of competing. My mentor, John Feliciano, told me that it's not only to challenge yourself. It's more for networking, showcasing your skills, learning new skills and then hopefully sucking up some glory at the end of the day.
How did you maximize your time behind-the-line at The Merchant Kitchen and Pizzeria Gusto to prepare for the final competition?
Work comes first, of course, but planning to get to a competition, especially one out of town, is like a second job. There's a lot of practicing, tasting, inviting people to come to try your dishes including judges from the competition's previous years. There's a lot of extra work and late nights that are required in the preparation process.

Which learnings and flavour processes did you learn during this year's competition and how will you adapt them to The Merchant Kitchen and Pizzeria Gusto?

At the Canadian Culinary Championships, and ongoing in general, a current trend is to stay away a little bit more from heavy proteins and do more plant-based dishes. So, that is something we will be going forward with during the spring and summer months.

I'm a huge fan of root vegetables – beets, parsnips, turnips and carrots. They're really nice in the winter but you can play around with them and have them stand out on your summer menus.
The Merchant Kitchen and Pizzeria Gusto vary in terms of menu styles. How do you bring forth your signature cooking style to the centre-of-the-plate at each restaurant?
I enjoy simple yet comforting refined food and that's what we do at both locations, they're just a different type of cuisine. We use similar methods between the two restaurants. I like to have it so that if someone dines at Gusto on a Monday and then at Merchant Kitchen on a Tuesday, they can see it's the same restaurant group and the same people with the same goal, which is to please the guests.
Where do you find flavour inspiration for each of your restaurants' menus?
Seasonal changes are definitely number one. I like to demonstrate and offer this at both restaurants. For example, having lighter offerings that include fresh flavours in the summer, versus warmer, heartier dishes in the winter months.
What are the biggest challenges you face in sourcing ingredients to create The Merchant Kitchen's global-inspired dishes?

Consistency is definitely a challenge, especially when it comes to the ingredients we use at The Merchant Kitchen as they are sourced outside of Winnipeg. For example, we use whole coconuts for one of our desserts and are unable to receive them due to seasonality so we have to comprise.
When these issues occur, we have to go to a specialty store and purchase a similar ingredient but it is different than what our guests have come to expect. Luckily, in Winnipeg, we have these specialty stores to overcome our seasonality issues.
How would you like your dishes created at both restaurants to inspire and expand the Winnipeg food scene?
I would like if the dishes inspired people in the industry, or at home, to enjoy the food so much that they almost try to mimic. They want to make it themselves but put their own spin on it.

How do you believe Winnipeg could become Canada's next big culinary destination?

Winnipeg's food scene is vibrant. The sense of community behind it, plus the people who put the work into the food and drinks, is a big deal. I feel like Winnipeg is moving forward with more people not only coming and eating food but also getting to know who prepared it.

Overall, I think Winnipeg is well on the way. Our food scene has definitely come a long way in the past 10 years. We have a variety of events and new dining destinations that are happening or are in the works such as RAW: Almond, The Common at The Forks and Hargrave Street Market at True North Square.