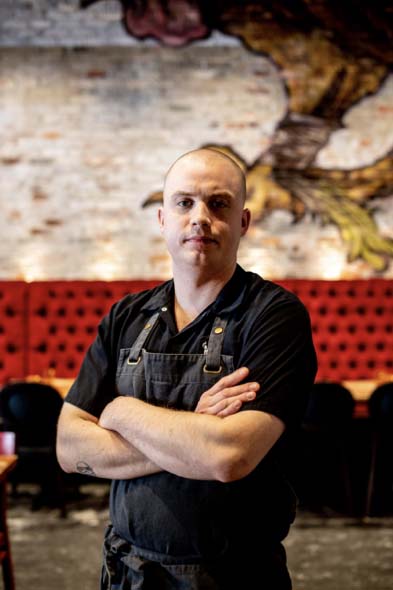 10 Things You Didn't Know About Chef Jesse Friesen
April 08 2019
A graduate of Red River College's Culinary Arts Honours program, Chef Jesse Friesen has never slowed down, no matter the climate of Winnipeg's weather or food scene.
While also working as Executive Chef of Pizzeria Gusto and The Merchant Kitchen, Chef Friesen has competed in the Canadian Culinary Championships and been awarded two medals in Gold Medal Plates, among many other competitive standings.
We recently sat down with Chef Friesen to find out the juicy details you're dying to know.
1.Must-have spice?

Smoked Paprika.
2.What's your favourite pizza topping?

Cheese – Fontina, Gorgonzola, Parmesan.
3.Pro-tip for creating wood oven pizzas?

Temperature of the oven. It needs to between 800 and 900 degrees Fahrenheit.
4.Biggest lesson you learned about yourself as a chef competing in Gold Medal Plates?

You can't win every time; however, it's a great opportunity to meet new people and develop new skill sets.
5.Signature dish at The Merchant Kitchen?

Green fried chicken. I can't take 100 percent credit for that my friend Chef Eric Lee was the one that brought that to the table before my time.
6.Which competition would you consider competing in again?

IKA Culinary Olympics that is held in Germany every four years.
7.Go-to street food?

A really good poutine.
8.Cooking technique you've mastered?

I believe in learning and developing skill sets no matter where you are in your career or kitchen but I would say fish butchery.
9.How do you see Winnipeg's food scene expanding?

I think we're well on our way. We do events like RAW: Almond and Table for 1201 annually. Also with chefs like myself putting their name on the line representing Manitoba at national competitions.
10.What flavours will you be experimenting with next?

I'll be bringing back some lighter dishes like ceviche and carpaccio.