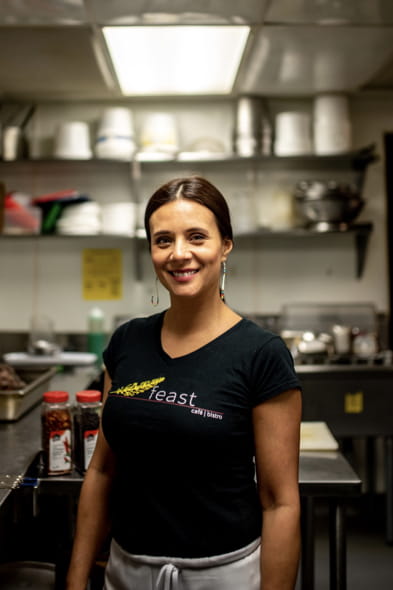 10 Things You Didn't Know About Chef Christa Bruneau-Guenther
April 30 2019
From her dedication toward proper daycare nutrition to celebrating her First Nation culture through her restaurant, Feast, Winnipeg's own Chef Christa Bruneau-Guenther is truly one to watch in 2019 and beyond.
We sat down with Chef Christa Bruneau-Guenther to find out more about what makes this chef tick.
1.

Favourite Indigenous flavour or ingredient?

Squash.
2.

Go-to spice or seasoning?

Club House Crushed Red Pepper.

3.

Three ways you use crushed red pepper?

I put them in eggs, marinades, rubs, and soups. I use it as a garnish for everything as well.
4.

One flavour/dish you'd love to add to your menu?

I definitely want to include venison in the near future.
5.

How would you like to evolve the Indigenous food scene in Winnipeg? What's your take on Indigenous cuisine?

Indigenous cuisine can be quite controversial because it's not in the mainstream. It's a very new thing but it has been here for hundreds of years; the food, the ingredients, the recipes.
6.

How to take Indigenous cuisine to the next level?

I would like to see more Indigenous chefs, more Indigenous restaurants going up, promoting more of our traditional foods in the mainstream.
7.

Signature dish at Feast Café Bistro?
Roasted Butternut Squash Pizza, add Bison Sausage on it though.
8.

Most unique indigenous dish/ingredient you've tasted?

I would have to say seal. Tried it for the first time recently and it was amazing!
9.

Where do you source your indigenous/local ingredients?

Mostly Manitoba First Nation communities.
10.

Most commonly used cooking technique in your kitchen?

Marinating for 24-48 hours, braising and stewing.