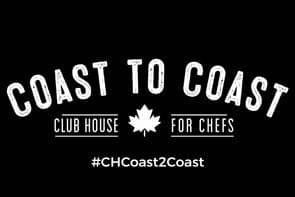 Coast to Coast with Club House® for Chefs: Montreal Edition Episode 2
November 05 2019
New to the tour? Read our recaps of Edmonton here, Winnipeg here, British Columbia here and Halifax here.
Fresh from the East Coast, we visited downtown Montreal to meet some of the city's most established foodservice operators and suppliers.
After exploring decades of tradition and history at La Baia Dei Formaggi, St-Viateur Bagel, Quincaillerie Dante and Moishes Steakhouse, we met up with a few local chefs that presented us with the roundup of their best ideas from the last little while. The best part? They're easy to make for any chef with the right spices.


The first stop was Le Diplomate;a chic, yet cozy hidden gem nestled into the city's Mile-Ex neighbourhood-and home to Chef Aaron Langille.
Aaron's perspective on flavour has been shaped by stints in Barcelona, Copenhagen and California, so we were eager to see what he'd do with some of our favourite products; La Grille Fiery Habanero & Roasted Garlic Seasoning and Club House® Crushed Red Pepper.
His Spicy Braised Pork with Baijimo-Style Bun and Red Pepper Dip was more than on point. It was outstanding and so easy to prepare. It definitely qualifies as a dish that'll keep your guests coming back!
Following Le Diplomat, we made our way to Provisions Restaurant in the upscale, tree-lined neighbourhood of Outremont, and home to Chef Partners Hakim Rahal and Pablo Rojas.
Originally introduced by mutual friends, this pair eventually began to build their dream restaurant concept together; complete with a menu that changes daily plus the addition of Provisions Wine Bar + Butcher. With Club House® Black Pepper, Restaurant Grind and La Grille Fiery Habanero & Roasted Garlic Seasoning in hand, they made the fall's hottest new appetizer, a Beef Tartare with Black Pepper Aioli & Fiery Habanero & Roasted Garlic Chips that can be served tapas-style or right at the bar. Any leftover aioli makes for a delicious dip, or sandwich spread.
Next up was dessert at Arthurs Nosh Bar; a delicious Jewish deli on Notre Dame West in St. Henri. Run by Chefs Reagan Steinberg and Alex Cohen, it is known for its'unique take on a traditional deli concept through the fusion of Moroccan and Jewish flavours. For their dish, Reagan and Alex combined the Cumin and Cardamom flavours in Club House® Garam Masala with the mild, buttery-like notesof Club House® Roasted Garlic and Peppers Seasoning to make Garam Masala Spiced Vanilla Glazed Sufganiyot; a delicious new donut dessert topped with grated crystallized hard cheese, flaky salt and Club House® Peppercorn Mélange. Its' combination of sweet and savoury flavours make it a unique and welcome addition to any holiday menu that's sure to impress!.
Our last stop in Montreal to wrap up the 2019 Coast to Coast Tour, was Impasto in Little Italy to meet back up with its Executive Chef (and EC of Chez Tousignant, Pizzeria GEMA and Vesta), Michele Forgione. His spice of choice was the Club House® Peppercorn Melange, which he used in a to-die-for Cacio e Pepe. Forgione acknowledged that Cacio e Pepe is back in a big way, and he couldn't wait to do his own super-simple take on it.
"I toast the Black Pepper at the beginning before grinding it to let all of the essential oils come out and bloom," he said.
Our jaunt through the 514 was a blast and so eye-opening. The stories, the characters, the restaurant settings and, of course, the food. Montreal is a wonderfully unique and exciting destination for chefs and foodservice operators. We can't wait to come back.
In fact, we can't wait to return to any of the places we visited on our tour. Our country is a hotbed of culinary talent, and we're thrilled that our products will continue to be key ingredients for the top culinary professionals that continue to elevate Canada's food scene.
Looking to relive this year's Coast to Coast Tour and all the recipes that came with it? Head to Instagram and check out all the savoury action @CH4Chefs / #CHCoast2Coast.