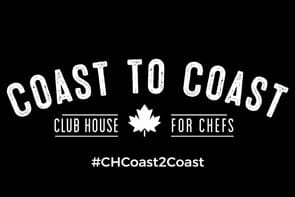 Coast to Coast with Club House® for Chefs: West Coast Edition Episode 2
June 06 2019
Club House® for Chefs' Coast-to-Coast Tour headed west this month for a culinary exploration of beautiful British Columbia. New to the tour? Catch the recaps of our previous stops, Edmonton and Winnipeg.
As much as everyone would have loved to spend the rest of the day among the animals, it was time for Club House® and Chef Belcham to depart on to their restaurant run, ready to create brand new collaborative recipes with some local chefs!
First up was the Crusted Parsnip Roots, invented behind the scenes by Chef Scott Jaeger of The Pear Tree Restaurant. These parsnips are served on a bed of Club House® Sea Salt-seasoned puree and can be topped with a garnish of your, or your guests', choosing! This dish also features the sweet, smokey and versatile flavour of Lawry's Maple Bacon Wings Seasoning, not just for wings anymore!


Next, the team headed to Alta Bistro, ready to create a hot new summer appetizer with a very familiar seasoning for everyone. There, the spice squad met Chef Nick Cassettari, steaming and smoking their way to the formation of their Sourdough Tempura Honey Mussels! As if the honey mussels alone aren't a-lure-ing enough, this dish is served on a bed of delicious OLD BAY aioli, because you can't have seafood anything without a little OLD BAY.
But of course, what a new summer appetizer needs is a great new summer entrée to follow! Enter Chef Alex Chen, Executive Chef of Vancouver's Boulevard Kitchen + Oyster Bar. Chef Chen's Slow Cooked Brazilian Style Pichana with Chimichurri Sauce is your guests' passport to holiday flavour, all without ever leaving their table in your restaurant.
Rounding off the list of BC-made custom Club House® dishes is the Chilled Sidestripe Shrimp with Fennel, Tallow Croutons and Brazilian Spiced Vinaigrette. Served on pre-chilled, fennel-topped plates and topped with tallow croutons, this Club House® creation by Chef (and Honourary BC Tour Guide) Robert Belcham is sure to keep guests refreshed and swimming in savoury flavour all season long.
Follow along with Club House® for Chefs and their Coast-to-Coast Tour on Instagram @CH4Chefs / #CHCoast2Coast. Their adventure in food destinations and new dishes continues as they head to the –other- coast for a Maritime exploration of flavour in Halifax, Nova Scotia!