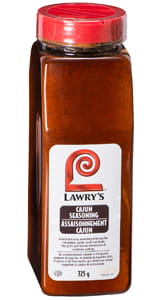 Lawry's Cajun Seasoning
Cajun Seasoning is a bold and sassy seasoning with paprika, red pepper, garlic, onion and herbs that gives you flavour reminiscent of Louisiana cooking.
Perfect with chicken, pork, fish and seafood; simply shake on or add to flour/bread crumb coating; bake, grill or fry. Add to one pot dishes, soups, vegetables, jambalayas (spicy rice dish), gumbos (stew/soup), stir fries, and marinades. Use to make blackened fish or chicken. Use in salad dressings for bean salads, corn relishes, mixed vegetables and salsas. Sprinkle into scrambled eggs, omelets, over devilled eggs, over nachos, pizza, chili or anywhere added heat and flavour is desired. Ground spices should be added just before the end of the cooking time as they release their flavour quickly.
Nutrition Facts
Per 1 g (1/2 tsp)
Amount
% Daily Value
Calories 0
Fat 0 g
0%
Saturated 0 g
0%
+Trans 0 g
Cholesterol 0 mg
Sodium 140 mg
6%
Carbohydrate 0 g
0%
Fibre 0 g
0%
Sugars 0 g
Protein 0.1 g
Vitamin A
2%
Vitamin C
0%
Calcium
0%
Iron
0%
| ITEM CODE | PACKAGE SIZE | SHELF LIFE |
| --- | --- | --- |
| 066200011802 | 725 g | 15 Months |
Ingredients: SPICE & HERBS (INCLUDING PAPRIKA, RED PEPPER), SALT, DEHYDRATED GARLIC & ONION, GLUCOSE SOLIDS, CALCIUM SILICATE.
Recipes to try: