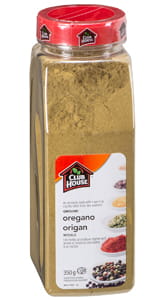 Club House Oregano Ground
Oregano is a common species of Origanum, a genus of the mint family and is used for the flavour of its leaves, which can be more flavourful when dried than fresh. Oregano is strongly aromatic with a slightly bitter, pungent flavour. This pungent flavour is composed of earthy/musty, green, hay and minty notes. The herb imparts a slightly astringent mouthfeel. Its flavour and aroma are similar to marjoram and thyme but is stronger than both.
Oregano goes well with tomatoes and is a natural with any tomato dish. Use to season pasta sauces, tomato juice, pizza, chili, barbecue sauce and vegetable soup. It is excellent in egg and cheese dishes, seafood salad, stuffings, sauces for fish and on lamb, pork, chicken and fish.
Nutrition Facts
Per 0.5 g (1/4 tsp)
Amount
% Daily Value
Calories 0
Fat 0 g
0%
Saturated 0 g
0%
+Trans 0 g
Cholesterol 0 mg
Sodium 0 mg
0%
Carbohydrate 0 g
0%
Fibre 0 g
0%
Sugars 0 g
Protein 0.1 g
Vitamin A
0%
Vitamin C
0%
Calcium
0%
Iron
2%
| ITEM CODE | PACKAGE SIZE | SHELF LIFE |
| --- | --- | --- |
| 066200912819 | 350 g | 12 Months |
Ingredients: OREGANO.
Recipes to try: