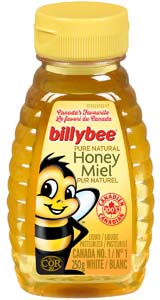 Billy Bee Liquid White Honey
Honey is a sweet food made by bees using nectar from flowers. Since it is pure, it has no other ingredients added and is more nutritious than refined sugar. White Honey is much milder and lighter in colour than Amber Honey. Squeeze some sweetness into your life with our 100% pure and natural liquid honey.
Honey adds beautiful golden colour and delightful sweet flavour to bring out the best in so many foods.Liquid honey in its original form is best used in cooking, baking or stirring into hot liquids. For best results, use recipes developed for using honey.
Nutrition Facts
Per 20 g (1 tbsp)
Amount
% Daily Value
Calories 60
Fat 0.00 g
0%
Saturated 0 g
0%
+Trans 0 g
Cholesterol 0 mg
Sodium 0 mg
0%
Carbohydrate 17 g
6%
Fibre 0 g
0%
Sugars 16 g
Protein 0 g
Vitamin A
0%
Vitamin C
0%
Calcium
0%
Iron
0%
| ITEM CODE | PACKAGE SIZE | SHELF LIFE |
| --- | --- | --- |
| 058500000204 | 250 g | 24 Months |
Ingredients: HONEY
Recipes to try: