Club House Tabletop
Grinders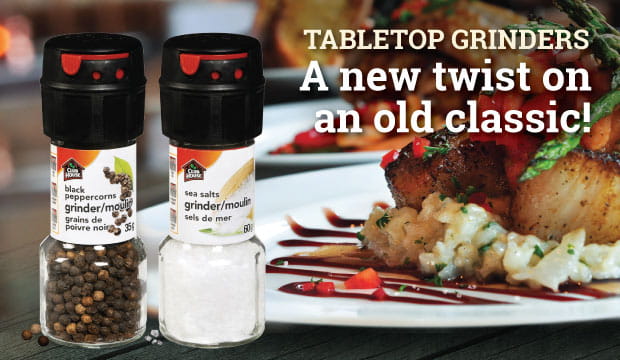 Save time, labour expenditure and reduce contamination
Produced in durable glass bottles that can be easily wiped down
Customers trust the quality of the #1 spice brand in Canada†
Three grind settings: fine, medium or coarse
Customers enjoy freshly ground flavour every time
† Nielsen MarketTrack, National All Channel, L52 ending Aug 20, 2016
Known as "the king of spices" with a pungent, biting aroma & taste. Black pepper comes from the dried, immature berries of the vine Piper nigrum. The berries are picked while still green, allowed to ferment and are then sun-dried until they shrivel and turn a brownish-black colour.
Minerals from the sea give this salt its distinctive fresh & subtle flavour.
Fresh ground lemon and black pepper for a flavourful twist.
A zesty blend of rosemary, parsley and black peppercorn, with hearty pieces of garlic, onion and tomato. This grinder easily adds Italian flavour to pasta, sauces, meats, bread dipping oil and salads.
A colorful combination of whole black, white, green, and pink peppercorns, whole allspice, and whole coriander.