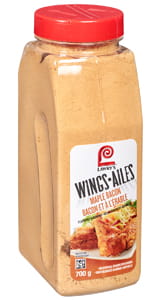 Lawry's Maple Bacon Wing Seasoning
A Canadian classic, sweet and smoky Maple Bacon flavour in a versatile dry seasoning used to make dry or saucy wings. Creates a deliciously flavourful coating on other fried foods including onion rings, French fries, cauliflower bites, tempura vegetables and so much more.
Seasoning can be used on both coated and uncoated wings that have been deep-fried or baked. Cook wings until internal temperature reaches 185°F (85°C)before seasoning. Directions for 1lb (454g) of uncoated or coated wings: Immediately after cooking, toss wings with 1-2 TBSP (15-30mL) of seasoning. For a saucy wing, toss with 2 TBSP (30 mL) of seasoning and 2-3TBSP (30-45mL) of hot water.
Nutrition Facts
Per (1/4 tsp) 1 g
Amount
% Daily Value
Calories 0
Fat 0.5 g
1%
Saturated 0 g
0%
+Trans 0.00 g
Cholesterol 0.00 mg
Sodium 40 mg
2%
Carbohydrate 1 g
0%
Fibre 0 g
0%
Sugars 1 g
Protein 0 g
Vitamin A
0%
Vitamin C
0%
Calcium
0%
Iron
0%
| ITEM CODE | PACKAGE SIZE | SHELF LIFE |
| --- | --- | --- |
| 066200017958 | 700 G | 450 days |
Ingredients: CORN MALTODEXTRIN, BROWN SUGAR, SALT, SUGAR, NATURAL FLAVOUR (INCLUDING BACON AND MAPLE), FANCY MOLASSES, SPICES (INCLUDING CHILI PEPPER), HIGH OLEIC SUNFLOWER OIL, MAPLE SYRUP FLAKES, FRUCTOSE, CARAMEL COLOUR, WORCESTERSHIRE SAUCE (VINEGAR, REFINERS' MOLASSES, GLUCOSE, SALT, CARAMEL COLOUR, DEHYDRATED GARLIC, SUGAR, SPICES, TARMARIND, NATURAL FLAVOUR), CALCIUM SILICATE, SILICON DIOXIDE.
Recipes to try: