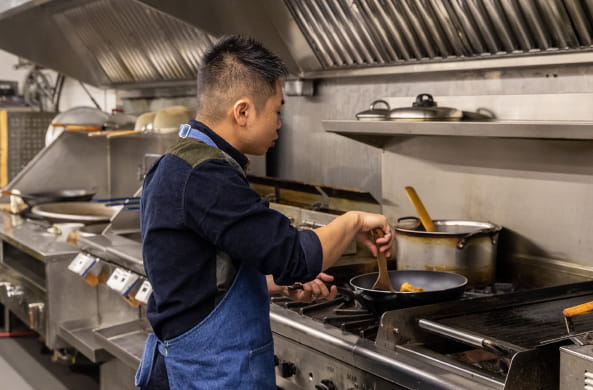 The New Ways Of Asian-Canadian Cuisine
November 13 2020
Born in Hong Kong, Chef Andy Yuen came to Saskatchewan with his family in 1996. He spent his early years working in kitchens for his uncle and parents. His formal education was in engineering, but when mining operations slowed down and his parents sold their restaurant, Chef Yuen pivoted careers to open The Odd Couple restaurant with his wife in 2014.
We caught up with Chef Yuen to find out how he integrates his culture into cuisine while using local Saskatoon and Canadian ingredients.
Odd Couple offers Asian-inspired dishes with a Canadian flair. What led you to this concept?
My landlord Curtis and I used to drink a lot of beer in a local Irish pub called The Yard and Flagon. I always thought, What if there was an Asian version of a pub?
Curtis became a developer, got a space and the opportunity came up. We sold the previous restaurant with my parents and came to open Odd Couple. It's more a restaurant than a pub, but we have wine, beer and cocktails.
We try to offer local Canadian products with Asian flavours. That's how I think we're moving forward to evolve Asian-Canadian cuisine, instead of just having traditional fried rice, chicken balls and chop suey.
We want to embrace local ingredients while using Asian flavours that I grew up with or that we find travelling.
Your menu offerings are inspired by Cantonese, Vietnamese and Japanese cuisines. How do you describe your flavour process?
I'm Hong Kong-born and raised, my wife is from China and my kitchen staff is predominantly Cantonese. One of my chefs is also Vietnamese Chinese.
Pre-pandemic, every January we'd go back to Hong Kong. We love to travel and discover different flavour profiles. We've been to Japan and Vietnam as well. We took a trip with a retired Thai chef three years ago and ate around Bangkok for four days.
Those are the flavour profiles we want to bring back to Saskatoon while using Saskatchewan or Canadian ingredients. For example, we have Maple Thai Pork Ribs. Instead of a traditional sweet and sour pork, we use maple syrup and soy sauce to create a unique taste. We also have a lot of Saskatoon haskap berries we use to make hoisin sauce for pork bellies and jams for cocktails.
For meats, we work closely with a local farm. We chop up a lot of Asian herbs like Thai basil, galangal, Thai chili, lemongrass and ginger. Then, I drive out to Pineview Farms and they use our spice mix to make us sausages.
What kinds of different cooking techniques do you utilize?
In Chinese cooking we use a wok and high, strong heat. You can caramelize the ingredients a lot faster than with a stove. We also use a lot of deep frying and slow braising.
Every now and then, we steam. Cantonese people like to steam or do quick stir-fries. With our kitchen being predominantly Cantonese, we use those cooking techniques with local ingredients the same way we would Asian ingredients.
What flavour challenges have you experienced in combining Asian and Canadian ingredients? How did you overcome them?
I think flavour is okay but it's often the textural expectations we find challenging. In Hong Kong, sometimes when we prepare chicken, we steam it whole and eat it with the skin on. It's not crispy like North Americans typically prefer.
Similarly, a lot of times in Cantonese cooking, meats will be bone-on, served and eaten that way. My customers prefer boneless and skinless. When you have no skin to cook, the meat can become dry and it's harder to keep moist.
At lunchtime, we have a dish called Hong Kong Style Pork and Chicken on Rice. It's something I grew up with and ate a lot as a kid. It was served bone-on and skin-on but because of the preferences in Canada, I adapted using a grilled chicken breast. We serve it with a ginger chutney so my customers can still understand the flavour profile I want them to enjoy.
How have you successfully pivoted your business to stay open during the pandemic?
We're super grateful to have amazing customers who support us. We actually shut our restaurant before the government and province of Saskatchewan asked. We didn't feel safe operating indoors, so March 16th was our last dine-in service.
The next day, we started doing pick-up and delivery. We'd never done it before and asked our servers to drive. My wife and I have a spare vehicle, so they use ours if needed.
It was working out well until the summer when other restaurants started opening. We were one of the last to re-open dine-in because we follow very strict protocols. One of our chefs is in their early sixties so I really wanted to be safe and take time to assess the situation.
With less capacity inside the restaurant, we're able to make up the sales with takeout and delivery. The response has been great; our customers are amazing.
What's next for Odd Couple? How would you like to see your business grow in the future?
Just this month we started a project called Travels with Odd Couple, since nobody can travel internationally. It's a monthly menu set around destinations we've visited in the last few years, mostly from Asia and Southeast Asia. This month is Vietnam.
We also work with local suppliers on this. For example, we have destination-based ice cream made from a place called Fable Ice Cream; 9 Mile Legacy Brewery (my neighbour) makes a specific beer for each destination; and Pineview Farms supplies all of the meats for the menu.
It's had a great response so far and we look forward to the next menu destination in November, which will be Hong Kong. Thailand will likely be December.
Prior to the pandemic, I thought about how to expand. We have different food ideas to share but we want to weather the storm to see how it will be by next summer before we pursue something long term.