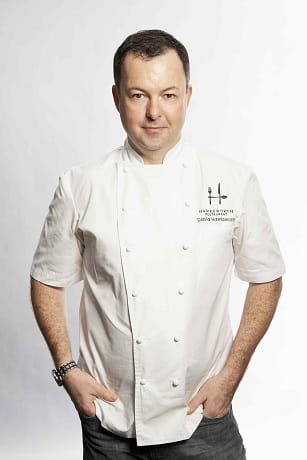 The Makings of a Canadian Top Chef
October 13 2017
Every year, chefs across Canada step out of their restaurants and into a national competition for the Hawksworth Young Chef Scholarship (HYCS) where they not only cook to impress but also gain outside inspiration and much improved skill development.

Overseeing all rounds is Chef David Hawksworth. Having started in Vancouver before cooking across Europe in Michelin-accredited restaurants, Chef Hawksworth has a proven eye for technical skills, quality preparation and talent worthy of further development.

We spoke to Chef Hawksworth to attain his top-level perspective and advice on how future budding chefs stand out amongst their HYCS competitors.

The Hawksworth Young Chef Scholarship invites talented young chefs across Canada to compete for the opportunity to receive $10,000 and a stage at a top international restaurant. Explain the application process, specifically what you're looking for in the applicant's dish submissions in terms of flavours, ingredients and pairings?

At the beginning of the year we put out a list of ingredients from which applying chefs must create a main course dish recipe that could be served to four people in a two-hour completion time. The application package also includes food costing, candidate info, employment and qualifications. We review the whole package and pick ten competitors for each regional heat held in Vancouver, Calgary, Toronto and Montreal.

Each competitor cooks a dish for four at the regional heats. We are looking for dishes that are perfectly cooked, correctly seasoned, with balanced flavour. Competitors are also judged on their kitchen skills including technique, time management, etiquette and professionalism. From there, we take the two best contestants from each city and advance them to the finals, which this year will be held in Toronto.

In the regional heats, the top chefs are competing against each other by creating a main course dish for four within two hours, using ingredients from a pantry provided. Describe your flavour process for selecting products for these pantries?

We look to the latest trends and try to throw a few curveballs in there so that the dishes are unique and the chefs are challenged to be creative. We also include some familiar items that make sense and are kitchen staples. We're not trying to mess around with anyone or make things too difficult.

What are the biggest flavour challenges that these young chefs face when stepping into a kitchen with a unique but prearranged pantry?

When constructing a dish, it is important to consider different flavour profiles and textures. Flavours should not compete on the plate but complement each other with balanced acidity, salt, spice and sweetness. We want to see a quality dish that you could have in a restaurant and be happy to pay money for. Dishes must stand out among the other competitors but not be so wild that it's crazy or too far out.

Each of the regional heats are judged by some of Canada's industry leaders such as Connie DeSousa, Mijune Pak, Derek Dammann and Rob Gentile. What are the judges looking for these chefs to bring to the table?

Organization, cleanliness, they have to work well with their assistants and run their stations efficiently. When it comes down to the dish, they are looking for something that's not too complicated and makes sense on the plate. So much can happen in those two hours when you're making four servings and it can sound quite easy but it's a difficult competition when you're actually doing it under pressure.

It's about nailing the cooking and the seasoning of the dish, but also making sure that other elements are taken into account as well; hot plates, consistency, organization, portion sizes. For example, are the vegetable ingredients nice and green? Does each plate look exactly the same? We will pick the dish apart and ask if it would be something we could serve in our own restaurants.

Following the regional heats, the top 8 chefs compete in the final black box competition. How are you looking for the chefs to incorporate the different ingredients featured in their dish?

We want them to do this in the best way possible! We advise the finalists to practice many variations of cooking techniques beforehand; perfecting proteins, pasta, sauces, purees and coming up with something consistent that they feel very comfortable with. While the concept of a "black box" is intimidating going into the competition, they should have a solid plan for what their dish will look like and be able incorporate the secret ingredients where they will be showcased the best.

What's one piece of advice you would give to the chefs participating in this competition?

I'd say practice as much as possible and don't go overboard by trying to do a 4 hour job in 2 hours.

Also, slow and steady wins the race here too. It's better to let other people make the mistake of pushing as fast as they can from the start and then running out of gas.

Can you tell us what defines a Hawksworth Young Chef Scholarship Champion?

Someone who is organized, dedicated, focused on his or her craft, thorough in approach, proud yet humble and someone who simply lives, breathes and loves cooking.