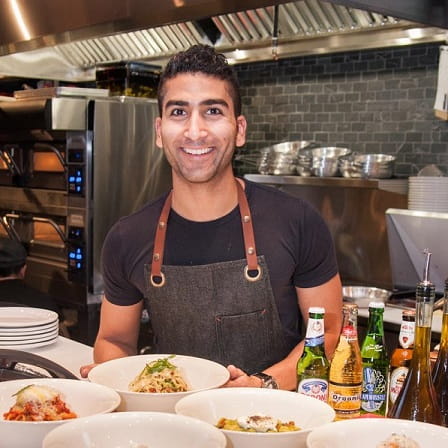 The Fast-Casual Italian Dining Experience
December 22 2017
After making the switch from a short career in accounting, Aurora, Ontario's Chef Shahir Massoud travelled to New York City to study at the French Culinary Institute. From there, he worked under Lupa Restaurant's Chef de Cuisine Cruz Goler, eager to learn as he moved from prep work in the basement to finally cooking in the kitchen. Massoud eventually wound up with additional kitchens on his resume including The Mark Hotel, Saveur Magazine and Lupa until, one day, a Craigslist ad changed everything.

Answering an advertisement that was seeking an individual for the purpose of restaurant concept and menu development, Shahir returned to the GTA to open the resulting restaurant, now known as Levetto.

Since then, Levetto has grown into seven restaurant locations with Massoud as chef/partner, all while also taking on a hosting position on CBC's daytime talk show, The Goods.

We spoke with Chef Massoud about his inspiration and processes behind the scenes at Levetto plus how he keeps these efforts simple, premium and affordable.

Levetto is defined as a fast-casual Italian dining restaurant. Share with us the inspiration behind this style of restaurant.

We started in the Spring of 2013 and the idea was to take simple food and elevate it but at a better price point than anyone else.

When we first opened, people were asking, "why are you opening a pizza place?" because pizza and pasta are everywhere. While that's true, I just felt that no one was doing it with the standard that I was used to in the fine dining culture of other countries or at an affordable price point where you could visit once or twice a week.

Describe your process for designing menus that not only pay homage to the classic Roman flavour profiles but also the fast-casual dining experience.

With the fast-casual dining experience, the kicker is that you have to be scale-able and able to train any level of cook on how to execute your dishes to a level of standard that you'd like to keep super high.

In terms of the process of developing a menu's recipe, you've got to be creative in terms of finding ways to break it down into trainable steps that people can realistically execute. Some of our cooks are students, taking this on as a night job between university classes, and a lot is done with that in mind.

Italian cooking lends itself toward simple cooking by nature as it is really about the right balance of basic ingredients and then comes down to training and execution. For example, a big part of our business is the training itself, it has to be. When you really think about traditional Roman dishes, there's nothing over a few ingredients but they're done the right way with the right level of care and technique. It's also a big part of our model that these menus have to be easy and approachable but delicious.

Your menus are comprised of the freshest, seasonal, authentic Italian ingredients. What's your secret to keeping your menu prices affordable while incorporating these premium ingredients?

Whenever you see a fresh pasta on a menu for $24, you've got to ask yourself, "what in that $24 are we talking about here?" Oftentimes, you're actually talking about high rent, big footprint, high labour, linens, candles; all of these are built into that number. There's no reason that fresh pasta or pizza can't be half that price because we're talking about taking flour, eggs and olive oil and making something delicious.

It really just came down to our business model in terms of what we want; lower rent, a smaller footprint, lower labour and a streamlined menu that's really good at almost half the price.

Explain how you have had to adapt your cooking style and techniques to fit this type of restaurant environment?

It comes down to forward thinking about who will actually be executing those dishes every day. You design a recipe differently if you know that your 19-year-old part-time chef will be doing it as opposed to a sous chef who went to culinary school and had a certain level of training in their career. It's hard to explain but that's part of the fabric of the mind when developing those types of recipes. These recipes happen to be really great to learn, even as a home cook, because they're doable, approachable, practicable and executable.

So, what's next for Levetto? How do you plan to elevate the fast-casual dining experience?

We're now focusing more on seasonal specials. In any one of our locations, the same 5-6 top dishes seem to get ordered over and over again but that allows us to play around with new specials and seasonal changes.

In November 1/3 of the menu changes to reflect this and we try using different ingredients. We're going to be doing an amazing spiced lamb ragu, a cavatelli with black truffle butter and a pizza with Brussels sprouts, topped with Italian sausage, among others. We basically get to have fun with this third of the menu at the quality we have with any other dish and at the same price point and we'll see how it goes.