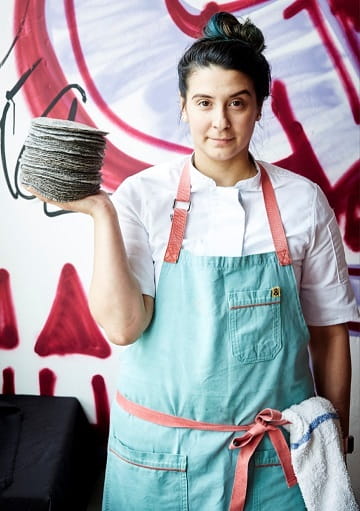 Taking a Food Trend to New Levels of Flavour
April 11 2018
Hailing from La Jolla, California, Chef Christine Rivera has been named an Eater Young Gun (2016) and the global Queen of Masa for her famous line of savoury tortillas, currently being cooked out of her casual Mexican eatery, Galaxy Taco.

We recently had a chat with Chef Rivera to taco'bout the inspiration and processes behind her out of this world cuisine.

The taco craze continues to live on years after going viral. Share with us your flavour process for making Galaxy Taco's tacos stand out amongst the crowd.

The Galaxy Taco recipes and processes were created over a period of two years before we opened. The restaurant has now been open for over 2.5 years and we still find ourselves making adjustments because you always want to push and continue to improve.

You've been recognized on a global scale as the "Maven of Masa." What inspired you to create Galaxy Taco's high-reaching tortilla program?

First of all, the name "Maven of Masa" made me blush. Thank you for the kind words! There are now quite a few chefs out there using great masa and I'm lucky to call many of them my friends. Ultimately, I was inspired to work hard and make delicious tortillas because of how many terrible tortillas there are on the market.

Describe the technique and process behind the making of your hand-pressed tortillas.

It's basically a 24-hour process. We start cooking the corn the day before, doing the batch size based on average how many orders we're getting for that day of the week by looking at daily pars in preparation for the next service. With 2 pots of water boiling, we add the Calcium hydroxide (aka quicklime or slaked lime. It's used to nixtamalize corn) and adjust based on how much corn we're cooking then add the corn. Cook times vary based on type of corn (ex. blue takes less time than white, etc.). This first step always takes place in the middle of our busiest service, dinner.

After the timer goes off, we prepare the corn to rest overnight, immediately chilling to room temperature. All types of corn rest the same amount of time. In the morning. We then clean and rinse the corn, placing it into the Molino for grinding.

You have to hydrate as you grind because the volcanic stones in the molino absorb the moisture. If it's too dry, the stones grind against each other and pieces of volcanic rock end up in the masa. Next, out comes the masa. After that, the following step varies based on maker and restaurant. Some chefs knead by hand but we use a dough hook in a stand mixer. This keeps the hydration consistent throughout the whole batch. We then add a little salt, ball the dough up, hand-pressing a 45g ball which makes 5" tortillas. The way it's cooked is pretty specific for us, we like to flip three times and cook 45 seconds a side for 2 minutes and 15 seconds and until it puffs up. We then stack the tortillas and steam them to make them pliable. If you steam them, they stay flexible.

What are the biggest flavour challenges you face when preparing your tortillas?

There's no challenge with getting great flavour when you are using quality corn. We source our corn from Mexico from a company called Masienda. Their corn is the best I have worked with. For example, after we taste tested a few different types, we then chose Blue Conico corn for our blue corn tortillas.

What's one piece of advice that you would give to chefs looking to specialize or incorporate taco dishes onto their menu?

Don't overcomplicate the taco! When you start with a good foundation, which is usually the tortilla, you are already heading in the right direction.

Define Christine Rivera's signature taco flavor?

I really enjoy the carnitas Taco I currently have on the menu. It was inspired by a restaurant my father would take me to when I was a little girl. They had the best carnitas in town. The setup on the carnitas taco changes periodically but the recipe for making the actual carnitas itself stays the same.

Which new taco flavours and ingredients can we expect making their way into Galaxy Taco's tortillas?

You will have to wait and see. We are always playing with masa and creating different flavour/colour combinations with our already exceptional masa. You can follow me and see these creations on my Instagram @xtine65.