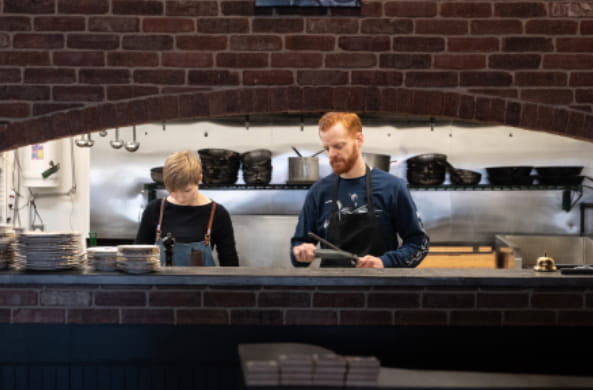 Redefining Prairie Cooking
November 13 2020
Both raised in Saskatoon, Chefs Beth Rogers and Thayne Robstad were inseparable from the culinary arts and each other. After cooking in Toronto and Vancouver, plus travelling cross-country in a camper van, the two were ready to head home and plant their feet in Saskatchewan.
Soon, "home is where the heart is" became "home is where the Hearth is" as they opened Hearth Restaurant, an approachable establishment you can enjoy solo, in a pair or as a party.
We recently got in touch with Chefs Rogers and Robstad to get a better understanding of the inspiration behind their heartwarming concept and how they keep their staff and community front of mind.
Hearth Restaurant offers modest and thoughtful Prairie cooking. What's the inspiration behind this restaurant concept?
We took a lot of inspiration from our grandparents and the humble yet loving food they would make for us. We then applied our modern techniques and creativity to make a beautiful, warm and inviting space to match.
Your menu offerings are inspired by ingredient-forward local styles. What's your flavour process like?
It starts with finding a really good ingredient. We tend to use anything local as much as we can. For example, all of the meat and fish we serve is raised or caught in Saskatchewan. Then, we make the dish as simple as possible while also elevating it.
Explain the different cooking techniques you utilize. How do they maximize those Prairie flavours?
We try to use everything in the toolkit, coaxing every bit of flavour out of each ingredient. We're using a lot of modern techniques like sous vide along with traditional techniques like fermentation and smoking ¾ styles that are close to the history of humanity.
How do you source and incorporate local and seasonal ingredients into your dishes?
Mainly by talking to lots of local farmers and people to grow ingredients or raise meat for us. We have tons of lakes here, so we use all-local fish. It's a community we built over time. You set up a restaurant and start meeting these people. You meet one, then another, then one day a guy says, "Hey, I only pick mushrooms. Do you want mushrooms?" You collect these people in a little Rolodex and the longer you put yourself out there, the cooler ingredients you can get.
What challenges have you experienced in sourcing and incorporating the Prairie flavours you offer? How did you overcome them?
One of the first challenges was not using any seafood. We're a landlocked province with no access locally, so we've been working with some of the people who catch lake fish to try and elevate that game a bit. You can't necessarily get it fresh, but we're attempting to. Things like that have to be constantly worked on.
What's it been like operating Hearth Restaurant during the pandemic? How did you stay open and sustainable?
When the pandemic hit, we laid everyone off and opened an online store. We've been selling premium soups, stews and stuff like that. We're sticking with this since it's been very well received.
As things got a little calmer, we started doing takeout. Now we're back to dine-in operations as well. We've reduced capacity and have a lot more routine cleaning. It's a big battle ¾ you have to do more work with fewer people and less room for clientele inside. You're spread thin while making sure everything is tip-top, organized and as good as can be.
It really changed the game for us and continues to be a challenge, but we're also lucky to be in a position to hire everyone back. Dine-in, takeout, the website ¾ you have to do everything to ensure survival because that's what's on the line. You don't know when you may have to close down again.
What's next for Hearth Restaurant? How would you like to see your business grow?
We're working on making our personal work-life balance more sustainable. We want to be doing this for a long time. Secondly, we're making sure we can take care of our staff by getting them more pay while working a little less. We already have things in place at the restaurant like full health and dental benefits, which I've never had anywhere else I've worked. It's really important to us to take care of our people.
We'll be looking to expand into a few different areas of foodservice. We have a few ideas that are simmering right now that could come to light in the future.