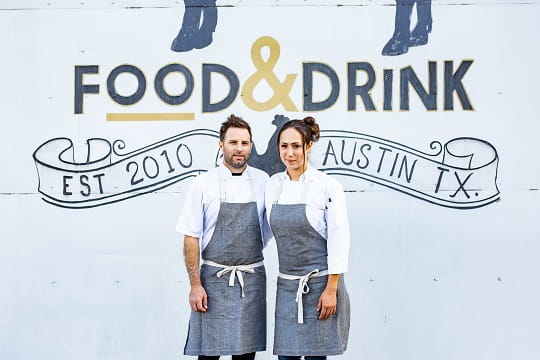 From Chefs to Chef Owners
August 31 2018
In 2017, the lives of Nathan Lemley and Sarah Heard changed forever upon the purchase of Foreign and Domestic, an American-European fare + craft beer establishment in the heart of Austin, Texas.

With Lemley a culinary school graduate and Heard an experienced executive and banquet chef, taking on an already existing restaurant, rather than starting anew, made the most sense in an already bustling, ever-expanding Texan culinary destination.

We recently spoke with Chefs Heard and Lemley about how the venture came to be along with the inspiration, challenges and changes that came with overtaking an established, well-respected establishment.

You recently took ownership of Foreign & Domestic from Chef Ned Elliot. What inspired the two of you to take on this new venture?

Nathan and I have always loved Foreign & Domestic and always talked about how if we were going to open a restaurant, it would be exactly like that. The market in Austin is horrendous right now for new restaurants so we decided that we weren't going to open anything until the market calmed down, if it did. We shelved the idea of having our own business and, one day, we were sitting around talking with Ned and mentioned that he was thinking of selling Foreign & Domestic. Immediately, we were like, "whoa, how much?"

Foreign & Domestic has been a well-known and respected restaurant in Austin, Texas for many years. How are you finding a balance between what the customers have come to expect when they dine at F&D with your own signature cooking styles?

It has definitely been a challenge. We've had a few people come in asking, "where's Ned?" or emailing like "we trust Ned, we don't trust you." When we first took over, we weren't very vocal about it. We kind of snuck in and actually operated for almost a month and a half without Ned before our press release.

During that time, we talked to the regulars, letting them know what was going on. A lot of them had actually gotten to know Nathan and I because we worked there before taking over so we had built a rapport. Also, our styles are not far off from Ned's so there has not been much to change.
After taking over, we didn't do any crazy big changes. We actually ran the same menu for the first few weeks, adding a few new items. We don't do a full menu change at any point of the year. Typically, it's 1-2 changes weekly. I think the biggest change has been trying to go more toward family and neighbourhood friendly, and drop prices slightly. This is mainly because of the current state of Austin's market.

Share with us how you're making the restaurant your own in terms of the featured flavours you're incorporating onto your menus.
In the last year, the whole menu has changed, small changes but many. We definitely focus a lot on the local flavours and farms. We do a lot of foraging and grow a lot of our own ingredients. Many of the herbs used in the restaurant are actually grown in our yard.
We use a lot of fermentation, it's something Nathan and I really love. I do vegetable fermentation and he does more meat fermentation, like curing and fermenting sausages. I think our flavours tend to be bold, bigger and more surprising. Even when it's a heavy dish, you'll come away from eating it thinking "wow, that was really fresh and light." It's a bit of a mind trick.
Describe the role flavour ingredients like spices, herbs and seasonings play in the cuisine you create. Provide examples.
Being foreign and domestic, we use a lot of different herbs that grow here. As far as spices, we use a lot of foreign spices like Indian spices. We'll do a chocolate tart with fenugreek or carrot custard with cardamom. There's definitely a balance in how we try to do everything fresh from here and use of dried ingredients from other places to meld those flavours, play with them and see how we can make them work.
How are your flavour inspirations translated to your menu? Provide examples.
Any time we've talked about the menu or dishes, it always goes back to balance. It's just an intrinsic part of being a successful chef. You have to balance the salt, acid, fat, where your ingredients come from and costs. Everything is a balancing act.
What have been the biggest and most rewarding challenges you've face with delivering high-quality superb ingredients in your transition from chefs to chef owners?
Delivery has always been important to us, we've always understood it, but now it's really important and understood more than ever. At the end of the night, you're looking at the books, the numbers and saying, "did I break even today?" You start looking at your food costs and what customers are ordering. We can no longer say "I really like this dish" but nobody's ordering it but we're keeping it anyway." Now, if nobody's ordering it, it gone. That has definitely been a challenge to overcome. It's a learning process because we've gone from "I know a few people love it" to "it has to be something that people are going to order."
Which new flavours and ingredients can we expect to see incorporated into your appetizers, small plates and side dishes this coming season?
We're definitely looking at prickly pear. I've been sweating my butt off picking prickly pear, so that's going to be working its way in. We also just harvested sweet beans, so you'll also see that somewhere on the menu. Apples will be coming into season a little bit later, and of course persimmons. Persimmons are huge around here and are so amazing.