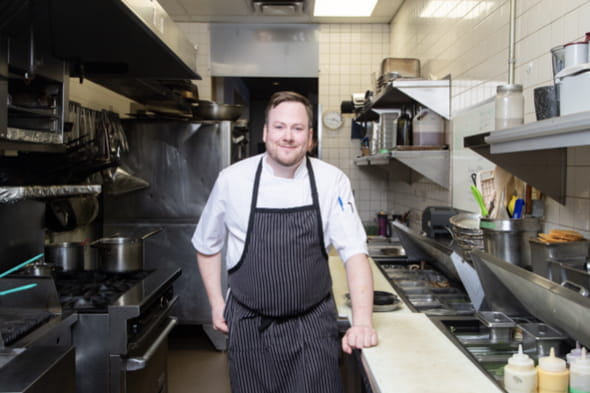 Farming Flavourful Menus in the Heart of Edmonton
March 01 2019
From his early beginnings as a kid's camp cook and apprenticing through the Northern Alberta Institute of Technology, Chef Spencer Thompson has always had not just a passion for food but also for supporting his local community.

After his years of farming produce, as well as operating The Alberta Hotel Bar & Kitchen and Toast Fine Catering, Chef Thompson now resides behind the line at The Marc, an upscale, contemporary French cuisine restaurant in Edmonton.
We spoke with Chef Thompson to find out how his farm-to-table enthusiasm, adoration of locally sourced ingredients and Edmonton living inspire and impact his always-thriving concepts.
Describe how your culinary journey began along with the major inspirations to dedicate your career path to the world of food.
Growing up, my dad worked for a non-profit organization called the Bissell Centre, which provided a lot of necessities and programs to Edmonton's inner city residents. I loved volunteering as a counselor at their camp and when I turned 18, I wanted to do it again but I needed to make some money as well. Luckily, they had a cook position open, which I lucked out in getting.
2 weeks in, their head chef quit and I was left alone for the rest of the summer, making meals for up 80 people 3 times a day plus snacks and doing the dishes myself too. I would wake up extra early to try to serve a hot breakfast each day instead of the cereal or toast that was the usual staple.
From there, I managed to convince Chef Sonny Sung to give me a shot in his kitchen with the Sorrentino's Restaurant Group. His passion for food was infectious and he challenged me to do better every single day. I apprenticed with him for 5 years; he ran a tough kitchen, but he would take the time to pull me aside and make sure that I knew all of the classic techniques he'd learned, from tournee'ing vegetables to consommé, foie gras torchons, beurre blancs and hollandaise. I'd stay 2 hours after my shift each day for 6 months, ruining case after case of potatoes with my tournee knife, trying to get the classic football. He'd stand right next to me, repeating the motion over and over again, and then my ugly ruined attempts would get turned into a potato puree. Eventually, I mastered the technique and could stand next to him and his protégés, repeating the motion and talking shop while we prepared them together.
What made you want to cook, and remain in business, in Edmonton?
I just feel like there is so much opportunity in Edmonton. I've worked with some really amazing entrepreneurs like Nate Box & Patrick Saurette. Edmontonians know when something is sincere and a restaurateur is passionate about their craft. They're a pretty discerning bunch and places without that drive don't tend to last very long. I just kept getting these really amazing opportunities thrust upon me here and I've built some incredible relationships with mentors who I can now call friends that will last a lifetime.
What advantages and disadvantages do you feel Edmonton life gives a restaurateur, in comparison to other Northern Alberta areas?
There's a real drive here to prove ourselves in Edmonton. The restaurant scene has really matured over the past eight or so years and I think we've managed to build a really solid food scene. People here wear their heart on their sleeve and don't mince words. The economy has been hurting lately, but we're a resilient bunch, restaurant folk in Edmonton know how to adapt and have created some fantastic places to gather and break bread.
With farm-to-table a significant part of your restaurant and catering concepts, how does the Edmonton environment impact the creation and implementation of ingredients and dishes?
It's important to keep your cuisine seasonal here, no one wants to be eating green beans in January that are shipped in from California and have zero flavour. There's a supplier/urban farmer in Edmonton, Ryan of Reclaim Farm who convinces the city to let him take over unused spaces in Edmonton to basically cultivate guerrilla farming and then sells his crops in Edmonton's farmer's market and to a handful of restaurants. I am beyond excited to work with him again this spring.
It also never hurts to make friends with your local Hutterite Colony; they've been providing me with some beautiful eggs with apricot-coloured yolks. Plus we have access to Galimax, a group of farms and greenhouses in Southern Alberta. I use them quite heavily right now to supplement our menu at The Marc; all our carrots, romaine, mixed lettuces and tomatoes are coming from them right now and are shipped to us weekly. They're fresh and we've cut the middle man right out, so it has actually been very affordable.
What are some of your favourite spices and seasonings to implement in farmed produce-based dishes?
It's often best to let these ingredients shine on their own but you can really push them to new heights with the right spices. Roasting off cauliflower in a pan with butter and then finishing it with ground sumac is really surprising and what are seared Brussels sprouts without a bit of nutmeg and honey or vinegar? You need to find a good balance and figure out what spices can make your ingredients pop. Chili flakes are always fun if used sparingly. Garlic, chili flakes and broccolini is pretty hard to beat. I like to keep it simple.

What new creations or ingredients can we see making their way to the centre of the plate at the Marc?

You're going to see vegetables being the star of the plate. Also, keep an eye out for an upcoming popup our owner Patrick and I are starting to plan, it will be a continuation of our popular once a month, Sunday supper club dinners that we host at the Marc but this one will be off-site and likely consist of a tasting menu based specifically around vegetables. I think this is appealing not only to just vegetarians but omnivores too.