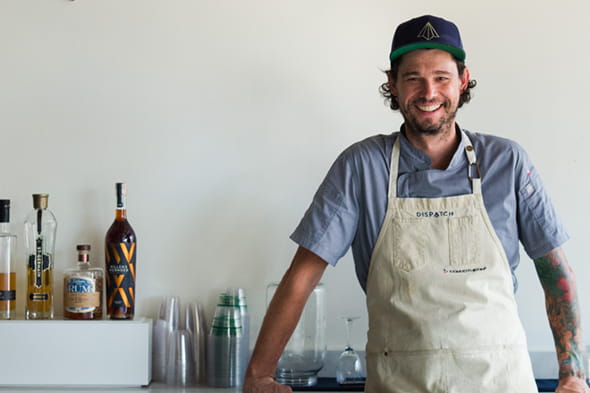 Dispatching Change and Diversity In A Time Of Need
October 15 2020
Australian Chef Adam Hynam-Smith worked his way up in the kitchen beginning in his early teens. Along the way, he travelled the world learning about global flavours, their stories and how he could share them through his food.
After landing in Canada, Chef Adam became co-owner of the award-winning El Gastrónomo Vagabundo, Ontario's first gourmet street food truck. He also worked as a host on the Food Network's hit series Restaurant Takeover. In 2015, Adam released his cookbook, "Curbside, Modern Street Food from a Vagabond Chef."
Today, you'll find Chef Adam at his international fine dining restaurant, Dispatch, in St. Catharines. He serves up his own Australian-inspired cuisine with a focus on hospitality and wine. We headed to Dispatch to speak to Chef Adam about this unique concept and the dark side of the industry he's noticed since leaving Australia.
Dispatch Restaurant has been recognized for offering an elevated experience without the fuss of fine dining. What was the inspiration behind this concept?
We wanted to bring the experience of Australian-style hospitality to Canada. It draws on that environment by using a similar style of service and a no-tipping structure. I was also inspired by my training from back home, which was primarily in North African and Middle Eastern cuisine. I learned about the culture, the variations on dishes, the history of the countries and the backstories of their food.
We also wanted to be transparent, friendly, sustainable and inviting — not only to our staff, but to our guests as well. We want people to walk in and experience something that rocks them in a way they don't quite understand. Many guests who are Australian, or have visited, say they feel like they're back in Melbourne. Others say they can't believe a restaurant like this is in St. Catharines.
Our response is always, "Why? Why can't we have restaurants like this everywhere?" But we want it to be something special.
Your menu offerings have a North African and Middle Eastern flair. What's your flavour process like?
I started cooking when I was 13, then worked in my first professional job as a kitchen hand. I'd already expressed interest in doing this as a career, so I was lucky enough to pick it up and learn new cuisines at that stage. My apprenticeship began when I was 16.
When I got down to Melbourne and secured a job at Mecca — one of the leading restaurants at the time — I learned about North African and Middle Eastern cuisine. I fell in love with those flavours, the history, the culture and everything that came with it.
We're very lucky in Australia to be incredibly diverse. The Turkish community is huge and has outstanding cooking skill. Those restaurants are just incredible. Lebanese and Greek culture also rubbed off on us both in the way they eat and how they live. I connected with all of it on a different level.
I've spent years educating myself about these cultures. When travelling, I like to take time to learn from people who do this for a living in their own country. I love the freedom to cook with, and the fun that comes from, the flavours; it's so exciting and visceral.
One of our goals is to make sure we address wastage within our industry, particularly by learning from restaurants leading the charge in waste management, sustainability and overall elimination. We took the opportunity to go back to school (in a sense) and question everything.
We find ways to utilize ingredients that would normally be thrown out. This is called upcycling: utilizing an ingredient as many times as possible. Then, the by-products get used elsewhere, whether we turn it into something for a cocktail or a different dish. We don't shy away from using one ingredient in many different ways on the plate. We're conscious on many different levels.

How do you source your North African and Middle Eastern ingredients from the Niagara Region?
We source them or find suppliers within our community. We could use the big companies in Toronto, but we choose to support local businesses instead. It comes down to research.
For a lot of the ingredients, we go to our local Asian grocer or Middle Eastern store. We also work with local farmers to get some of our produce. It's very easy with vegetables to get what we need for the flavour profiles we create. When something isn't readily available, we work with local people and businesses to bring it in.
Wine pairing is the main focus of your restaurant. How does this impact the dishes and ingredients you feature?
Our philosophy behind wine pairings is to be fun and carry items that aren't necessarily available anywhere else in the region. We strive to make sure our selection is different to create a unique, fun and adventurous beverage program. This exposes people to varieties they may have never had.
We have Turkish, Greek and Moroccan wines and food to take people places they've never experienced. We're very open to figuring out which dish pairs with our available wines. Turkish wine does not necessarily have to only go with a Turkish-flavoured dish.
It's about challenging peoples' typical or classical ideas of what pairings are and to provide different textures. Most people around here aren't used to a lot of the wines or varieties we have, so it's educational.
As for local wines, we put out what we feel is the best representation of the region and showcase them against some of the greatest from around the world. It goes to show how good some of the wines from Niagara are; they can stand alongside (and sometimes surpass) global wines that tend to get all the credit.
What's it been like operating Dispatch Restaurant this year with the pandemic?
Overnight, all our lives changed. We'd celebrated our first year of business the day everything went downhill. We decided as a group to shut the restaurant down completely.
Straight away, you're dealing with catastrophic financial burdens. You've laid off all your staff with no guarantee they'll have a job to come back to. It's gut-wrenching, as is coming in here day after day and sitting in an empty restaurant, trying to come to terms with the fact you might be losing your financial livelihood, your dream and everything you worked for.
Many days were spent crying and sitting in darkness. I went into complete blackout stages of depression where I barely even talked to my wife. I shut right down.
Overnight, the float our restaurant had was gone. We paid outstanding invoices, payroll and rent. The 40k loan was something we had no choice but to jump on. The reality is, it threw us into even more debt atop what already existed, all while not making any money.
It got to a point where every day I called friends, colleagues and industry people I've never spoken to, just to see how they were. I was figuring out where they were at, what they were trying and how they felt, all while attempting to create an area for people to communicate and express themselves, judgement-free.
I wanted to inspire more people to feel comfortable and talk about their situation. Chefs already suffer a lot mentally; we don't really discuss that enough and the mental health fallout of all of this is going to be catastrophic. Right now, it's getting even worse. I fear a rising rate of suicides within our industry as this goes on, as well as long-term mental scarring.
How have you pivoted your restaurant to keep business sustainable and open during these difficult times?
We made attempts to pivot but every sidestep costs thousands of dollars with no guarantee that it's actually going to do anything. It was terrifying. You're spending all this time essentially starting a new business with the whole e-commerce side of things, building retail selections and creating meal kits for purchase. All of this took so much work, but it wasn't bringing in revenue.

How would you like to see the industry as a whole evolve from here?
I've been very vocal about this from the moment I set foot in this country and was exposed to a tipping model. It's a very different industry here compared to the rest of the world.
I want to see a more sustainable, fair, balanced, healthy, inclusive and diverse industry that isn't destructive. We should set up networks within our industry to help people with drug abuse, mental health or other issues; places they can get support without judgement. We need to talk more about these things so we can face them together.
We also need to create a more structured industry; one that allows us to be looked at as professionals. Despite being professional in what we do, here in North America, unfortunately, we are not looked at in this way.
We need to take the time to appreciate the effort someone in front or back of house puts into learning and working. We shouldn't be taking advantage, demeaning or putting less value on them. Our industry does as much as anyone else in any other career, so I want to see those sorts of things change.
We need to look at how much people are getting paid and not undervalue what we do to sell things at a bottom rate dollar to the general public. I don't want people entering this industry only to go through what I have in my career, and I want people coming out in a stronger, healthier and more sustainable position.