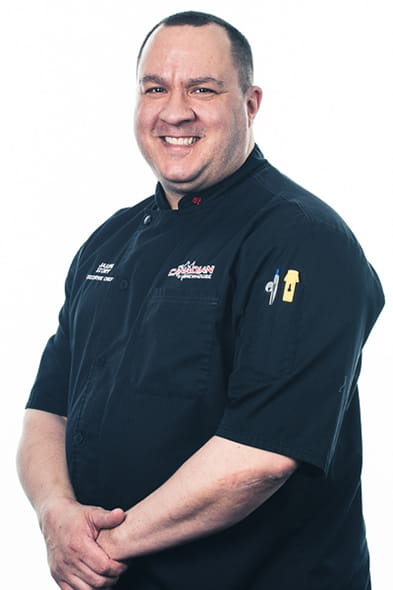 Developing Franchise Restaurant Group Menus
January 10 2018
With 29 restaurants across Canada and growing, Chef Jason Story has become a master of consistency and cross-country culinary teamwork. With menu features and culinary teachings covering such diversified kitchen teams and regional diners, flavour, flexibility and fluency is key in keeping quality and taste the same across the board.

We spoke to Chef Jason to find out the true story behind his long-distance relationships with flavour processes, food development and staff education.

As the Executive Chef of the Canadian Brewhouse chain of restaurants, explain your process for developing menus for each location.

We have sessions where we get the executive team together and all present ideas which are collected from different managers. We then panel those ideas, sitting down and tasting them to determine if they're viable options for all of our restaurants. Typically, we vet those recipes through seasonal features, launching them on a seasonal menu and see what kind of feedback we get.

We do have multiple different demographics which is good because being from Manitoba West, there are multiple regions in terms of flavour profiles. For example, the only location we serve Honey Dill at is in Manitoba because it is a huge component there.

Where do you draw flavour inspiration to elevate the classic pub fare to the next level?

We want to be outside of the box and original in our thought process so we do things no one else does.

For example, something we've recently done is developed a beer cheese which we serve on a philly cheese steak sandwich instead of traditional cheese. It's gooier and messy but has a great flavour profile. We've also been making chicken fingers in-house with Fritos corn chips as the crusting, just something different that you don't see in a lot of different markets.

I'm lucky to have a diverse team including six regional chefs and with all our different strengths, we come up with some crazy ideas like our s'mores skillets. From looking at market trends and doing a little bit of research, we take an idea and not rip it off but brewhouse-ify it, asking ourselves, "how can we make it signature, whether in-house with a beer or using an ingredient we make ourselves?"

What are the biggest flavour challenges you face when developing menus for multiple locations?

The biggest flavour challenge throughout all of our locations is consistency. I think every kitchen has its troubles with staff cutting corners to save time on prep so keeping consistency from store to store is something we strive to make better. I task my staff with what we call the three pillars of our food program; timely, consistency and quality, none of which we sacrifice to achieve another.

How do you maintain flavour consistency and quality across each of your restaurant locations?

We do instructional videos on how to cook different menu items, preparing each item step-by-step, including presentation photos within packages sent out to all of the locations. The regional chefs will do roll-outs within each region to ensure the kitchen managers understand. The kitchen teams can come out and watch these together so that everyone is on the same page. We do this weeks ahead of time to address any questions and shortcomings long before a launch.

If you could provide a chef looking to work in a franchise environment with one piece of advice what would it be?

Immerse yourself in your position, understand the culture and your staff before you start trying to change everything. Everyone has a different method of learning and teaching so if you try to change too much too soon, it'll be met with much resistance and nobody will really buy into what you're doing. Let people get accustomed to you, get everyone on board. Respect isn't given just because you're their chef, it's earned because people respect the way you do things and understand the how and why of what you do. Tread lightly, go in, make changes over time as people get used to you.