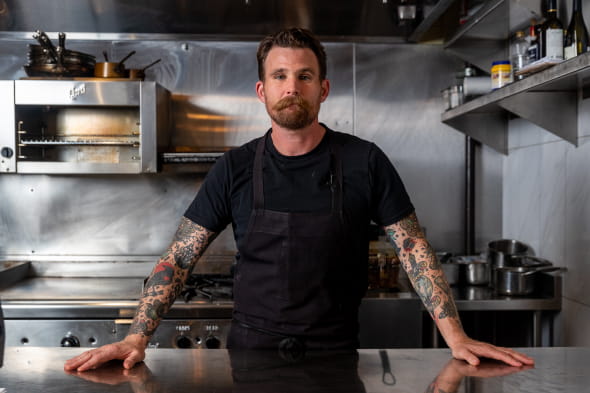 Coast To Coast: Saskatoon Edition
November 17 2020
After exploring international flavour in Ontario's beautiful Niagara region, our Coast to Coast Tour continued with a stop in Saskatoon, Saskatchewan. Club House for Chefs had the pleasure of meeting and collaborating with five chefs in the region: Grassroots Hospitality's Chef Dale MacKay, Odd Couple Restaurant's Chef Andy Yuen, Hearth Restaurant's Chef Beth Rogers and Chef Thayne Robstad, and Ayden Kitchen + Bar's Chef Benet Hunt.
Our crew's first meet and eat was with Chef Dale MacKay, a former Top Chef Canada winner and current Executive Chef behind Grassroots Hospitality. MacKay currently oversees operations and services at four restaurants including Saskatoon's Sticks and Stones, Little Grouse on the Prairie and Ayden Kitchen + Bar, plus Regina's Avenue Restaurant and Bar.
"Each restaurant is different. We flip their menus seasonally as things go in and out."
With the winter dish-ready Club House Chipotle Cinnamon, Chef MacKay was ready to demonstrate his adoration for international cuisine without boundaries. Served with Cilantro Sour Cream, his Chipotle Cinnamon Churros are smoky, mild and delicious to dip ¾ a sure fall favourite for any menu.
Serving up a dish to make taste buds spin, Chef MacKay then plated his new Vanilla Basil Strawberry Pavlova made with fresh strawberries, candied ginger, house-made whipped cream and the subtly sweet, aromatic Club House Pure Vanilla Extract. It's the perfect seasonal dessert to give your guests a treat.
Next, it was time for some Asian-Canadian fare, courtesy of Chef Andy Yuen. Moving away from the traditional rice, chicken and chop suey, Chef Yuen uses his Odd Couple Restaurant to serve elevated Asian flavours made from locally grown ingredients.
"With our kitchen being predominantly Cantonese, we use Cantonese cooking techniques with local products to cook the same way we would Asian ingredients."
Wielding the flavour power of Club House Chipotle Cinnamon and long-time kitchen favourite, Club House Sea Salt, French Mediterranean, Chef Yuen collected fresh, local tomatoes, onions, carrots and beef shanks to form his newest feature dish: Chipotle Cinnamon Lemongrass Beef Stew. Balanced by the zest of lemongrass, a staple Thai ingredient, the dish has an earthiness from the Chipotle Cinnamon and a Thai basil and onion finish. It's true comfort food guests will want to try again and again.
When we were ready for a taste of Saskatoon home cooking, we were introduced to local duo Chefs Beth Rogers and Thayne Robstad, owners of Hearth Restaurant. Working under the mantra, "home is where the Hearth is," and inspired by their families' cooking, Chefs Rogers and Robstad use locally foraged ingredients and lake-caught fish to create simple yet elevated cuisine anyone in Saskatoon can enjoy.
"We really took a lot of inspiration from our grandparents and the humble yet loving food they would make for us. We then applied our modern techniques and creativity to make a beautiful, warm and inviting space to match."
Supplied with beloved pantry picks including Club House Pink Peppercorns and Billy Bee Honey, the chefs created their elevated take on fall pork: Pink Peppercorn Crusted Smoked and Honey Glazed Pork Ribs. Served with Club House Sea Salted hush puppies and roasted shallots, these pork ribs combine the sweetness of honey and the fruity pine of peppercorns to create a flavourful layering that satisfies with both taste and comfort.
Heading back to see our new friends under the Grassroots Hospitality umbrella, our spice squad joined up with Benet Hunt, a Top Chef Canada Season 7 competitor and Executive Chef at Ayden Kitchen + Bar.
Opting for the classic, pungent "King of Spices," Club House Black Pepper, Chef Benet cooked up a Heritage Tomato Salad with smoked goat cheese, cilantro, almond and a vanilla cardamom dressing. Easy to replicate in any kitchen, this dish brings big flavour to guests' plates while still spotlighting its main ingredients.
For even more flavour and recipe inspo, visit http://clubhouseforchefs.ca and follow Club House for Chefs on Instagram @ch4chefs.