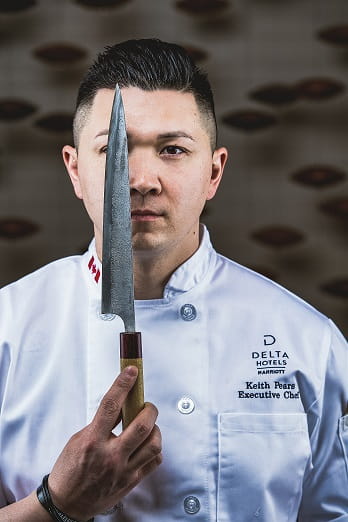 Checking in Behind-the-Line of the Delta Toronto
December 21 2018
Born into culinary lineage with a family-owned café in Vancouver, BC, Chef Keith Pears got his official start at age 15 washing dishes before attending Vancouver Community College; completing his apprenticeship in 2003.
After working with the likes of Chef Lynda Larouche and Watermark on Kits Beach, Chef Pears joined the Delta Hotels family as a 1st Cook at e.b.o Restaurant & Lounge (Delta Burnaby Hotel & Conference Center); eventually becoming promoted to Executive Chef.
Since then, Chef Pears has transitioned to Delta Hotels by Marriott Toronto, a busy, bustling flagship location and a great personal and professional challenge he couldn't wait to take on. We recently had a chat with Chef Pears to get the inside scoop on the goings on and flavour processes behind-the-line at one of Toronto's most popular multi-restaurant hotels.
After graduating from Vancouver Community College's Chef Training program, how did your journey lead you to the hotel niche of Toronto's culinary scene, via the Delta Toronto?
Working for the biggest hotel chain in the world, Marriott has helped me quite a bit by allowing me to travel. I've actually only been living in Toronto for two years having moved here from Vancouver for the opportunity to work at the flagship property for the Delta brand, Delta Hotels by Marriott Toronto.
How do you feel working in a hotel restaurant differs from any other type? What are its unique challenges?
The first half of my career was all non-hotel restaurants and I believe they differ in terms of service. In providing hotel hospitality versus restaurant hospitality, our culture is different via how we're trained mainly in hospitality and how guests are always first. It all comes down to the training, the culture that Marriott breeds and how this all translates into our associates.
Describe a common day behind the line at the Delta Toronto.
We're very busy, as it's quite a high-volume restaurant. We have a team of about 35 cooks serving breakfast, lunch and dinner. Our day starts at 6AM, going all the way until midnight, producing a lot of delicious, approachable food; from classic breakfast and sous vide octopus to the traditional burger and fries. It's a wide variety.
With the Delta's restaurant on the casual dining side, patio included, describe the process of your menu development. Are there separate menus for different areas of the hotel?
We have about eight areas where we serve food in the hotel including a whiskey bar, our SOCO Kitchen + Bar, a grab 'n' go, a rooftop patio and a catering space. Our process is having the chefs and I sit and discuss what types of seasonal products are coming in; produce, meats and fish. We share that information with the team and make it as inclusive as possible with our senior cooks while allowing opportunities for our junior ones. We brainstorm and then we cook!
If you're in the whiskey bar, you're getting snacks meant to be eaten with whiskey drinks. If you're on the rooftop, it's meant for BBQ-style, snack sharing food. If you're in the restaurant, you're getting global cuisine with local Canadian ingredients as much as possible. The room service orders come from the restaurant menu. Then, in our catering, it's all over the map with different ethnic cuisines for different functions. We try to have each outlet have its own identity.
How often are menu changes made, why and what are they?
We change it twice per year in the restaurant and the whiskey bar. Our rooftop and catering menus are changed once per year.
For seasonal changes, we work with our suppliers, seeing what they can get us. Whenever they have interesting ingredients, they let us know and we use that for our menu inspiration.
Some menu changes are bigger than others. We do have some signature dishes now that have been on the menu since the hotel opened and we will keep those items. Then, we'll make these little changes or just get tired of a dish and want to have fun, getting our creative juices out, so we switch it up.
Explain the flavour processes you most commonly use. What role do spices and seasonings play?
They play a big role, especially with Toronto being so diverse and having our catering. We always try to offer an equally diverse menu so we need certain spices to come into play when cooking a particular food.
What spices and seasonings can always be found in the Delta pantry?
Cumin, coriander, star anise, basil, oregano, thyme, turmeric, sage and garlic powder.
Are there any ingredients or dishes you're currently experimenting with for future menu release?
Pickles and fermenting are getting really popular so we're experimenting with fermenting grapes and blueberries. We're actually changing our menu next week so anything we're playing around with right now will be ready in time for spring menu changes instead.