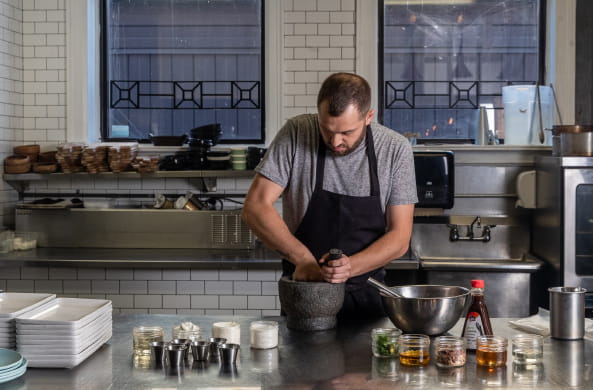 Bringing Globally Inspired Comfort Food To Saskatoon
November 13 2020
Coming from a farm home in England, Chef Benet Hunt was a culinary globetrotter, uncovering the flavour profiles in destinations like India, Thailand and Australia. His journey also included work at Michelin-starred establishments, namely Gidleigh Park and Alfred Dunhill Club.
Now residing in Saskatoon, Chef Hunt is the Executive Chef of Ayden Kitchen + Bar, a Top Chef Canada Alumni and the Corporate Executive Chef of Grassroots Hospitality Group.
We had a chat with Chef Hunt to learn more about his farm-driven operations at Ayden and how he brings global inspiration to his menu, even when temperatures drop, and crops freeze over.

Ayden Kitchen + Bar offers homegrown and global comfort food. What inspired this concept?
We'll do anything we can to make guests feel comfortable in the restaurant. We want people to eat things they know, like chicken wings, but with a twist, like a Thai style with lots of lime, lemongrass and fish sauce as opposed to classic pub wings. We do a really nice handmade burger where everything is made in-house  buns, patties, everything from scratch. We also do a few more elevated dishes including duck and pork.
It's an atmosphere you walk into and straightaway feel like you're at home you want to stay, drink, eat and have a good time.
What are the flavour processes and cooking techniques you use to bring out homegrown and globally inspired flavours?
Myself, Dale MacKay and my Head Chef, Brian, are all classically French-trained, so a lot of those techniques come through. We use a lot of international ingredients and source products from local farmers. We have one in Saskatchewan who just does ginger for us, which is quite crazy; I didn't think it was possible to grow ginger in Saskatchewan, but here we are.
We use so many ingredients to bring out different flavours and do a lot of slow-cooking, overnight cooking, braising and other techniques to make you feel like you're eating something delicious at home. It's about relying on great ingredients, techniques and inspiration from different cultures. We use a lot of Asian, Thai and Southeast Asian influences along with Indian flavours. I'm quite well-travelled and tend to visit India, Thailand and lots of Asian countries to learn about those styles.
How do you source and incorporate local, seasonal ingredients from Saskatoon?
Saskatoon only really comes to life in the summer. Winter can drop to -50oC at times and nothing will grow. But as soon as the snow melts, it turns around so quickly. Farmers get their stuff in the ground, plenty of crops come up again and they have so much to offer in the spring, summer and early fall months. We can almost survive through the winter with that harvest, but we sometimes need to source items from warmer provinces. We try to keep it within Canada or North America when possible.
One of our great local farms is Northwood Farm, just outside Saskatoon. They grow everything from tomatoes, zucchinis and summer squash to peas and onions. They even try crops you wouldn't think could grow here, like ginger and artichokes. We use them across all four of our restaurants; they're such clever farmers and great people.
We also deal with many around town like Peggy's Farm, who deals predominantly in carrots, asparagus and potatoes, and Pineview Farms, from whom we buy a lot of our meats their pork and chicken offerings are so big and juicy, and it's where we get our beautiful chicken wings. That's a dish people keep coming back for.
We wouldn't have Ayden Kitchen + Bar without these farmers. They're the lifeblood of our restaurant and the city. We support local wherever we possibly can. Saskatchewan has such great products how could you not use them?
Cocktail pairings are the main focus of Ayden Kitchen + Bar. How do these pairings impact the dishes and ingredients
?
The cocktail menu is developed by Christopher Cho, one of the owners of Grassroots Restaurant Group. They change with the seasons, just like our food, so it's quite easy to pair them. Apples and pears are in season right now, so they're used throughout both the dishes and the bar menu. Lots of fall drinks go really well with our fall meats and vegetables; that's true for the other seasons as well.
Deeper, darker spirits are used in the winter along with richer, darker meats like beef game, which we braise and slow cook. It goes perfectly with whiskey, scotch or rum.
What's it been like operating this year with the pandemic compared to previous years?
The main thing for us is keeping positive and trying to do our best to keep ahead of the curve. It's so unprecedented and different; no one knows what's going to happen or where we're at. We could close tomorrow if it goes crazy.
We need to push forward, keep everything in line and drum up as much business as possible. We want to run the restaurant as smoothly and unchanged as we can. We've separated tables, stocked sanitizer and made adjustments to keep everyone safe.
We want it to feel like a restaurant and not like walking into a hospital, so we follow every precaution while still maintaining the look and feel. Our servers are happy, and people can come here, have a good time and feel something familiar. Our regulars know it's still the same restaurant. We haven't changed, we've just added precautions to keep them safe.
What's next for Ayden Kitchen + Bar's menu? Which new, seasonal ingredients are you looking forward to?
We're pretty deep into fall in Saskatoon right now; not a lot of leaves are left. We had a little touch of snow recently but hopefully that holds off a bit longer. The menu will slowly start moving away from fresh summertime vegetables like tomatoes and peas.
We'll be dealing with the things we bought in bulk from local farmers during summer then preserved, pickled and brined to keep for winter. We make chutneys, jams and different preserves to use those flavours in November and December when guests need some warmth in their lives.
We have a beautiful tomato chutney we'll be using with braised beef or rich cheese. We'll also use a lot of root vegetables since they last so well. I have a walk-in fridge jammed full of carrots, potatoes, beets and turnips. If they're stored in a dark, cold space, they'll last for months and get sweeter over time.
We'll also feature more heavily spiced things using cinnamon, pumpkin spice, and all-spice those Christmas-time flavours. People really relate to them, so we try to use that to add some comfort.