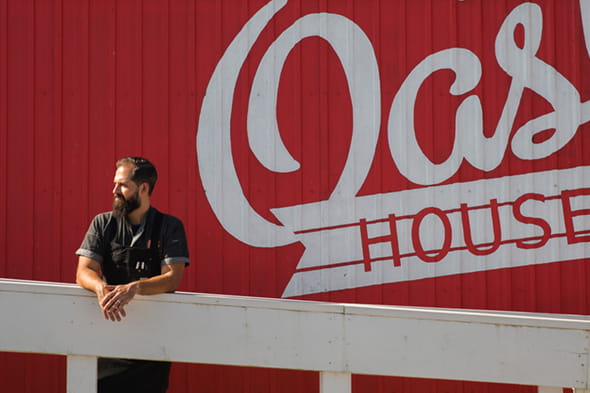 Where There's Smoke, There's Good BBQ
October 15 2020
Chef John Vetere got his start at George Brown College's culinary program followed by an international diploma from Italy's prestigious Alma Culinary Institution.
After working in Italy's Michelin-starred Tamerici and a variety of Toronto-based restaurants, Chef John ran a series of pop-up-style dinners across the Niagara region, earning him a nomination for Niagara's Young Entrepreneur of the Year award in 2015.
Vetere served as the Chef de Cuisine at Ravine Vineyard Estate Winery and is now the Executive Chef of Brushfire Smoke BBQ, located at Niagara Oast House Brewery, as well as an accomplished author.
We recently sat down with Chef John to learn more about his unique BBQ offerings, the Niagara region and what he brings to the smoker from his former life in fine dining.
Brushfire Smoke BBQ is a barbecue-style restaurant working in conjunction with Niagara Oast House Brewers. What is the inspiration behind this concept?
The inspiration is actually in the name. Once or twice a year, the farmers here cut down older fruit trees and burn these huge brushfires. A lot of the fruitwood that they cut down is used for smoking foods at our restaurant, hence the name Brushfire Smoke. It's a homage to the farmers.

Your menu offerings are inspired by American, Canadian and Asian barbecue. How would you describe your flavour process?
It's all based on travel for me. My background training is in fine dining; I worked in many restaurants in Toronto, plus a Michelin-starred one in Italy. I've also travelled to Shanghai. I pull flavours and inspiration from dishes I like and things that interest me.
Whereas American BBQ style has a lot of tradition, we're not really traditional by any means. We're kind of "musical BBQ," combining it with different flavours and profiles. It's an amalgamation of things I've seen and tasted while utilizing some of the techniques from fine dining.
How are you sourcing flavourful, high-quality cuts of meat for your dishes?
We're lucky to live in such a great area for ingredients. Niagara is one of the best growing regions in Ontario. Meeting people in the chef community, it's easy to get to know farmers and purveyors to really work with them. It's such a tight-knit place where people share local suppliers and partners with each other to help build up the Niagara name and products.
Being located in the Niagara Region, how are you taking advantage of the local, seasonal ingredients for your dishes?
We're blessed with having quick access to fresh products with Niagara being such a great area for growing. One of our biggest ingredients, as mentioned before, is the wood we use for smoking. It's a great, ready-made item that's found pretty much everywhere.
How do the beer offerings at Niagara Oast House Brewers impact the flavours and ingredients you incorporate into your menu?
We don't necessarily pair the beer with the food, but that's by design. Beer is such a unique product already that it stands on its own, so we want the food to stand on its own as well. However, we use certain things from the beer process in some of our recipes.
The sugar water that comes off the mash during brewing is called the wort, which we can use for sweetening things. We also use the spent grain by toasting it up to make crumbles.
Explain the different cooking techniques you utilize to prepare your dishes. What impact does this have on maximizing flavour?
One of the most unique cooking techniques we have is our smoker. I think it sets us apart from traditional restaurants where they normally use gas, frying pans and grills.
The smoker creates complex flavour you can't rush. There's no way to fast-track a smoked brisket or smoked pork shoulder; it just needs to do its thing. Using wood local to our area also gives us a really unique flavour profile. We cook everything in it: meats, beans, corn and vegetables.

What flavour challenges have you experienced using a variety of proteins? How did you overcome them?
Some of the challenges come from using a lot of Asian flavours in our BBQ and integrating them into the way we cook. The community isn't always used to these ingredients, so we need to educate and ease in our customer base. We take items like fermented bean paste and gochujang — a slow-fermented chilli paste — then apply them to foods that are well known like fried chicken to make them approachable. People are more willing to try new flavours that way.
It's about the education of the guests. We give them the history of where these products come from and let them experience flavours first-hand to see how delicious they can be.
How have you successfully pivoted your business to keep your doors open during the pandemic?
We pivoted quite quickly to an online model and used our takeout window on the side of the building. Our style of cuisine fits the comfort model of what people want to eat during a time of crisis. We had a lot of family offerings and meals for two that were very well-packaged. People could easily drop them off. BBQ really suits this style of takeout so well.
What's next for Brushfire Smoke's menu? Which new meats and ingredients are you looking forward to using in the coming months?
With Thanksgiving coming up, one thing we do every year is our smoked hams. We make a ten-hour slow-smoked ham brined with ancho chilli and honey butter sauce that gives it a sort of glaze.
As we approach the Christmas season, we'll also be making our smoked Peking duck. It involves a five-day cure hang in the fridge, a two-hour smoke and hot oil ladled over top.