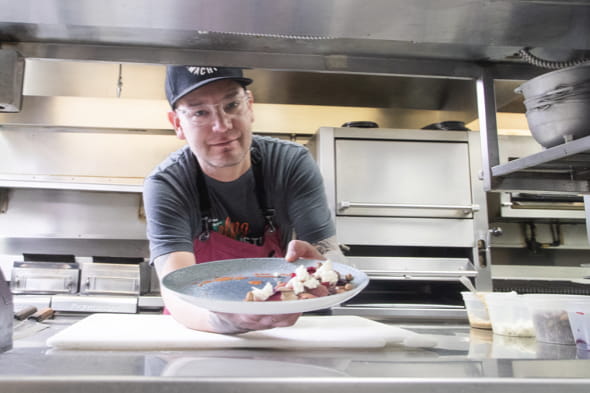 Raising Informed Eaters Through Food
March 01 2019
Raised on acreage with respect for hunting and food, Chef Shane Chartrand fell for the culinary career path upon his realization working at a local restaurant that cooking was also a creative work, similar to his joys like painting and art. From there, he studied every aspect of his indigenous roots to properly tell their stories and traditions from the centre-of-the-plate.

Today, not only is Chef Chartrand the Executive Chef of River Cree Resort and Casino's newly remade SC Restaurant but he has also partaken in Cook It Raw as well as teaching Aboriginal youth the art of food and success through charities such as Kids with Cancer and the Make-A-Wish Foundation.


We recently caught up with Chef Chartrand to find out about the challenges, techniques and concepts behind his Indigenous food journey.
Growing up surrounded by natural acres, birds and a family-taught respect for nature and food, at what point during this upbringing did you officially decide to become a chef, and why?
My mom had told me, "go get a job if you want what you want." So, the first job I could find was at a restaurant.
The moment where I felt I could be a chef for the rest of my life was when I realized the creativity that comes from cooking and being able to create edible art. I always had a passion for art, painting, drawing, and carpentry but then it wasn't until I realized, food is equally, if not better, in the arts world than any of those trades.
What were some of your biggest challenges entering the restaurant scene?
The first time I connected myself to the Indigenous food world overall was at 29 years old. This is when I found out that I was from the Enoch Cree Nation. I really wanted to spend the time to understand and emerge myself in the different protocols, communities, food symposiums and information bundles.

Once I learned the foundation of my culture, I was able to incorporate it into my food, all through simple experiences and storytelling. The challenges I had were trying to find my way, my message and who I am. There are hundreds of cooks in this world so I had to ask myself how I was going to be better or different than them. With each experience, I continue to work to use my cooking as a method to tell the stories of different nations.
What were some of your favourite learnings or techniques you were able to attain or improve upon during your experiences in various Albertan kitchens?

My experiences in cooking change from area to area, city to city, terroir to terroir. That said, my main learning has been about terroir. You need to know about your ingredients as well as the area, farmers and growers. Terroir is the bottom line.
When did you first envision your concept for the newly renovated restaurant and menu at SC Restaurant? What were the major goals you had in mind for its execution?

I wanted to bring SC Restaurant back to the food. What's wrong with a good steak and potatoes? What's wrong with some good roasted vegetables? Nothing. So, with SC we're bringing it back to basics. This restaurant is a chill place where you can come, have fun, watch a game and eat super casual food.
At SC, we don't sacrifice ingredients. We continue to source our ingredients from local farmers and growers in the Alberta area. This is because we want to be ethical as chefs or, better yet, as human beings.
Describe the techniques and flavour processes behind the dishes at SC. How do spices and seasonings come into play with their development?
With SC Restaurant being a very casual place, we source the best ingredients we can. For instance, our hot sauce takes 23 days to make so we can ferment it properly and do what's best for the guests; while always focusing on good flavours. My new sous chef is talented and understands this as well. We're constantly making sure that we are as ethical as we can be; always using local ingredients, keeping it super casual and super affordable.

Spices and seasonings are huge for us. Right now, I'm actually on a hot spicy kick using paprika, cayenne, salt, pepper and garlic. I'm using these ingredients to kick our dishes up a notch.
How have you incorporated your Indigenous roots into your work?
My restaurant is very casual and that works, people love it. We definitely do the best we can with the ingredients we have.
When it comes to the cookbook I am currently working on - Tawâw: Progressive Indigenous Food - it's Indigenous to my life. The recipes included in this book incorporates a lot of old ingredients like reindeer moss, ingredients from the West Coast and East Coast as well as a lot from the plains such as, bison.
What's next down the line for yourself? What can we expect to see or taste in the near future?
My cookbook will be coming out in the fall. We have really focused it on spirituality, ceremony, flavours, simple and hard recipes. At the end of the day, it's all about storytelling because that's where you get everything from. Ingredients I have in the book can be from mild to spicy to salads to simple boiled potatoes but, at the same time, it remains about storytelling.