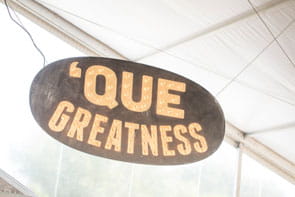 'Que the Weekend with Chef Juriaan
June 06 2019
The Memphis in May World Championship Barbecue Cooking Contest is a four-day competition held last May 15-18, 2019 in Tom Lee Park on the banks of the Mississippi River in downtown Memphis, TN.
Nearly 250 teams travel from around the world and across the U.S. to compete for the title of World Champion and a share of the more than $115,000 in prize money.

The Contest draws more than 75,000 attendees.*
McCormick Canada's Executive Chef Juriaan Snellen had the pleasure and privilege this year and got the behind-the-grill view of the the best in -que!
Cattlemen's was an event sponsor and the Cattlemen's VIP Experience offered a full weekend of hands-on, experiential learning opportunities at the Cattlemen's Hospitality Suite.
First, there were 'Queology sessions.
'Queology: Craft your cocktail. Conducted by the McCormick Culinary Team, this seminar showed guests how to supplement their BBQ menu with refreshing complementary beverages.
'Queology: Grilled Oysters. Fresh oysters grilled yakitori style topped with a variety of Cattlemen's sauces
'Queology: Smoking & Pickling. A quick pickle flavour station was showcased on how Cattlemen's wide range of products can create incredible flavour profiles with virtually any ingredient.
'Queology: Slather the Sauce. Learned how to playing with unique compbination of sauces, glazes, and seasoning blends can help elevate the menu to another level of deliciousness.
The McCormick Culinary Team also hosted fabulous, flavourful themed dinners:
Thursday: Louisiana Hot & Spicy Country Boil Dinner. Good old-fashioned country boil dinner put fun and flavour on full display to showcase how McCormick can add bold, genuine flavour to seafood classics.
Friday: Interactive grilling dinner. Experiential Global Grilling dinner took guests on a journey around the world of grilling. Dinner was concluded with hand-made s'mores with homemade gourmet marshmallows, graham crackers and chocolate.


Saturday: Best-Ever BBQ Dinner before the awards ceremony featured a 24-hour smoked whole hog, low and slow smoked beef brisket and cedar-plank salmon cooked over live fire.
And, of course, there was the HOG CRAWL. Chef Juriaan savoured and tested as much 'Que as he could humanly manage. "The Hog Crawl is like a pub crawl, but with pork instead of beer," explains Chef Juriaan. "Our whole group split into smaller groups and we each got to visit 4 different competitors."
Chef further narrates, "The Hog Crawl was definitely the highlight of MIM. It gave us an opportunity to connect with the competition participants. What we learned from them is that the main purpose of the event is the sport of competition, not neccesarily the monetary reward.
"Bragging rights and enjoying the time spent at MIM yeild more value to those who are competing. Once the hogs are prepared and sauced, they would take advantage of the comfortable seating and the cold beer on ice! They are very relaxed and they're there to enjoy themselves over the span of the 24 hours.
"Closer to the 23rd hour do things start to 'heat' up, so-to-say… you cannot be even 1 minute late or you will be disqualified. Plain white styrofoam boxes are used to give all bbq fanatics a fair shake with the judges.
"It was the most authentic experience, hanging with the pitmasters doing their bbq, and enjoying cold beer fresh off the ice.
"Competitors stem from professional chefs, to backyard bbq masters. MIM displays the formidable pitmasters and a win from MIM will forever put them on the map."


As far as new cooking techiniques, Juriaan asked one of the returning participants if he changed anything this year to see if he could rank higher, he said "no, they stick to their traditional and unique techniques for their bbq, each and every year."
One innovative way pitmasters have started to experiment, is with the exotic bbq; where some have submitted rattle snake, squirrel and raccoon to the judges!
With over 250 competitors, MIM has 15 categories in which contestants can win national MIM recognition.
And that wraps up chef's Memphis In May weekend 'que. Till next year.