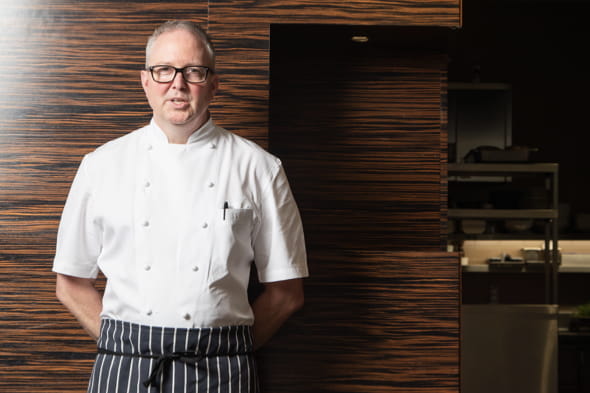 Planting Culinary Roots in Burnaby and Beyond
June 07 2019
Serving freshness and sustainable ingredients together since 1997, Chef Scott Jaeger and his wife have remained the foodservice "it" couple of Burnaby through their consistent efforts at restaurant, The Pear Tree. Simultaneously, Chef Jaeger has also made a name for himself on the competition circuit, winning medals for Canada on the Canadian National Culinary Team and representing our country at the Bocuse d'Or in Lyon, France
We recently met up with Chef Jaeger to learn more about these experiences and how they can go hand-in-hand, both across the world and here at home.
In 1997, your wife and yourself opened The Pear Tree Restaurant. What was the inspiration and starting concept back then, and how has it changed or advanced since?

We first opened wanting to be a community restaurant offering a formal style yet still be very comfortable with a neighbourhood feel. In our 21 years here in Vancouver since, the dining scene has changed with very little traditional fine dining remaining. This puts our concept higher in the fine dining side than we originally intended. However, we love the spot we are in and the clientele we have who enjoy the style we deliver.

Having cooked in the United Kingdom, France, Switzerland and Australia, what made you want to remain here in Burnaby and how have these locations influenced your style of cuisine?
Vancouver is home, the lifestyle here is what my wife and I love. However, the ability to travel when I was younger was a great opportunity and I recommend it to any cook. Make yourself a little uncomfortable, expose yourself to new things, open your mind and grow in general as a person. Nothing can give you that like travel.
For example, in London, there was a certain treatment of top-end ingredients. At the time, there was a lot of money being spent on food. It was a bit glamourous and that opulence is something I learned there.
Atop your typical restaurant duties, you've also been known for representing Canada at the Bocuse d'Or and on the Canadian National Culinary team. Describe these experiences and how you keep the balance alongside kitchen.
Competition life, in Bocuse d'Or for example, and representing Canada was a huge honour. Winning the right to do that was very much a team effort from our whole restaurant crew, both front-of-house and back-of-house. Same goes for when we went to France; the team was bigger but the core of it was The Pear Tree crew. When it came down to it, it was just the two of us to cook but we felt part of something bigger. Everyone in my kitchen had roles, for sure.

One of your staff, Michael Roszell, competed and won the pastry award at the Hawksworth Young Chef Scholarship Competition. How did you help prepare him for success?
Michael is a very talented guy and cooks with great love. He came here maybe to get a little bit more finesse, exposure to how to prepare for a competition, how to stay focused on a competition and hone in on the areas that help him succeed.
The beauty is that The Pear Tree is closed on Sundays and Mondays. For a lot of my cooks who want to do competitions, these are days they can practice with a full kitchen, doing black box runs and any full programs, knowing what their timeframes are. They get the confidence that they can do it and work their skills here.
Back home in Burnaby, how do you use the knowledge gained in competition to enhance dishes and recipes at The Pear Tree?
Competition really let us perfect things, or try to perfect things. It allowed us to really focus on individual ingredients and once that work has been done, there's no question that it goes and stays on our menu. We've put so much work into those details that we own now because we've rehearsed it enough times.

What can we expect to see or taste next in the world of Chef Scott Jaeger?

We're evolving. When we opened 21 years ago, we really focused on being a consistent, rock-steady restaurant and I think we've established that. I also think that dining is a little bit more experience-based at times where you're here for a good time, not a long time.
Because of a more experienced attitude today and we could see us evolving into something that has more one-time opportunities. We have a chef's menu that can be pre-ordered and also offers an opportunity for very one-off dishes that likely won't be on the menu next time you visit. We are seeing more and more guests interested in that opportunity.