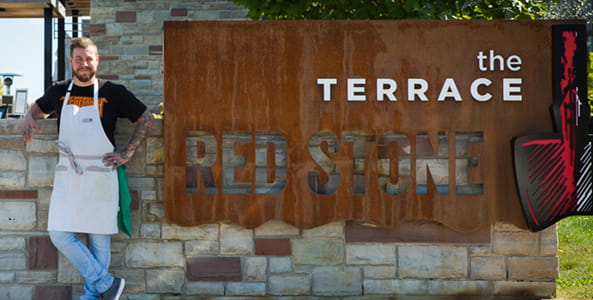 Mastering The Art Of Seasonal Pairings
October 15 2020
Raised in Niagara and driven by exploration of cultural diversity, Chef David Sider began his culinary journey in 2006 as a dishwasher. He worked his way up in kitchens to eventually cook for multiple Relais & Chateux hotel restaurants and Michelin-starred properties. By age 23, he was honoured with a Top 30 Under 30 Award by the Ontario Hostelry Institute.

Now stationed as Executive Chef for The Restaurant at Redstone in Beamsville, we had the privilege of speaking to Sider about his ever-changing menus and the strong bond he's formed with his community.

The Restaurant at Redstone offers seasonal and regional inspired dishes. Could you share with us the inspiration behind this concept?

It's about trying to have a restaurant that's part of the community. Using local products is way more than simply having them on your menu. It's about forming relationships with your neighbours, purveyors, guests and local economy. More so than getting local products because they're better — and they are — it's about reflecting on the area around you and your place within it.

How do your cooking techniques and flavours evolve with each season's menu offerings?

The spring is a time when we're very inspired. By then, we've been staring at these brown dishes for so long, we start getting green foods coming through the door. It's very exciting. That's when we start looking to dishes with brighter flavours, more acidity and a little bit of spice.

Through the summer, it's kind of a blur because our menus are changing so frequently based on what's available. We can alter it every week, and sometimes we have to iterate on the fly. For example, this summer's raspberry season only lasted four days because of the heat. We got the raspberries in the door; everyone was super excited, and they went on three or four dishes on the menu. We emailed a few days later to get our next order and they said, "Sorry, too hot, raspberries are done."

I believe one of the reasons we have really strong cooks here, and why they generally stay awhile, is that sense of change and constant movement on the menu. It prevents you from feeling stagnant or bored.

As for techniques, one example is we raise our own lamb here. We take it and create more than chops and wraps. We'll do shoulders, shanks and other items that are suitable for braising. We might take a shank in the winter and serve it with something hearty and sticky like polenta. Then, in the summer, we might pair it with salsa verde and tomatoes.

How do you source and incorporate local and seasonal ingredients from the Niagara Region into your dishes?

We incorporate everything by forming great relationships with multiple suppliers. We'll have one we only get berries from, one that provides us with mushrooms and yet another for charcuterie. We incorporate the region as a whole by keeping those relationships local rather than calling up a generic produce supplier and saying, "Hey, can I get some Niagara peaches?"

We remain flexible and fluid to the realities of farming. If someone calls us and says raspberries are done, we don't throw a hissy fit and order from Mexico. We'll just move on to something else, always staying in motion.

What are the biggest challenges in creating your menu around local and seasonal ingredients from Niagara? How do you overcome them?

Availability is the biggest issue — I can't stress that enough. It's not easy cooking this way. Some staff will stay forever, while others will stay for a month because they don't enjoy it.

Outside of that, seeing how guests respond to all the change is more of an interesting experience than a challenge. Their favourite dish could be gone three weeks after it's on the menu. We have people come in all the time in September and ask for something like a pea soup that hasn't been around since late June. We've even had people come in the summer looking for things they had in the winter.

We'll explain to them that those dishes aren't on the menu because the ingredients aren't available anymore. We'll say, "We had a great product, which is why the dish was so great, so let's keep it as a lovely memory and you can come back and have it again next year." Ninety percent of people are like, "Oh, that sounds great!" and 10% become very upset. Some people are simply creatures of habit who want to have the same thing every time they visit.

Part of it is earning your diners' trust. We see lots of people who visit us regularly and love that we always have something new. That's a relationship we've developed with them over years of being open. Now, we can serve them pretty well anything and they trust us to prepare it nicely.

How do the wine offerings at Redstone Winery impact the flavours and ingredients you incorporate into your menu?

Not at all, because we're a pretty big family of wineries. Between the three properties, we have an extremely broad portfolio. Almost every dish I could dream up can find a friend in something we produce.

When we opened, we didn't want to be a typical winery restaurant. We're here as a value-add to Redstone. If you have a great restaurant, a great winery and they happen to be in the same building, they'll benefit one another. I don't need to design dishes for this wine or that spirit we produce.

You can have our food with wine, beer or your favourite cocktail. We're about people coming together and having fun. That's the goal. If they drink wine or take it home with them, that's the best-case scenario. If they drink water and have a great time, that's good too.

How has the pandemic impacted your restaurant business and what steps did you take to keep your doors open?

It was significant. We shut down, so I and the bulk of our kitchen staff ended up working in the vineyard. Our migrant workers were held up with the border closure. Most of the kitchen guys moved onto our shipping department. We're very lucky that our online sales went kind of crazy, creating a need for more help in that area.

One of the cooks and I started doing takeout and we're continuing into the winter. We changed our operating week and have been serving significantly fewer guests. Our team is a lot smaller and we didn't onboard any summertime staff like normal.

For safety, we had to change the layout of our kitchen to promote distancing between sections and avoid overcrowding. Mask wearing has also been an adjustment for everyone. The pandemic didn't affect our offerings though. We ended up running the same menu for lunch and dinner, but it was something we were planning anyway.

I think the biggest change is going to be what happens now. Patios and outdoor dining have always been major parts of what we do. The big decisions will be when the weather gets cold and we move inside. We were at 100 seats and now we're down to 45. I have no idea if we'll be full or not.

Will people be comfortable with indoor dining? That's the great unknown.

What's next for The Restaurant at Redstone's menu? Which ingredients are you looking forward to in the coming season?

Having great big menus isn't very easy. We might drop a dish from every category.

Outside of that, I don't think we'll make huge changes in terms of format. I'm very sensitive to people who choose to come at this time because it needs to be worth it. I don't think doing a cheerful menu that cross-utilizes all kinds of things would be a long-term plan for success. We need to keep doing what we do best because that's what people expect from us. If that's not what we're delivering, we're going to have a problem.

The biggest change will be in how we operationalize; what we do with our front-of-house staff, how we space our tables and how we use partitions. Part of a restaurant is hospitality and the most important factor for hospitality right now is making people feel safe. It's ironic because that's been a given for so long. This is the single biggest thing we in the industry need to figure out moving into the cooler months.