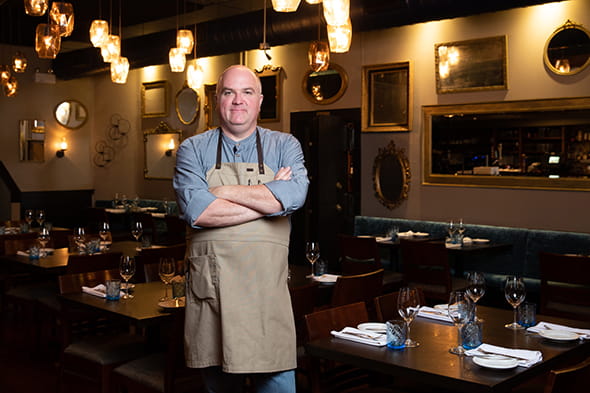 Keeping Cuisine Extraordinary on the East Coast
August 20 2019
Carrying a philosophy of "extraordinary casual dining" since 2001 at Chives Canadian Bistro, and now 2 Doors Down, Chef Craig Flinn has found himself thriving in a unique-considered region chock-full of positive connections; friendly competition, community-based opportunities and local history. Chef Craig has also found success on televisions and bookshelves across the country, appearing on programs such as Bizarre Food, Chef at Large and You Gotta Eat Here while releasing cookbooks including Fresh & Frugal, Fresh Canadian Bistro and Fresh & Local.
We recently paid a visit to Chef Craig to learn more about his extraordinary approach to his Halifax-based cuisine and his continuing evolution.
As the Executive Chef of Chives Canadian Bistro, your concept for the restaurant has been "Extraordinary Casual Dining." Describe what this meant for you at the start in 2001 and how it has continued to evolve since.
I chose to name my company extraordinary casual dining, or ECD Restaurants Inc., because I always wanted the food to be approachable and extraordinary and not a special occasion restaurant for the wealthy. For example, I could be serving just a mashed potato and a steak but it had to taste different, elevated and special. How this has evolved is that my interest has actually shifted more-so towards casual, fun, family-centric dining. As a result, this has moved our menus away from what one might define as fine dining.
Describe your dish development process and how you're able to combine extraordinary rustic/historical dishes with modern Halifax tastes.
Generally speaking, the process of creating a menu starts with the season, what the farmers are growing and what the fishermen are catching; that's step one. Step two is feeling the concept of the restaurant, what it means, what the brand is and how we have traditionally used or rooted our cooking in European (particularly French and Italian) inspired dishes. If you cross that with historical dishes from this area, along with a local ingredient base, that paints an accurate portrait of what Halifax cooking is. It's influenced from all over the world but based on what we're growing here.
Explain some of the challenges that come with focusing on locally sourced, seasonal ingredients in a city like Halifax. What are some of the hardest ingredients to get that you have on the menu, and how do you overcome this?
The challenges of cooking locally and seasonally usually occur in the supply chain. A lot of the farmers we work with don't deliver or are only in town on Saturdays; that's the first challenge. The second challenge is more related to operating a restaurant 12 months of the year, 7 days a week in a cold part of the world. We have to plan well in advance for the winter dishes because people still want to see vegetables and have healthy, lighter options year-round, which is challenging in a cold climate. For example, most restaurant menus will always have salad. Unless you want to have a root vegetable salad for six months of the year, getting a light, healthy salad with fresh ingredients on the menu year-round is hard. That's one of the reasons why at 2 Doors Down, our core salad is a kale Caesar salad. The recipe came from the fact that I wanted to use a local product but lettuce is only grown for a few months of the year.
You run and operate two successful restaurants in Halifax; 2 Doors Down and Chives Bistro. How do you alter your cooking style to create each of their menus?

I am fortunate, now that Chives is 18 years old, to have a sense for what the restaurant is. It's very ingrained in the way we cook and I don't have to think too much about it. This happens very naturally because we have such a long history and have worked in so many seasons. At 2 Doors Down, this is more about us wanting to prepare food that I like to eat. So, the food is very approachable and fun. It's a light-hearted take on cooking which appeals to a wider audience. So, whether you're dining with a child, teenager, businessperson or senior citizen, everyone can find something on the menu that appeals to their palates.
Tell us about your culinary evolution.

When Chives first opened, I definitely cooked for my ego and tried to create food that was different than what people had done previously. Now my focus is more about creating very approachable, familiar dishes, making the flavours extraordinary and ones that appeal to a much broader audience. For example, I think doing a cheeseburger and fries is perfectly legitimate and in fact, it's extremely difficult to do very well over and over again, night after night. It takes attention to detail. As my restaurants grow and I look to expand, I'm more interested in cooking simple foods in ways that people have not tasted before. Meanwhile, I've just brought a chef on, Stephanie Ogilvie, and stepped away from the culinary creations at Chives so that I can open my new restaurant. Stephanie is now in charge of the culinary and she's running with it. I am very much putting myself, and the 18-year history of Chives, into her hands in the hopes that she can take what we've done and evolve it in a way that a fresh, younger set of eyes would see it. There's not one particular dish for this but perhaps a way of interpreting our ingredients a little differently than we've done. I'm going to let her do that, while I look at ways to open more locations.
What do you believe makes Halifax's culinary community unique in comparison to other large cities in Canada?

I think, first of all, our culinary community is on the ocean and that would certainly have a profound influence on how cooks actually cook here. The community is very young and energetic. They're not afraid to open restaurants or cook the food that they want to cook. Young chefs are opening up restaurants and doing what they want to do, not trying to jump on a culinary bandwagon of sorts. So, we're individuals but we all work really well together so the Nova Scotian hospitality that we're known for flows into the professional community here. There are no harsh rivalries but, perhaps, healthy competition.
Outside of the kitchen, you've partnered with Egg Farmers of Canada in support of Food Banks Canada. What are you doing within this collaboration and how can other chefs get involved in the efforts?

I started working with Egg Farmers of Canada because I was passionate about eggs and I myself did not understand how that supply chain keeps local fresh eggs in every marketplace 12 months of the year. I was so impressed with it that I wanted to help dispel some of the myths around our egg supply. I have always worked very closely with our local food bank and now, through Egg Farmers, have started working more with Food Banks of Canada which has become a very personal passion. As an extension of that, I'm also very much involved with Canadian food centres and our local food centre in Dartmouth because I want to be able to have fresh, healthy food available to everyone at all times.
With the success of your restaurants, your advocacy collaborations and TV appearances on well-known programs such as Chef at Large, Bizarre Food and You Gotta Eat Here, what are some new goals you hope to achieve in the near future?
Somewhat ironically, I am in the process of opening another restaurant during a time where I am trying to spend more time with my family. I have a young family and trying to find the balance has always been difficult. I'm doing this with the full support of a team of chefs, managers and business partners while understanding that after 30 years of working in a kitchen, perhaps it's time for me to look in other directions where I can be a chef and part of a food community while also raising my family and living a healthy, balanced life.