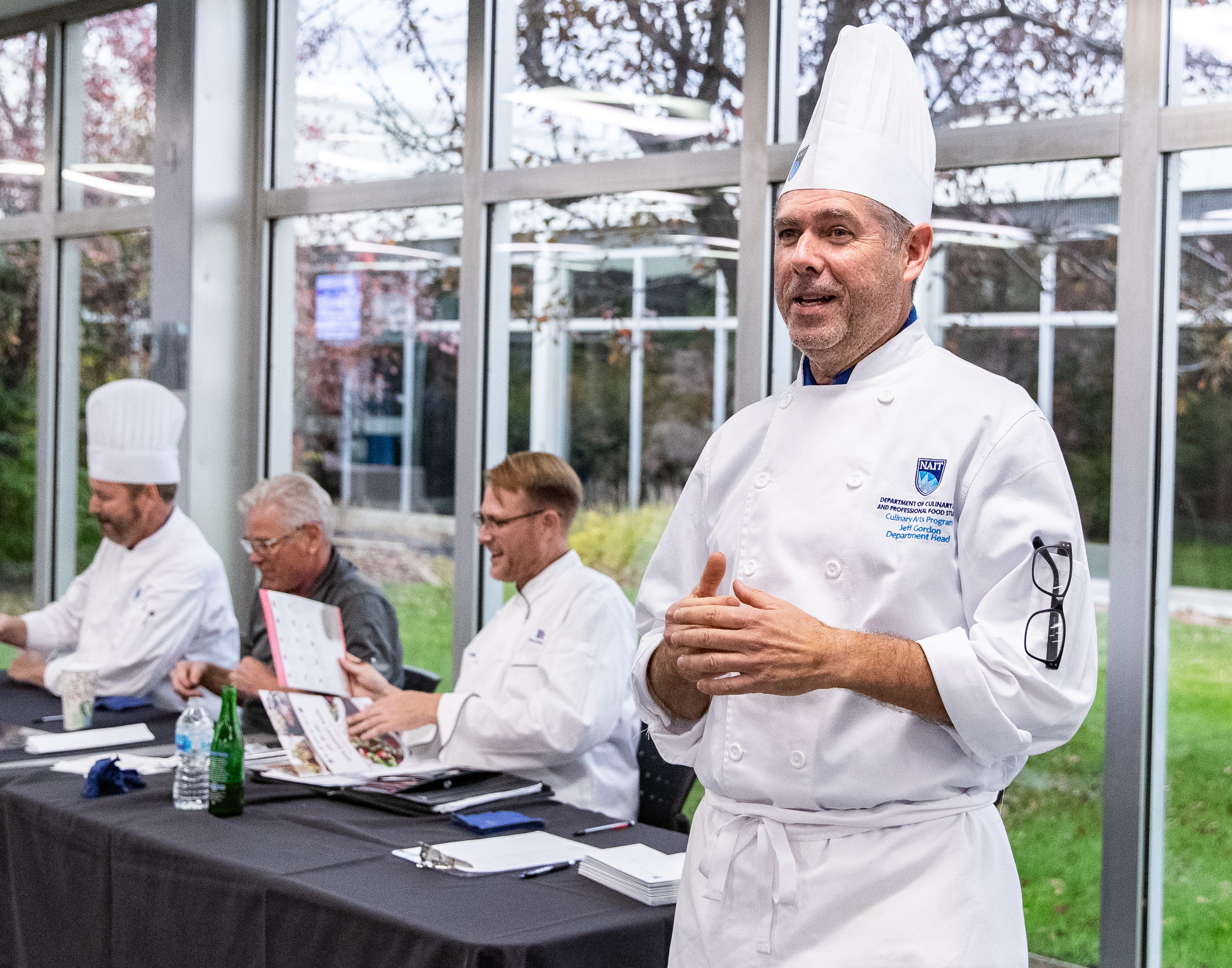 Here Today, Graduated Tomorrow; Prepping the Future Culinary Leaders of NAIT
November 01 2019
Chef Jeff Gordon's successful culinary career has come full circle. After graduating from the Northern Alberta Institute of Technology (NAIT) and working at top-level restaurants like the Fairmont Hotel MacDonald and Walden's Restaurant, he is now NAIT's Culinary Arts and Professional Food Studies Department head.

We sat down with Chef Gordon to find out what goes on in his classrooms, how NAIT is changing the way people enter the industry and the advice he has for future culinary masters.

Tell us about the journey that led you to your current position at NAIT.

I knew at the age of 14 that this is what I wanted to do as a career, so I created my school plan around it. I took food courses in high school and then came straight to NAIT. After I graduated, I apprenticed in a little Swiss town, and once my apprenticeship hours were finished, I came back to Canada and worked for Canadian Pacific Hotels.

Meanwhile, I always wanted to teach. So, at one point, I tried to go back to university to get my education degree. I had originally planned on teaching in a high school and ended up at NAIT as an instructor. I came full circle.

What do you find most rewarding about working in the education sector of the culinary arts? What can be the most challenging?

When I was a chef in the industry, one of my favourite things was training the apprentices. When I saw these people, who were so passionate about food, I pictured myself when I was at that stage of my career. Being able to share my passion with these apprentices was a love of mine, so being able to do that in an educational setting is what I love the best.

The most challenging thing is being bound by a budget. Sharing our budget with other departments that require larger amounts and more expensive equipment can be difficult. We have many great ideas in our program, but they can be hampered by the fact that we are under budgetary constraints.

What do you believe separates NAIT's Culinary Arts studies from other similar programs in Canada?

The nice thing about NAIT is that we have a variety of things students can do beyond Culinary Arts, like a Baking & Pastry Arts program and a Meat Cutting & Merchandising program. There's also an international exchange program with study-abroad opportunities in places like the Philippines, Italy and Portugal; a Culinary Olympics team and a competitive BBQ team; and a student club that participates in community events like a 1,000-person Thanksgiving dinner at Boyle Street Co-op. We like to get the students out there because there's more to food and cooking here than just studying.

You train over 500 students a year. What are some ways your department ensures the best training possible?

For us, I think it's our connection to the industry. We're bound by a curriculum that is set out by the Alberta government, but we also make sure to meet with an industry advisory group once or twice a year to examine industry needs. We ask, "How can we help prepare our students in here for what they need to do out there?" We want to be sending out students who have the skills real employers look for and are prepared for the work they'll actually be doing.

What are some of the first techniques you teach your students? And how does the training evolve from there?

We treat everyone as if they've never been in a kitchen before. The first thing we cover is occupational health and safety; safety around equipment, working with knives, hot oil, that sort of thing. We then review knife kits, what they're used for, knife skill training and equipment usage. That all leads into the fundamental cooking techniques like learning how to follow and convert a recipe. It's very structured at the start. We want students to be creative, but in the beginning it's more about understanding how to properly put food together, why we use certain methods and what it means to have a sense of urgency and then branching into a little more freedom with menu creation.

In the second year, the program revolves around the restaurant aspect and putting students into a real-world environment.

Do you find that NAIT students are exposed to or encouraged to expose themselves to global flavours during the program? If so, how is this addressed in the curriculum?

Yes, one of the last courses they take is our International Food & Culture program. In one class, they'll look at 23 regions of the world and use ingredients from those regions that we can't normally get from our suppliers. Two or three times, we take the students to markets (African, Asian, etc.) in the city to get these ingredients and then teach them to use them in cooking.

We look at a particular region's climate, agriculture, religion, family make-ups and how these things formulate what and how people eat. We also reflect on our own food philosophies that we've grown up with and how they've informed our own culinary lives.

Speaking of flavour processes, how are ingredients like spices and seasonings introduced into the culinary programs? Are students encouraged to experiment beyond the usual salt and pepper?

In the first year, it's fundamentals-focused, so every class will learn about flavour profiles, a variety of spices and seasonings, including salt and pepper, understanding how flavours work together and how to accentuate the natural flavours of food using certain spices.

When we get into second year, that's when we can start experimenting with other, more unique flavours.

What kind of preparation or assistance is given to students in transitioning from the classroom to restaurant kitchens?

The second year gives students the opportunity to cook for customers. They learn speed and efficiency in a safe environment where it's okay to fail because that's how you improve. In the next two years, we're bringing back a practicum model which will send students out into the industry for 4.5-week sessions.

Our Baking and Meat Cutting programs, currently has a three-week practicum where they actually work in the industry, so we're bringing that back to the culinary side.

What advice would you give a student considering NAIT as the first or next step on their culinary career path?

I'd say do your research. A good majority of our students show up wanting to be a chef because of what they see on TV, which sometimes gives them an unrealistic view of the business. Talk to chefs, get a job in the industry and supplement what you're doing in school with on-the-job training. You'll see what it's like, including the long hours, the little starting pay and being on your feet all day.

You can even come to NAIT before you enroll and be a "Student for a Day." We'll take you from class to class, show you what happens, let you talk to other students and answer your questions. After that, the day you start here full time, you should know this is what you want to do. And more importantly, you should know why you want to do it.