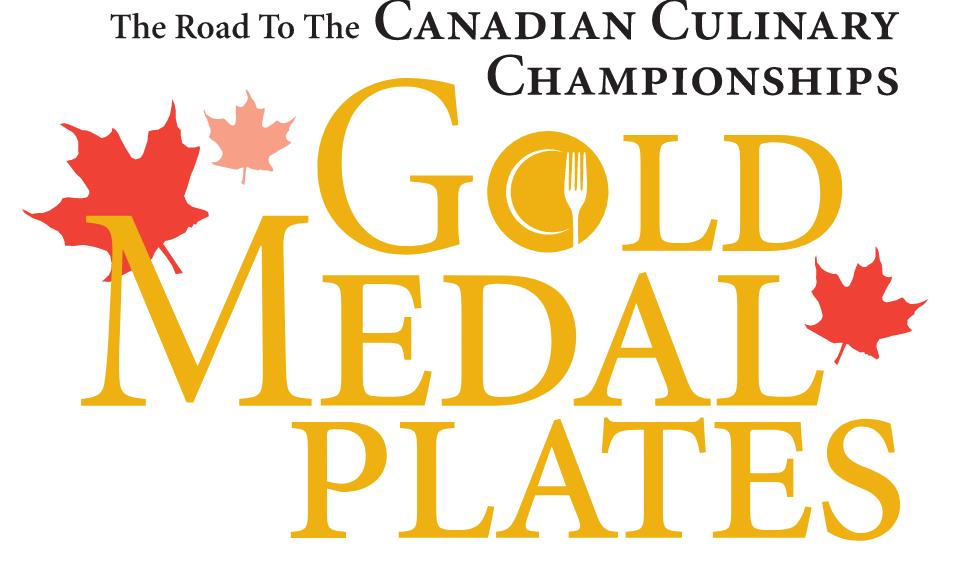 Gold Medal Plates: all you need to know
February 22 2018
Anyone working in a restaurant kitchen or virtually any aspect of the foodservice industry is likely to have heard of 'Gold Medal Plates'.
The name may seem peculiar and, in a literal sense, wearing a gold plate around your neck can't be good for your posture, but it's perhaps preferable to something as gracelessly lump-handed as 'Canada's best chef' - even then, that title would only cover a section of what Gold Medal Plates actually is.
So if you're new to the sector or if you've never bothered to investigate and feel it's now time to enlighten yourself, here's everything you need to know about Gold Medal Plates…
In a nutshell, what is Gold Medal Plates?
Going off the title alone, you'd imagine it is essentially a culinary contest and while that's not inaccurate, it's a by-product of the desire to highlight Canada's sporting athletes.
The organizers behind Gold Medal Plates say its raison d'être is to support Canada's athletes by celebrating excellence in Canadian cuisine, wine, arts and athletic achievement.
Part of that does involve what would best be described as a cooking competition, with chefs required to devise the best-tasting and most inventive dish from what ingredients they're supplied with.
So, it's not just food?
No. Aside from the culinary aspect, Gold Medal Plates celebrates wine and spirits, while Gold Medal Pints recognises the best Canadian lagers and ales.
With the help of wine journalist David Lawrason as national wine advisor, Gold Medal Plates is now Canada's largest program to feature and highlight excellent Canadian wines.
Where does all this happen?
To ensure no corners of Canada are left unexplored, Gold Medal Plates is celebrated in 11 cities across the country. Last time around, that included Edmonton, Regina, Halifax, St. John's, Victoria, Saskatoon, Winnipeg, Calgary, Ottawa and Toronto, with Kelowna hosting the Canadian Culinary Championships.
Tell me more about the culinary contest...
Gold Medal Plates aims to pit the finest chefs in each city against each other, with the top three being awarded a gold, silver or bronze medal culinary team, and subsequently nationwide at the Canadian Culinary Championships (essentially the grand final), held the following February.
Only one chef wins, and to be crowned the top chef in Canada can change your career forever, organisers say.
Selection and judging is overseen by national head judge and culinary advisor James Chatto, who looks at more than 100 competing chefs.
Each dish is judged out of 100 points, based on taste (40 percent), visual presentation (20 percent) and (10 per cent for each of these) texture, technical achievement, wine compatibility and wow factor.
A team of food and wine critics from each city work with national critics to determine the top three winning creations - a gold, silver and bronze medal-winning chef is then crowned.
2017's winner chef Jinhee Lee, from Foreign Concept in Calgary, is now driving a BMW 430i xDrive Gran Coupe, while 2018's winner Alex Chen of Boulevard Kitchen and Oyster Bar in Vancouver will be treated to a trip to Africa or South America to see the Cacao Barry plantation and work with the chef there.
How did all this come about?
Gold Medal Plates was founded in 2004 by Canadians Stephen Leckie and Karen Blair, who wanted to regularly raise funds for Canada's high-performance athletes, while celebrating other notable successes around the country.
What's the point of it all?
The team behind Gold Medal Plates lists four goals. The first is to stage unique events on an annual basis for over 5,000 Canadians and celebrate Canadian excellence in food, wine, athletic achievement and entertainment.
Secondly, they aim to continue developing Canada's leading culinary competition, drawing attention to the best chefs and Canadian wines, beers and spirits.
Remember the sense of national pride when Canada hosted the Winter Olympics in 2010? Well, Gold Medal Plates wants to sustain and build on that kind of Canadian patriotism and show Canadian Olympic athletes how Canadians are committed to their development and proud to have them represent us on the world stage.
Finally, and this is a major one, Gold Medal Plates aims to raise funds for the Canadian Olympic Foundation to support Canadian Olympic athletes.
How successful has Gold Medal Plates been in supporting athletes?
Since 2004, Gold Medal Plates has generated more than $12 million for Canada's Olympic athletes - that works out at over $1 million every year.
Anything else?
If you're hungry for even more info, head to goldmedalplates.com.