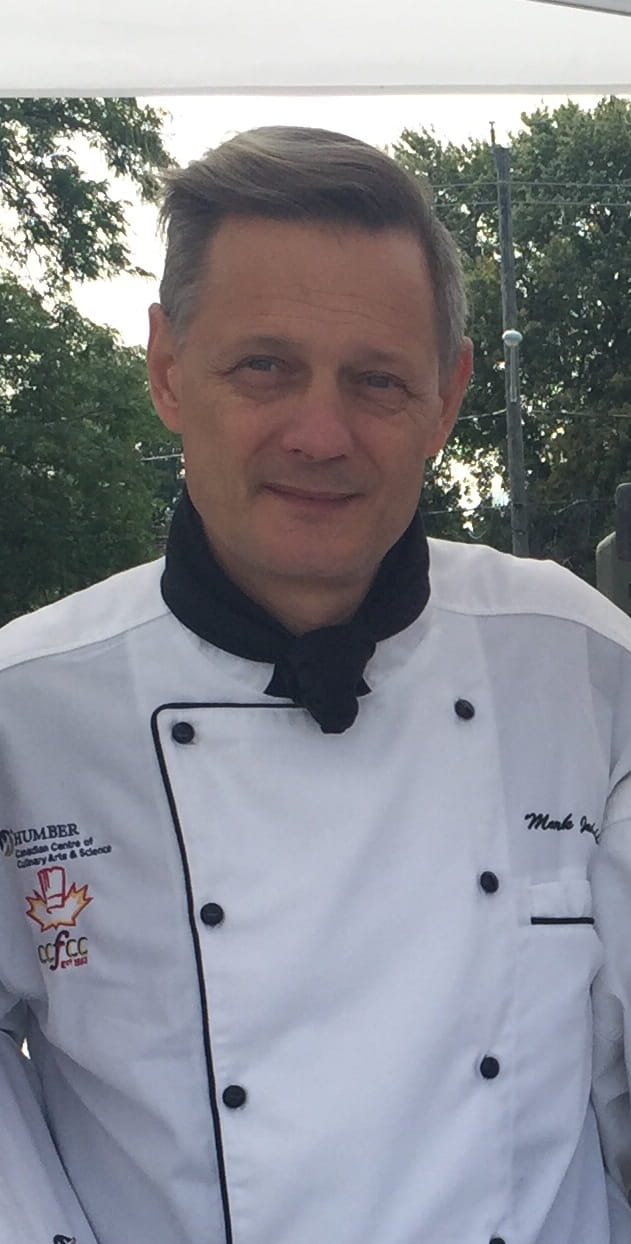 From the Height of the CN Tower to the Heart of Humber
November 02 2018
First introduced to cooking at a very early age through the culinary talents of his father and grandfather, Chef Mark Jachecki began his first official apprenticeship at Toronto's Regal Constellation Hotel before jetting off to expand his experience in Wettingen, Switzerland.
Upon returning to Canada, Chef Jachecki joined accredited kitchens such as The Estates of Sunnybrook, 360 at the CN Tower, The Westin Harbour Castle and Canyon Creek Chophouse.
Now a Certified Chef de Cuisine, he's passing his knowledge to executive chefs of the future through culinary education at Humber College.
We recently chatted with Chef Jachecki to learn more about his approach to student learning and how his experiences in the kitchen help to launch pupils into theirs.
1.
What was your main inspiration to enter the world of culinary arts?
My first inspiration was coming from a long line of chefs and cooks in the family. One of the first memories I have of being in the kitchen is when my parents dropped me off at my grandfather's house for the weekend. He was a chef with a catering company on the side and when they came to pick me up, they caught me on a chair in the kitchen deboning chicken. My mother freaked out, seeing her little 4-year-old with a knife in his hand. My grandfather said to her, "what are you so upset about? He did that whole tray over there."
2.
When and why did you then become inspired to enter the world of education; eventually joining Humber College as a full-time culinary professor?

When you get to an Executive Chef level or a Head of Kitchen level, you're already educating everyone who is working with you or for you on the food that you're producing. My first Executive Chef role was at age 24 and I was teaching how I wanted the food to come out and the ideas and/or inspiration behind it. In 2012, after my last full-time industry position, I thought, "What's the next thing that I should do?" and I opened a consulting business.
Once I did that I was really busy and there was no work left so I contacted colleagues of mine at George Brown College and Humber College. I told them that I wouldn't mind trying out teaching 1 day per week and both got back to me quickly. In the short term, I was working 2 days with Humber, 2 days with George Brown and then Humber hired me on a full-time basis in 2015.
3.
Which of your experiences outside the classroom do you find have the most influence on how and what you teach in the classroom?
The curriculum is pretty set for what we deliver to the students, from the basic to the advanced courses. They have to have the introductory knowledge of all areas to actually perform well when they get into the industry. The most important thing is staying current with trends, going to restaurants and speaking with chefs that you know or up-and-comers you might not know.
In the summertime, I manage two concessions for the CNE and I hire Humber students to come to work with me. I really find out what gravitates to them, what they like to learn and we have these new concepts that are trendy and exciting. At the end of the day, to be successful, you have to put your hands in a whole bunch of pies.
4.
How much of an emphasis is placed on flavour processes throughout a culinary student's education with you at Humber? What are some of the techniques that are taught to perfection before graduation?

From first year Culinary Management, the cooking techniques (ex. low heat, full heat) and cutting techniques are very important. To get the flavour processes down, you have to make sure that you can consistently produce the same outcome every time you make a recipe. Cutting carrots, for example. If they're all cut the same cubic size of a quarter inch, your outcome is that they'll all be cooked at the same rate. The learning is that when you cut some of them too small and some of them too big, you'll get a different flavour because the small ones might burn and the big ones aren't cooked, causing a raw flavour which isn't ideal for the end outcome of what you're making.
5.
How much of a role do spices and seasoning play with your array of lessons?
In the first and second semesters, spices are just introductory ones. When you get to the third and fourth semester, the students get more involved with ethnic flavours, cooking and spices as they are able to select electives. Once they've learned to cook and cut, the spices become super important in being authentic in the dishes we're cooking.
6.
What spices or seasonings can be most commonly found in a school pantry?

We go from using black or white pepper to Szechuan pepper plus turmeric, saffron, sumac or blends so the students can understand why this is a good spice, as opposed to earlier in their semesters when they don't yet understand why products are blended a certain way.
7.
What is the most important lesson overall you hope students take with them into the real world after graduation?
Discipline is very important in the kitchen because it has to be a controlled team environment. You have to be disciplined in your own self-discipline so to speak so that you can produce to standard every time.
Also, students are given an introductory level at the college so when they come out, they're not a chef because there's no substitute for experience. They'll have the introductory knowledge and can figure out what they can do when they're working under chefs in the industry but make no mistake, they're not ready to run their own operation yet.
8.
Describe your favourite teaching memory at Humber College.

Back in 2016, we were part of Holland Marsh Soup Festival and we brought 6 students. We decided to make a very simple soup; a baked potato soup with potato, sour cream, butter, cheddar, bacon and chives. When we got there, we gave them a demo, stood back and then they all interacted with the thousands of people who were in attendance. Although a lot of the students were only in their second semester, it's still very new for them to be in front of the public and getting praise for what they're producing right from the end user.
9.
What advice would you give a future student of Humber's culinary program before they enter the classroom?
Get a part-time job or join the OYAP program to be in the kitchen first, even if it's in an entry-level position like dishwashing. This is so that they can see and experience what it's like to be in the kitchen, because it's not for everybody. It's high-paced and they'll know within the first month whether they really want to do it and whether or not they love the atmosphere. It's a very easy way to do a test before committing to something.
My other advice is from my Dad; early is on time, on time is late and late is unacceptable.