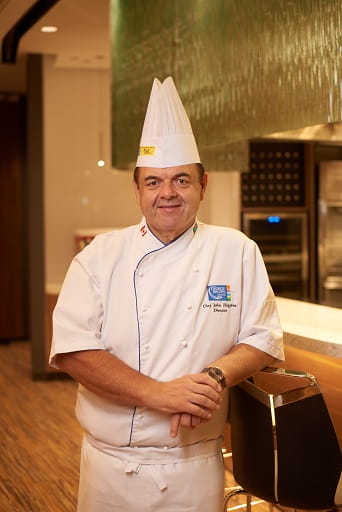 From Palace Royalty to Student Loyalty
November 16 2018
Always dreaming and planning his next step in life, Chef John Higgins began his culinary journey as a young student in Scotland; making it his absolute mission to cross dream locations off his list. After realizing these dreams by cooking from the kitchens of famous, and even royal, locations like Gleneagles and Buckingham Palace, Chef Higgins set his sights on Canada and is now leading Ontario's culinary students through their own journeys to greatness as the Director of George Brown College's Chef School.
We recently had a chat with Chef Higgins about his own journey, plus his hopes and advice for others wanting to follow in his apron-clad footsteps.
1.Living in Bellshill, Scotland, what initially inspired you to enter the culinary profession?
I wanted to be a chef since I was 10 years of age. I was at a big hotel in Scotland called Gleneagles, which was about 700 acres and I just saw this building thinking, "wow, I want to be part of that," and that's how I started.
2.What first brought you to Canada, and how did your career as a chef continue from your landing point?
What brought me to Canada was this postcard my mother received when I was 12 or 13 years of age. It had this beautiful blue sky and maple leaves, although I didn't know what they were at the time, I thought, "I'm going to go live there one day."
I went on to work at different places, including Gleneagles. Then, while working for the Four Seasons, there was an executive chef and he offered me my status to come to Canada and join his team.
3.Having had so many different experiences like being a judge for Top Chef to cooking for Buckingham Palace, what made you want to enter the education field of foodservice through George Brown College?
I'd wanted to do it since day one at Motherwell College in Scotland. I had a teacher called Mr. Hogan who I remember talking to us about when he worked at Central Town Glasgow and wanted to go work. He went to Gleneagles, Buckingham Palace and the United States and I thought, "that's what I want to do," and that's why it happened.
Teaching was always on my horizon. I wasn't one of those people who went into teaching because they wanted to retire as a chef.
4.What are some of the practices and techniques from previous experiences that you still use as the director of the George Brown Chef School?
Keeping it simple, logical and thinking things through, not acting on impulse all the time and trying to plan.
5.What is one of your best memories from your time at George Brown Chef School?
I love watching the students coming in on day one and then seeing them go across the stage at Convocation. Some students who were with me just have the talent. I also think there's nothing better than seeing the ones who struggled and worked so hard for their graduation do it; that, to me, is the best.
6.What advice would you give a potential student considering attending George Brown Chef School?
Try to evaluate what you'd want to do after George Brown, because time here goes so fast. Figure out where you would like to work and when you're here, use that to make sure that's where you want to be. With this school, there are lots of opportunities to do placements, work and meet chefs. Try to get as much information as you want, whether you want to work in a retirement home, Four Seasons, Ritz Carlton or the King Edward.
I think the big thing is to come with a game plan of what you want to achieve because you really have to figure out what you want to do so you don't waste time. Time is expensive and time is money.
7. To this day, what spices or seasonings are still must-haves in your own pantry?
Salt and pepper! Not all pepper is created equally, nor is salt. I also like cayenne, cinnamon and fine herbs but I have always had dried rosemary in my pantry, even today.
I don't use as many herbs now but I do use spices like peppercorns, cinnamon and cardamom. There's a Hungarian mix I like that's used for fish and it's just so tasty.