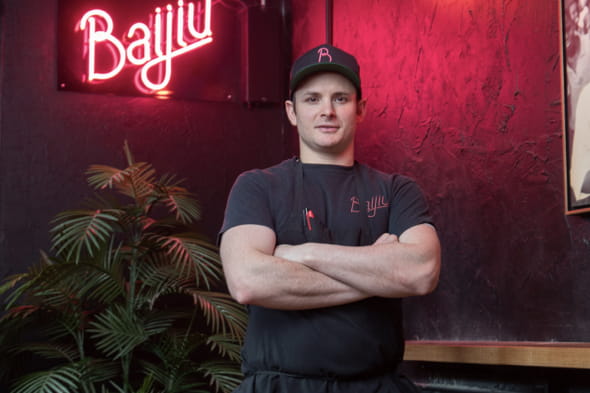 From Farm to Food Truck to Asian Fusion
February 15 2019
Dishes aren't the only culinary greats that have gone from farm to table. Edmonton Chef Alexei Boldireff has cooked and fused his way from the fields, bakeries and butcher shops to Michelin star must-stops across the world, all leading him back to Alberta to work behind-the-line of Calgary's Model Milk.
A journey in food truck operation soon followed for Chef Boldireff until he eventually found his way into the kitchen of Edmonton's Baijiu, an Asian cocktail bar and eatery.
We caught up with Chef Boldireff to get the inside scoop on his latest endeavor and what's next for Baijiu.

Describe how your culinary journey began and what first inspired you to work in the world of food.
My first career path was actually in business and finance. It wasn't until I entered a Food Network contest that I won that sent me on a culinary adventure to Italy that I considered a life in food. After that experience, I returned, shut down my practice and enrolled in culinary school.
Early on, as you continued working your way up through farms, butcher shops, bakeries and, eventually, major starring restaurants and mentorships, what are some of the techniques or learnings you were able to bring from and to their tables collectively?
There are so many different techniques and perspectives that I learned travelling and working my way up at a variety of restaurants. That said, it was really my appreciation for the local ingredients in the surrounding areas of these restaurants that I found most importantly when bringing to my tables.
Before opening your restaurant, Baijiu, what made you want to open a food truck over continuing in a brick and mortar kitchen?

To be honest, the reason why I opened a food truck and left my position in Calgary at Model Milk was because I always knew I wanted to have a family one day. This decision would allow me to have a business that was my own while also, giving equal attention to my family.
Getting back to Baijiu, how did your wide ranges of experiences lead you to Asian fusion?

The concept of creating modern Asian food was already in place when I came onboard at Baijiu. However, earlier in my career I spent time working in Chef Susur Lee's kitchen in Toronto and I also staged at Momofoku in Toronto as well. Working in these restaurants has allowed me to gain an appreciation for these flavour profiles which is why I have worked hard to adapt them into the Edmonton food scene.

What were some of the biggest challenges bringing your style of cuisine to the Edmonton food scene?
In my opinion, the biggest challenge to me is whenever we try to create something completely classic or traditional but customers doubt its authenticity because of my culture and background. However, we are cooking for the greater market in our kitchen so if most people like the food, we're doing our job.
What can we expect making its way to the centre-of-the-plate at Baijiu?

Right now, we're in a rough growing season but the farmers will be getting fresh produce like asparagus and peas moving into the early summer so we will definitely be incorporating those into our dishes.