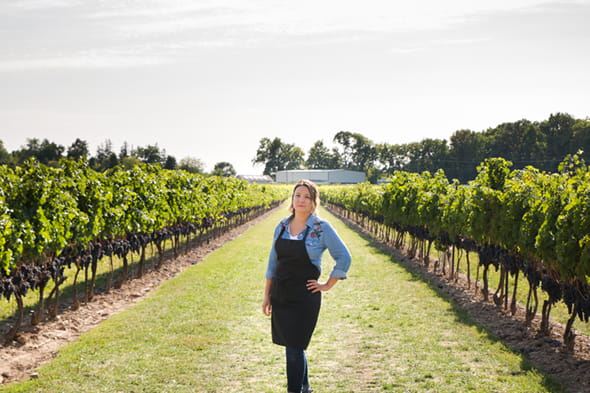 Finding The Perfect Pairing
October 15 2020
Chef Christine Mast began her journey in the Canadian foodservice industry at age 15. She worked her way from serving on dinner cruises and bussing tables to cooking in the kitchens of some of Toronto's fine dining establishments.
After experimenting with whole animal butchery, culinary competitions, chef collaborations and charity dinners, Mast landed at Kitchen76, located at Niagara-On-The-Lake's Two Sisters Winery.
We visited the vineyard to speak to Chef Christine about her inspirations, processes and how wine comes into play when creating the perfect pairings between her plates and their glasses.
Kitchen76 offers Italian-inspired cuisine with a Niagara twist. What was the inspiration behind this restaurant concept?
The inspiration was to provide comforting, delicious food to go along with Two Sisters' wines. The family that operates the vineyard is Italian, so they wanted to share their way of eating with customers.
We try to focus on what's coming into season locally, and how it pairs with our wines. We also look at what would be fun and approachable to keep people coming back.
What is your process for creating Italian-inspired dishes?
We look at what's amazing right now — it could be anything. For example, we may get zucchini flowers that are in season for a very short time. We'll take that ingredient and build a whole dish or idea around it while still trying to keep it simple.
We don't want to complicate or overshadow that main flavour. Our goal is to highlight what's available and how great it is, then start working in flavour profiles using spices. This helps connect those dishes with our wines.
How do you source and incorporate local, seasonal ingredients from the Niagara Region into your dishes?
We work with a lot of really great suppliers who focus on only bringing in local Ontario products. We're also very lucky to have access to an orchard where we have our fruit trees, coronation grape vines and a greenhouse that produces fresh herbs and chilli peppers.
In mid-to-late summer, and going into fall, we have an abundance of products that we make use of as best as we can. Some items are preserved while others are pickled or jarred. We'll do whatever we can to use these ingredients all year.
How does the wine offering at Two Sisters Vineyards impact the flavours and ingredients on your menu?
It greatly impacts the menu. When we come up with a dish concept it goes through quite a lot of wine tasting. We test both newer and older vintages to see what pairs best. If nothing is working, we'll modify the dish to get it more in line.
Whenever I'm creating a recipe, I'm focusing on one wine as part of the creative process. As I'm making the dish, I'll have a glass of that wine to taste at each step along the way. I might end up remaking it 15-20 times before it hits the menu. Though, before that even happens, we'll still have a tasting with our sommelier, the servers and the family to ensure the dish is cohesive.
What are your tips for pairing food and wine?
My advice is to be fearless. You don't have to follow every practice that you'd get from someone who pairs a lot of wine with a lot of food. Try to think outside of the box. If you like it — it works. Don't be afraid to bend the rules and just try something.
More along the straight and narrow, remember that acid loves acid. If you have an acidic wine, it will pair well with a vinaigrette, ceviche or something with lots of lemon. Sweet goes great with spicy, so if you have a spicy dish, pair it with a sweeter wine.
How have you successfully pivoted your business to last through the pandemic?
We were closed for quite a long time and waited until the Niagara region and GTA hit the third stage. We were very excited to get back in here and we're lucky to have so much space to work with.
We focused on outdoor dining, as was allowed, then set up tables and umbrellas far back on the lawn, almost approaching the vineyard. We also tried to keep our menu small and approachable so we could offer high-quality dishes without stretching ourselves too thin.
Looking towards the winter, we're a very seasonal business, so the plan is to come up with other avenues to stay relevant. This could include potential catering options to keep our doors open.
What's next for your menu? Which new ingredients do you look forward to using in the coming months?
Fall is my favourite season to cook in. I love working with baking spices like cardamom and incorporating them into savoury dishes. I'll also try to utilize everything available right now.
I'm working on a fall menu at the moment. It's still in the testing stage so we have a few weeks before it's rolled out. My focus is on making warm and comforting dishes to evoke memories of sitting down to a great Thanksgiving dinner or enjoying soup under a blanket at home on a chilly night.