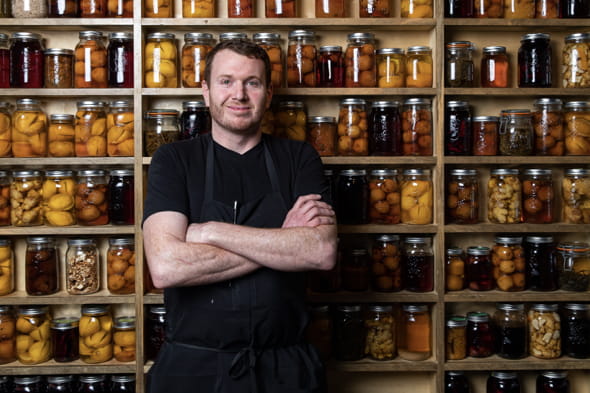 Cooking Wise In Whistler
May 30 2019
Moving from the food scenes of Sydney, Australia to the rockies of Whistler, with a few Michelin star restaurants under his apron in between, Chef Nick Cassettari has brought his fine dining expertise to the table, only to combine it with one rule: local ingredients only.
In such a seasonal location, this sounded like a difficult challenge for nearly any chef from the get-go so we stopped by Chef Cassettari's Alta Bistro to get the scoop on keeping dishes available, stomachs full and doors open.
Describe in your own words where your culinary journey first began and what has led you to Alta Bistro, in Whistler, BC.

I had come here on a six-month ski vacation after working in various Michelin-starred restaurants. I needed a break so I ended up snowboarding and discovered that I could combine cooking with snowboarding in Whistler. The mountains are right there so I can go snowboarding before work, come down and cook the food I enjoy during the evenings.
So, I started out working in restaurants in resort towns and then several restaurants in Whistler. When I was a sous chef at Nita Lake Lodge, my wife was working at Alta Bistro and they were looking to hire a chef. I was only 27 at the time; however, I had the experience so they gave me a chance to show them what I could do. I've been working here at Alta Bistro ever since and love what I do.
The concept of Alta Bistro is described as modern, upscale French cuisine. What is it you love most about this category of culinary art?
I love the precision and accuracy of French cooking, which was the basis of my training, but that isn't what we do here at Alta Bistro. Our cuisine is seasonal and ingredient driven. I use seasonal, local ingredients and don't source anything from anywhere else; however, we tend to incorporate French techniques into our dishes. I really try to translate these ingredients into those techniques, which is such a pure type of cooking. It's very thought-out so you cannot miss a step.
When I first started cooking in Australia at 18, working at a restaurant called Quay in Sydney, I had just finished my apprenticeship and that really opened my eyes to what food can be and how it can change your day. Plus, people need to eat. What we really do here at Alta is offer delicious food that fills up hungry skiers while adding a little flare to it to make it more exciting. At the end of the day, I like to cook humble, simple food with a few added components.
Describe your flavour processes and techniques used when making Alta Bistro's dishes. Are there any you'd like to experiment with in the near future?
With everything based around the seasons, I only change one menu item at a time. So, when an ingredient is no longer in season, I will ask myself, "what's next?" For example, oyster mushroom season is upon us so I'll be picking up some of those and will likely create an oyster mushroom karaage with a sourdough tempura batter, to elevate the dish.
We've spent years and years developing relationships with local farmers like Edible Eden Farm, who will literally sell us all their offerings. The farmer comes in with the ingredients I've asked him to grow and drops it right off after spending his day growing and harvesting. One day, the delivery will be something like three eggplants, 12 carrots and I figure out a way to use them; it is like my own black box competition.
How do spices and seasonings come into play in your creations at Alta Bistro?

Because I like to keep the focus on the actual ingredient(s), I'll use a spice when it adds a little bit of life to the dish, giving it more character. That said, I do like to play around with spices and will often pique peoples' interests by adding chili to something you wouldn't normally have chili in. For example, we compressed watermelon with chili and it was sweet with a little heat that you weren't expecting.
Describe the challenges, if any, which come with serving upscale French cuisine in a location like Whistler.
There are 150 restaurants in Whistler but years ago, there was a type of monopoly on the restaurant real estate here. People would come up, go skiing then only had a few places to eat at. Having choices is kind of the way humanity has gone since then and now there are more people and more cultures here. Any night of the week, you can have Mexican, Spanish, Italian, and more. As a result, you have to be competitive with your value in a ski town by offering enough food on a plate to fill people up but you also don't want people to leave here completely bloated.
One of the biggest challenges is having enough choices on the menu that brings people into the restaurant. Sometimes, people will look at our menu and say, "wow, that's a really cool restaurant." Others will look and say, "one person in my party will definitely not be able to eat here. That food is too strange for them." So, we have to have a balance of menu items. That, coupled with seasonality, makes it challenging. We need people to sit down in our restaurant in order to stay alive but we also have to stay true to ourselves. We can create cool food but if nobody eats it, what's the point?

Many of Alta's offerings, like the Deli Board and seafood options, are locally sourced. How does seasonality and BC-based sourcing affect the availability of your menu options throughout the year?

We've spent a lot of time getting to know the seasons, which is very important to be prepared for, especially since we do a lot of planning for our menus in advance. There are also some restrictions for us because we do only choose local, so it's not like we're using Chilean Sea Bass, for example. Also, Halibut season here is short, it's only a few months throughout the summer. Halibut is a beautiful, amazing, delicious fish but you only get to serve it within that period of time. We treat it as being lucky to be able to serve it and when it's over, we just look forward to the next year when we're allowed to serve it again.

There's also the price point of certain ingredients to consider. We can't just serve halibut in the short season, it's not possible, so we use underrated ingredients like rockfish. When you serve rockfish, it's $5.95 a pound, whereas halibut would be $24.95 a pound. Rockfish has become one of the unsung heroes in our restaurant. We stand by it and think it is absolutely delicious; we just can't get it in winter. It has a fantastic flavour and texture but you've got to know how to work with it or you could turn people off.

How do you believe Whistler could improve its food scene to become an even bigger culinary destination?
I'm very proud of Whistler and I think that the restaurant community is absolutely fantastic. Everybody looks after each other; if I need some eggs or oysters, somebody will totally help me out. However, I do think that, over the years, restaurants have relied on their real estate to allow them access to diners. It doesn't mean that their product is going to be great, they just get bums in seats and serve whatever they can to make a profit. I don't believe in that but it's also not my place to tell other people what to do.
What I do think should happen is having an association or something that says to people that if you're going to open a restaurant, you need to be prepared for the shorter seasons and the seasonality. We're trying to create a certain appeal in Whistler to the international clientele who are coming here. If they come and have sub-par chicken wings, that's not representing Whistler as what it could be. Whistler has a lot to offer and if you keep serving average food, people will say it has average food.