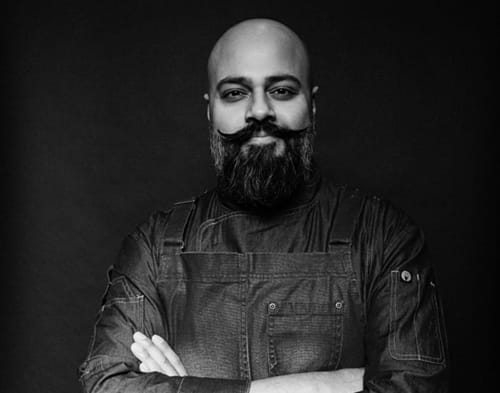 Catering to the New Normal
October 15 2020
After a successful run in entertainment marketing and production, Rick Matharu won the Food Network's 2010 Recipe to Riches competition with a delicious Butter Chicken Lasagna. This launched him into Canada's food scene.
With his winning recipe available in stores across the nation, Rick began working as a Food Culturalist and TV Host. In 2016, he opened his own Toronto-based restaurant and catering company, Rick's Good Eats, to serve comforting Punjabi-Canadian dishes in a street food style.
With very few events in 2020 to speak of, we caught up with Rick to see how he kept his regulars hungry for his culinary creations.
As a fast-casual restaurant and catering company, how did you pivot your establishment to keep your doors open after the pandemic hit?
Now that we've re-opened, we've needed to adapt with a smaller venue, a smaller staff and reduced hours. We used to have 30 items on the menu and now we have 15. Business is going well but it simply isn't as busy as it once was. We have to play it by ear every single day while reinventing and innovating to make sure we pay our bills and keep moving forward.
How has the pandemic impacted the catering side of your business? And what were the biggest challenges you endured?
Catering took the biggest hit. We were gearing up for the best summer in the last four years since we began catering. We had our food truck ready and were prepared for both pick-up and delivery. On top of that, we were going to participate in more festivals than we ever had previously, including the CNE. We were so pumped. We had a team set aside and everything.
When the pandemic hit and shutdowns happened, within two days we got 50 to 65 cancellations in the blink of an eye. That's when it really hit us, and me. It was like, "What just happened? What do we do about hired staff, deposits taken, equipment bought, loans taken, venue construction and all of that?" Festivals, weddings and events were just gone instantly. It was such a frightening experience.
We're now seeing a lot of inquiries and bookings for 2021, but people are still hesitant. They don't know what's going to happen in the future or if another wave will hit. Some aren't attempting bigger events at all. Weddings that used to have up to 1,000 people now only include maybe 50 to 100.
Now that Toronto has entered phase three, how do you plan to make your catering business sustainable again?
In the beginning when we first reopened, the main focus was the restaurant because I didn't know when people would start having weddings or needing catering. Over the last month and a half, since people can have limited gatherings, we've been getting inquiries for some smaller events. For these, we're doing individually wrapped packages, scaled to their needs.
We're also starting to look at our food truck again. Originally, it was an exciting element people could add to their festivities, whether it was a wedding, birthday or anniversary. Now, we look at it as this mobile kitchen where we can individually wrap the food and hand it to them via drive-by delivery or on-site at an event. It's obviously going to be scaled back quite a bit but we're still excited to get it up and running.
Could you share with us any new safety measures or procedures you're implementing for your catering operation?
When I get bookings for parties and corporate companies, a lot of people require everything to be individually wrapped right down to the forks and knives. Or they'll provide their own. We also need extra PPE to wear masks and gloves at all times.
But the main thing is individually packaging food in proper takeout containers. We have staff on-board to hand out portions, keep lineups short and space everyone six feet apart. We like forming waves of six or ten people at a time to prevent crowding around the food truck and to lower wait times.
If you have a 100-person event, not all 100 people can come at once. We need to split everyone up at least ten minutes apart so we have more time to prep, package and serve. What used to take maybe an hour and a half can now take two to three because we have to spread everything out.
So much more goes into catering now. As a business owner, more cost is incurred but we can't pass that onto our clients. PPE is definitely not cheap and finding gloves these days is challenging because they're double the price and hard to come by. But we need to eat that cost.
Our menu has to be simplified as well. It can't be the same as before because we need quick food with the fewest modifications possible.
How have you shifted your catering menu to offset additional costs and adjust to the types of events you're booking?
Going back to our restaurant, we had 30 items brought down to 15 based on what would make sense and work together. We went from a team of over 20 people to maybe ten.
For catering, we don't have enough staff members to even make all the items we used to offer, so we're scaling it back while trying to keep costs down. For example, our cauliflower wings were a very popular menu item, but they took a long time to prep. The prices of ingredients went up and the breading was different than what we used for any other menu item. Therefore, it was taken off the menu. Instead, we have crispy paneer bites.
We now keep 12 to 15 items on our catering menu that coincide with our regular menu and what our staff can handle. Plus, everyone needs to work multiple positions. Before, we had staff for individual roles like dishwashing, prep, line and front of house. Now, you can be on the fryers one minute and dishwashing the next. You need to be a jack of all trades because we can't afford to have any more staff at the moment.
What's one piece of advice for fellow caterers looking to reopen their business?
I am a firm believer in staying true to yourself. This is the time to reinvent. If you were doing burgers and fries before, maybe do something unique with them or take an entirely different approach. Do what you were doing, but differently.
Instead of poutine, do a butter chicken fry. Go deep into your culture or background and think outside the box.
Many people don't want to cook, so consider creating catered food boxes for a family, or even frozen items. We introduced frozen mac and lasagna that families could prepare whenever they wanted. Even if you're not getting bookings of 60 at once, you can still reach that number in smaller increments.
Given the current situation, how would you like to see the catering industry evolve and grow?
We all have to work together. Festivals need to come back, and we need to figure out how to help bring them back.
While chains are great, instead of ordering fast food, events should look at smaller companies that offer the same items. Look into mom and pop shops and support local businesses; we do so much of the same thing. We can put food on each other's tables.
Hospitality has taken a big hit, but together, we can truly help one another, our staff and our loved ones.