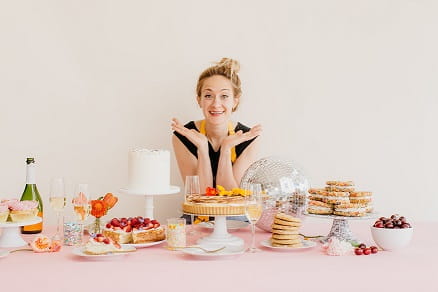 Baking Outside the Box
December 22 2017
From informative blogger to baker extraordinaire, Chef Angela Garbacz is revolutionizing inclusivity in the baking industry. What started as a part-time dream hobby became Goldenrod Pastries, Angela's brick-and-mortar pastry headquarters in Lincoln, Nebraska where she continues to work her magic on baked goods for those who are gluten-free, dairy-free and suffer from other dietary restrictions.

We recently had a fascinating talk with Chef Garbacz about her inspiration, flavour processes and sweetest pantry secrets.

Goldenrod Pastries has been recognized globally for designing high-end, playful pastries that are diet-inclusive. Share with us your inspiration behind this style of bakery.

My business started as a blog where I was detailing my journey learning to bake dairy-free and I found so many individuals who have dietary restrictions and couldn't find treats anywhere. I then learned how to bake for many different diets and found that this was actually a huge need. I realized that if we could bake for more people and become more inclusive as a business, why wouldn't we, it just made sense to me.

A lot of places that do offer those options either don't offer very many or lose the aesthetic along the way so we really try to make our items look very playful, exciting and colourful. We use a lot of edible flowers, sprinkles, glitter; there's no reason why it can't be beautiful and taste delicious.

Describe your flavour process for finding the right ingredients to replace traditional ones such as milk, eggs and butter in your vegan and/or gluten-free offerings.

It has definitely been a learning process for us. Our favourite replacement for fat is coconut oil because it has a really awesome flavour on its own. It can be neutral or have a coconut flavour, depending on the kind that we choose to use. It offers a nice substitute to butter as well.

As far as milk, we always use almond or coconut milk which are fatty and great flavour substitutes.

For gluten-free, we have had to do a lot of experimentation and use 4 different main flours, depending on the item. One is sorghum-based and has a soft texture. Another is rice which offers a fine crumb. The third is primarily brown rice and potato starch-based which is really great for cakes as it offers a lot of spring and fine texture. We also use almond flour which is good for shortbread and crusts.

When crafting your pastries, you're combining both diet-inclusive and locally sourced ingredients when possible. What impact does this have on your final creation in terms of flavour?

I think what they do is enhance the final product. We never want to make a substitution or use something -just- to use it. The only reason to make a product is to make it taste better and more delicious so if we're going to utilize a flour, we aren't going to use it to change the flour used in the goods, we want to make sure it actually bakes a really beautiful part in whatever we're making.

In the same way, we use locally-found ingredients but only if it makes it that much more delicious. If we can make our vegan buns with locally-sourced roasted apple, for example, what's better than that?

Share with us the biggest flavour challenges you face when preparing your pastries?

I never want things to be too sweet and our customers don't seem to prefer goods that way either. I think it's really important to strike a balance of sweetness and the other flavours that we're putting in our products. If we're too sugar-forward, that can turn off a lot of customers so we try to approach our pastries with the mindset of making something that tastes like what the product actually is. Like with our coffee butter cream, it actually tastes like coffee from using a cold-brew concentrate from a local coffee roaster. We want this to taste like coffee, not just taste like a sugary butter cream or just sugar.

It's really important to find those ingredients, those flavours, that really make it stand out without being too sweet.

What are your most-used pantry ingredients to enhance flavours in your creations?

We always have ground cardamom, it's one of our favourite things to use because it's kind of a new flavour for a lot of our customers but it adds a really warm, almost lemony spice.

Coffee is another one, it's so good with pastries and adds that bitter component that goes well with sugar.

Black ground pepper, as we get into the fall and winter months, is very important for us and our spiced molasses cookies as it really enhances while taking away too much sweetness from the cookie.

Rose water is also important as we do a lot of Mediterranean and Middle Eastern-inspired pastries. We can use it in a glaze or butter cream and it's a great fit for French macarons.

Lastly, we use a lot of turmeric and I think that's something that people are really excited about right now. It adds beautiful color and an interesting earthy flavour that separates the pastry from anything too sweet.

So, what's next for Goldenrod Pastries? How do you plan to take diet-inclusive pastries to the next level in terms of flavour and design?

We want to be able to share with people how easy it is to bake treats for everyone and we're always trying to find new ways to do that, especially with the holidays coming up. It's important to make something simple for guests and one of the next steps for us will be educating people on how they can easily do that at home. In terms of in-store and our style, we're always evolving and finding ways to incorporate spices and new ingredients in a slow and steady approachable way.

Right now, we're experimenting with using teas in our pastries, like matcha, green tea and earl grey. Those are really lovely, interesting yet subtle flavours to incorporate.

Overall, the more we can work with spices and new ingredients that can challenge our customers' palates, the better. As long as Goldenrod is pushing the envelope in terms of how things look and taste, we'll always be looking for what's next.