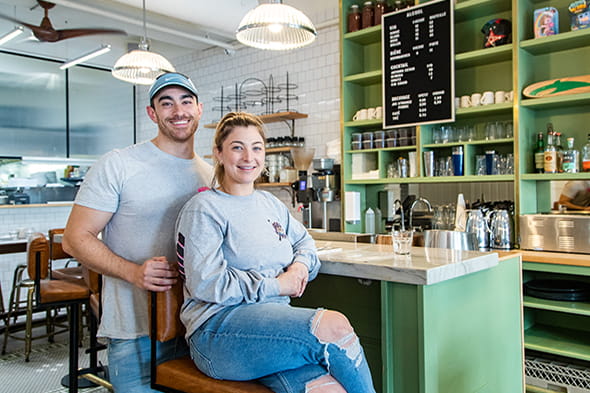 A Flavour Tribute to a Classic Upbringing
November 12 2019
In Southwest Montreal lies Arthurs Nosh Bar, a Jewish deli with a mix of Moroccan heritage and global inspiration from the well-travelled palates of Chefs Raegan Steinberg and Alex Cohen.

With Steinberg getting her culinary start at the Art Institute in Vancouver and Cohen, a self-taught, self-starter who worked his way up from the dish pit, the two met one fateful night while both living in Montreal and the rest was history.

We popped into Arthurs Nosh Bar to uncover how the two combine their unique, food-filled upbringings, Asian exploration, North American flair and a taste of Montreal into a menu that can still remain relatable to the public and to their family roots.
Early in your careers as chefs, the two of you decided to travel in search of culinary inspiration across Asia. Describe your goals and how they inspired your techniques and flavour processes upon your return to Canada.
Raegan Steinberg: The original plan was that I was going to go traveling and Alex was going to head to the Culinary Institute of America in New York. Then, his plans fell through, so he piggybacked onto my trip, proposing to me the day before we left. Since this was before Instagram, we thought we would create a blog while exploring so we set off expecting to just write about food, not thinking we were going to be inspired to open a restaurant.
In the end, we totally faked our blog. We'd write about Vietnam while we were in China and that sort of thing. We also realized that, with all due respect, a lot of the Southeast Asian foods and flavours were very similar. It was also really hard for us to communicate with people there. For example, if we loved this street lady's pad Thai or pad suey but she couldn't tell us what it was or what was in it. However, I'd say it inspired me to expand my palate, use the techniques I saw over there and it taught me how simple some dishes really can be based on the quality of the ingredients.
Alex Cohen: It definitely wasn't planned as well as how we probably should have planned it. Upon arrival home, I was working in an Asian restaurant so, for me, the trip did inspire certain dishes, use of ingredients, methods, and flavours. It also made me realize how little I had been doing and how much more I could be doing with food overall. It also taught us to be thankful for what we had, what we were able to do and what we're able to accomplish here in Canada.
How do you feel these learnings assisted in operating what was your next venture, a dual-run catering company?
Raegan Steinberg: During our travels, we tried so many different and amazing foods, so when we came back to Montreal and opened Back of House Catering, we knew we didn't want to have a cookie-cutter approach to it. I had kept living with this fear that we were going to be some boring type of catering company, so we were always creating new dishes, while never doing the same menu twice. We basically took things that we had tasted and loved, then brought them to life in our own way for our clients.
After catering, you created what is now Arthurs Nosh Bar, a Montreal-based Jewish deli. How have your travel inspirations been integrated into your menu, particularly given the traditional base of many of your dishes?
Alex Cohen: Having also travelled to places like New York and Toronto and tasting the food there, we knew that certain dishes in these places would be better than others. There were also certain dishes that made us say, "we can do way better than this."
Raegan Steinberg: Visually, Alex's cooking of items like matzah ball soup or French fries might just look like regular matzah ball soup or French fries; however, the steps that he takes to get there are what makes their depth of flavour and textures stand out the most.
What were some of the main challenges in transitioning from catering to brick and mortar cuisine?
Alex Cohen: It's really had its own set of challenges, which make you realize that a restaurant is way more than just a beautiful idea or passion project, it's a business. You really have to find a middle ground between passion, work, business, and opportunities. So daily, you're asking yourself, "do I stay in the kitchen, get out of the kitchen, grow and expand and/or have enough staff?" We're looking at all of these elements that we never thought we'd have to deal with when we were in catering.
Raegan Steinberg: Plus, now there's no more repetitive schlepping, packing, unpacking and repacking. In catering, we had consistency and a staff that was also consistent. It wasn't just the two of us scrambling to find people.
Describe the creative spins you often place on your dishes, which also happen to be traditional dishes from your upbringing.
Alex Cohen: My mother calls it the mixing of the bloods. I try to be as authentic as I can in the sense of the original idea behind a dish. However, I then turn it into what my family and Raegan's Jewish family would eat on a daily basis, not what our grandmother's grandmother would have had throughout their lives. For example, I take the Moroccan food that I was brought up with, a traditional food that Reagan was brought up with and try to bring it all together in one dish, where they're cohesive.

Raegan Steinberg: Another example is our winter schnitzel, which has a pan-seared Bavarian potato salad. This is something more that my Eastern European family grew up eating, but with an Asian style cabbage coleslaw. The cabbage might not have anything to do with either of us but that's more his personal flair coming in to play.
Another example is our cabbage soup. My grandmother used to make a diet cabbage soup and we would eat gallons of it in Florida. His family would make a chickpea lentil Moroccan version. So, we mixed these two recipes together to create our own soup. You have the sweetness of the cabbage soup, the spices of the Moroccan soup plus a tomato base. It came out to be better than both original soups in the end.
What roles do spices and seasonings play in your menu offerings, and what are some of the most commonly used?
Alex Cohen: Being Moroccan, spices are everything. They have a massive role here at Arthurs Nosh Bar. Take Club House's Roasted Garlic & Red Peppers Seasoning, we use it all the time in our dishes. For example, we have a gravlax sandwich with a caramelized onion cream cheese and sprinkle the seasoning into it.
How do you feel life and cooking in Montreal contributes to your restaurant, whether it's sourcing, flavour inspiration, neighbouring cuisine availability or demographic?
Raegan Steinberg: Cooking in Montreal comes with a lot of pressure because this is a major culinary city. All of our neighbours, colleagues and people that we've grown up cooking with are amazing and already on Canada's top restaurant lists so the bar is set high.
At the same time, people here respond to the quality of food. We have a variety of customers from age to socioeconomic and religious backgrounds. You name it, they come and eat here. That's the biggest compliment to us.
Alex Cohen: What I also love about Montreal is that everyone is a mix of everything here. I can't make some dishes as "authentic" as I could if I were in the country where the original dish is from. Since we're in Montreal, we have to try to use the ingredients that we do have to make what we need to make, which becomes a very Montreal dish. Overall, we're a city of immigrants, foreigners, this and that; a big melting pot. I think it is amazing because you can do whatever you want as long as it tastes good.
Are there any dishes you'd like to serve, or like to cook, but don't see yourselves adding to the menu anytime soon? Why is that?
Raegan Steinberg: When we look back at our inception, there are a few dishes that we loved but weren't selling such as, our pickled salmon. Back then, at the end of every week, we'd throw away sides of pickled salmon, it was so sad. You'd get a few New Yorkers every once in a while, who would order it but Montrealer's just weren't connecting with it.
Alex Cohen: We once did an article in the Globe & Mail and on the front page of it was our chicken liver plate. For one week, people from Toronto flooded in to eat it, but not one was a Montrealer. Everyone here is used to the French version of chicken liver, not the Jewish and Moroccan version.
What do you see coming next, whether it's ingredient or dish experimentation, new features or what you see as your next accomplishment?
Raegan Steinberg: Next winter, we're going to be doing an expansion to Arthurs Nosh Bar. We're going to put in a proper kitchen and an office upstairs, moving things around on the main floor. Then, we're going to be seeing where we want to go next with Arthurs Nosh Bar; whether it's in Toronto or somewhere else.
Alex Cohen: We don't want to open up a second Arthurs Nosh Bar in Montreal because you can't be an institution in the city if you have more than one location here. I don't want to saturate the brand, so I'd like to open another one somewhere else.