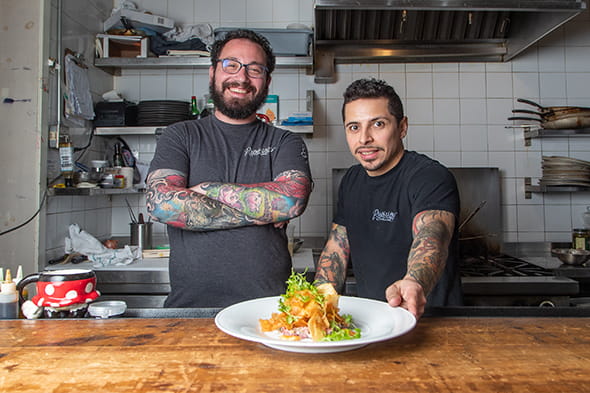 10 Things You Didn't Know About Chefs Hakim Rahal & Pablo Rojas
October 01 2019
After meeting through mutual friends with matching passions for flavours, Montreal Chefs Hakim Rahal and Pablo Rojas decided to dive headfirst into the idea of building their restaurant vision together. Today, they are the Chef owners of Provisions Wine Bar + Butcher and Provisions Restaurant, with a third location on the way.
Here are 10 things to know about this dynamic duo.

1.

Favourite place in Montreal to explore for inspiration?
HR:
The Jean-Talon Market at the end of summer.
PR:
Chinatown, with all of the different spices and colours.
2.

One dish on your menu that locals love most?
HR:
Our menu changes daily so we hope they love them all.
PR:
I think we're always nailing the pasta dishes on our tasting menu.

3.

First restaurant in Montreal you ever ate at?
HR:
Rotisserie Italienne.
PR:
Schwartz

4.

One Montreal chef you'd love to collaborate with?
HR:
Chef Jesse Mulder, L'Épicerie Pumpui.
PR:
Chef Stephen Leslie, Tavern on the Square.
5.

Your chef heroes?
HR/PR:
Thomas Keller.
6.

A restaurant in Montreal you could eat at again and again?
HR:
Satay Brothers
PR:
Joe Beef

7.

One dish not on your menu but that you love?
HR:
Anything from Chinatown.
PR:
Chicken wings from Tavern on the Square.
8.

Best Montreal tourist destination?
HR/PR:
Jean-Talon Market.

9.

One dish at Provisions you think everyone should try?
HR:
Our pasta.
PR:
Our bread. It's the only thing you get to do over and over again.
10.

Why you chose to change your restaurant menu daily?
HR:
Keeps it interesting for the customers and us.
PR:
To challenge ourselves.
Learn more about Chefs Hakim and Pablo.