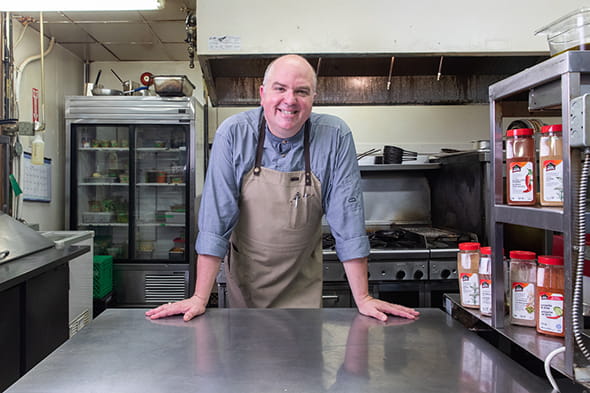 10 Things You Didn't Know About Chef Craig Flinn
August 20 2019
Carrying a philosophy of "extraordinary casual dining" since 2001 at Chives Canadian Bistro and now 2 Doors Down, a self-described "Bar + Bites" eatery, Chef Craig Flinn has found himself thriving among the Halifax Waterfront in a food scene chock-full of positive connections; friendly competition, community-based opportunities and local history. Chef Craig has also found success on televisions and bookshelves across the country, appearing on programs such as Bizarre Food, Chef at Large and You Gotta Eat Here and releasing cookbooks including Fresh & Frugal, Fresh Canadian Bistro and Fresh & Local.
We recently paid a visit to Chef Craig to learn more about the top 10 things you didn't know.
1. What is your favourite thing about the Halifax food scene?
I love the fact that the chefs are young, vibrant and engaged. There is a real sense of community. We all get along and work well together; it's a neighbourhood feel. There isn't any intense competition.

2. One Halifax ingredient you couldn't live without?
Lobster.

3. Go-to spice or seasoning?
Star Anise. I love it pronounced in a dessert with seasonal berries. Works great behind the scenes in meat and sauces.

4. What's your favourite dish on your restaurant menus?
At Chives, Braised Lamb Shank on Risotto (seasonally changing). At 2 Doors Down, I am obsessed with our burger.

5. Where would you like your next culinary tour to take place?
I would love to tour Scotland. It has whiskey, pub grub and seafood that are almost as good as Nova Scotia.

6. Favourite chef you've collaborated with?
Michael Stadtländer.

7. What's your favourite dish to make?
Grilling meat over an open fire.

8. If you could open a restaurant anywhere in the world, where would it be?
Dartmouth.

9. Best part of your job?
Being a part of a community that starts locally and is across the country; a network of chefs and producers to celebrate the world of culinary.

10. Biggest lesson you've learned as a chef?
That it's not just about cooking great dishes. It's about customer service, leadership and being a part of something bigger.