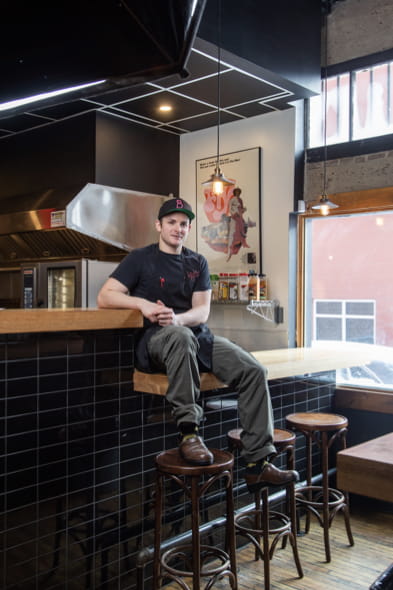 10 Things You Didn't Know About Chef Alexei Boldireff
February 19 2019
Dishes aren't the only culinary greats that have gone from farm to table. Edmonton Chef Alexei Boldireff has cooked and fused his way from the fields, bakeries and butcher shops to Michelin star must-stops across the world, all leading him back to Alberta to work behind-the-line of Calgary's Model Milk.
A journey in food truck operation soon followed for Chef Boldireff until he eventually found his way into the kitchen of Edmonton's Baijiu, an Asian cocktail bar and eatery.
We chatted with Chef Alexei Boldireff to find out the fun facts that make him the chef he is today.
Favourite place to find menu inspiration in Edmonton?

The downtown Farmer's Market.

What's your favourite ingredient?

Flour.

One spice/seasoning that's always in your pantry?

Cracked Black Pepper.

If you had Black Pepper, Turmeric and Red Pepper in your kitchen what would you make?

A curry blend.

Signature dish?

Red Braised Pork Bao.

Favourite Edmonton eats outside

Baijiu?

Corso 32.

First restaurant you tried in Edmonton?

The Motoraunt, a bus that slinged burgers.

Where to do purchase Baijiu's proteins?

All of our proteins are sourced from local farms.

Which food trends/flavours do you thing will be popular in 2019?

Comfort foods.

Who is your chef hero?

Justin Laboe.