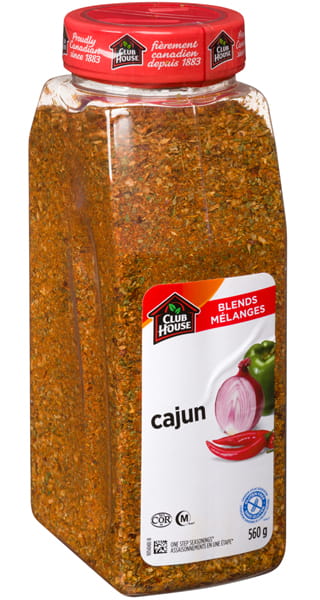 Club House Cajun Seasoning
Our Cajun Signature Blends Seasoning is a coarser blend than our other Cajun Seasonings. It's a robust and full-bodied seasoning that combines the essentials of Cajun cookery - onions, bell peppers and celery, along with chillies, pepper, garlic and a variety of herbs.
Perfect with chicken, pork, fish and seafood; simply shake on or add to flour/bread crumb coating; bake, grill or fry. Add to one pot dishes, soups, vegetables, jambalayas, gumbos, stir-fries and marinades. Use to make blackened fish or chicken. Use in salad dressings for bean salads, corn relishes, mixed vegetables and salsas. Sprinkle into scrambled eggs, omelets, devilled eggs, nachos, pizza, chili or anywhere added heat and flavour is desired.
Nutrition Facts
Per 1 g (1/2 tsp)
Amount
% Daily Value
Calories 0
Fat 0 g
0%
Saturated 0 g
0%
+Trans 0 g
Cholesterol 0 mg
Sodium 105 mg
4%
Carbohydrate 0 g
0%
Fibre 0 g
0%
Sugars 0 g
Protein 0.1 g
Vitamin A
2%
Vitamin C
8%
Calcium
0%
Iron
0%
| ITEM CODE | PACKAGE SIZE | SHELF LIFE |
| --- | --- | --- |
| 066200911683 | 560 g | 24 Months |
Ingredients: SPICES AND HERBS (INCLUDING CAYENNE PEPPER), DEHYDRATED VEGETABLES (ONION, GREEN BELL PEPPER, CELERY, GARLIC), SALT, SUGAR, NATURAL FLAVOUR, HIGH OLEIC SUNFLOWER OIL, CALCIUM SILICATE, ASCORBIC ACID.
Recipes to try:
Thai Green Curry and Coconut Milk Steamed Mussels with Spiced Kennebec Potato Tater Tots
View Recipe