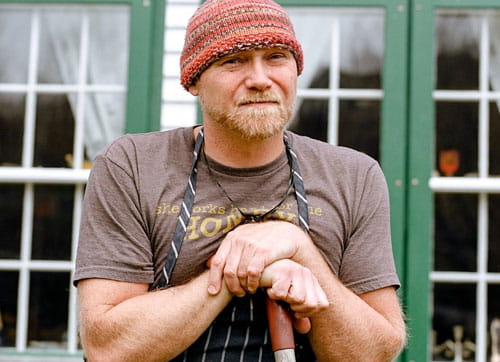 Redefining Atlantic Canada's Food Scene
November 15 2017
Born in St. John's, Newfoundland, Chef Todd Perrin is all about Atlantic Canada's fresh air, palates and perspectives on classic dishes. From the cameras of Top Chef Canada to the kitchen of Mallard Cottage in St. Johns, Chef Perrin has dedicated his career to experimentation with local ingredients and sharing Newfoundland's best flavours with all who come to visit.
We spoke to Chef Perrin to gain a new perspective on what Atlantic Canada is all about, from established traditions to its' tasty dishes.
When you took over Mallard Cottage in 2011, you worked to ensure Newfoundland & Labrador's heritage was preserved. How did this preservation translate into the menus that you developed, specifically with regards to flavours, ingredients and presentation?
What we try to do at Mallard Cottage is treat traditional ingredients in a matter of ways. We like taking items people have enjoyed here over the years like wild game, cod fish, seafood, and apply our own modern techniques. A lot of the selected traditional ingredients are already really familiar to those around here but sometimes the way we treat them is considered a modern 21st century take.

An example would be our catch and cook sous vide. We're catching seafood that people have been eating forever and cooking them in a highly temperature-controlled water bath which isn't something anyone else here have really done.

Mallard Cottage is now in its 6th year under your leadership. How have you seen Atlantic Canada's food scene change?

I think that Atlantic Canada has come into its' own as a food destination. There's a lot more emphasis on local farmers and game, especially here in Newfoundland. This part of the country has always been a tremendous breadbasket for Canada when it comes to farming, agriculture and local cattle. The recognition from a restaurant perspective in Eastern Canada is something that has really ramped up over the last few years and it's getting greater as the economy evolves and tourism becomes bigger.

With the changes occurring in Atlantic Canada's food scene, how have you evolved the cooking techniques, flavours and ingredients you're using to elevate traditional Atlantic Canada Cuisine to the next level?

Our general philosophy, from a local restaurant perspective, is that Newfoundland and Labrador is a very cosmopolitan place and has been for 500 years. We use a lot of herbs, spices and unfamiliar, international flavours and ingredients like chili, fennel and coriander, mainly ingredients that came to Canada for the first time from the port of St. John's. They'll get added to familiar Newfoundland ingredients, like adding fennel seed to chili to make a ceviche with halibut.

Describe a common challenge that chefs experience when experimenting with Atlantic Canada's flavours and how are you overcoming it?

The sourcing and availability of quality local product can always be a challenge. We, as a province, have great products but we don't supply it all to our own local food so it can become quite limited.

Another challenge is local palates which have slowly evolved over time. People here tend to not be adventurous eaters but that has been changing. We're educating these peoples' palates to be open-minded toward different treatments and flavours.

When we opened the cottage, we were very aggressive with the food we wanted to cook and how we wanted to cook it. The market didn't originally respond to this food program as positively as we had hoped so we went a little more traditional. Over the last couple of years, we have slowly rolled out our original ideas in the way we wanted to back at the beginning. It's basically a process of letting people experience different styles and recipes on their own terms rather than (metaphorically) shoving it down their throats.

Which new Atlantic Canada flavours and ingredients can we expect to see making their way to the centre-of-the-plate?

We're always looking for the next available product and the Newfoundland beef industry is actually starting to get some legs. We don't have much local beef here but there are a couple of farms and companies we're working with to help focus on Newfoundland beef.

Other farmers are now growing ingredients that are becoming more mainstream in Newfoundland like wheat and raw grains. As the agricultural scene evolves, we sometimes have to wait for them to come to us with something they've tried growing or anything that's new. That said, we don't always know what's going to be available so we make our menus every day based on what is.

In your own words, define what Atlantic Canada's Cuisine is today.

While that definition would be unique to every chef and every restaurant, I'd say that Atlantic Canada cuisine and chefs can be more single-minded and independent. This is because we don't have big cities or pressures like Toronto or Vancouver might have. Restauranteurs here have a lot of freedom and are able to develop their own ideas on what they'd like to do and how. The ability to conceptualize a restaurant or food style and then deliver it on your own terms is what we see here more often than not.