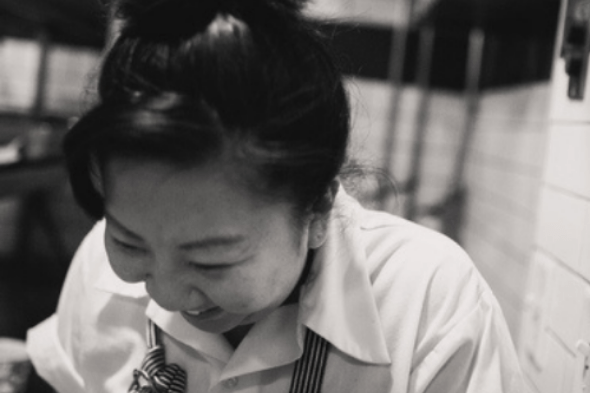 Desserts to the Rescue
October 15 2020
Having grown up with a passion for pastries, Celeste Mah enrolled in the Baking & Pastry Arts program at Vancouver Community College. After graduating, Celeste met her future husband, Chef Ross Larkin, and the two journeyed to Newfoundland where she became the Executive Pastry Chef at Raymond's Restaurant. In 2019, she was recognized by Canada's 100 Best as Canada's Best Pastry Chef of 2019.
We sat down with Chef Celeste to talk about how she and her husband have adapted to the realities of the restaurant industry.
As a pastry chef, what was your experience living in Newfoundland through the overwhelming events and changes of the pandemic?
I did a lot of baking because I had to bring all of the sourdough starter home from the restaurant. I began posting on Instagram that I had extra loaves of bread for whoever contacted me first. The reaction was unexpected. People started messaging me, asking for little cakes to celebrate what would have been their wedding days, so I started baking those too.
How did Raymond's Restaurant react and pivot during these difficult times?
As soon as the pandemic hit St. John's, we decided to close Raymond's Restaurant right away for the safety of our staff and customers. I think we were the first restaurant in St. John's to shut down entirely.
While Raymond's Restaurant was shut down, our sister restaurant, Merchant Tavern, started to offer takeout. I moved to The Merchant along with my husband, who had been the chef at Raymond's. We unfortunately had to lay off the rest of Raymond's staff.
How did your work as a pastry chef change during the pandemic? How has it changed since reopening?
At Raymond's, my desserts are plated with a few extra touches and everything's a little more detailed.
When adjusting to takeout at Merchant, I had to create more items like brownies with chocolate mousse piped onto them. They had to easily fit into a box for people to take home.
When I wanted to build up flavours, I did something similar to a trifle in a cup. One example was a chocolate cake with partridge berry jam, pastry cream and lots of texture. The flavours were layered, but the dessert was simpler.
During the pandemic, we only did takeout three days a week: Thursday, Friday and Saturday, I believe. We were hardly there part-time. I would go in to make one dessert a week and help them if they needed burger buns or other baked goods.
Since reopening, what have been the biggest changes to protocol or technique in your pastry department?
The pastry department has always been me and one other person, so that's stayed the same. But we have a much smaller staff overall and we're only open three and a half days a week instead of seven.
This year, we needed to re-evaluate everything. We focus less on tasting menus while still making approachable dishes. Instead of opening only for dinner, we've added brunch featuring sourdough bread and sourdough waffles.
I've also put two desserts on the new menu: petit fours (freshly baked meringues and macarons) and beignets with reduced caramelized cream and preserves.
Because we can't rely on tourists, who were once our main business in the summer, flavours of the island became our main focus. We also use non-island ingredients to enhance dishes and get people from Newfoundland excited about coming in to eat.
Dessert-wise, for example, I've made toasted bread ice cream with quinoa, strawberry sauce and maple syrup. It's something I wouldn't have done before, yet it's on the menu now.
How would you like to see the restaurant industry evolve based on the new foodservice standards and guidelines?
The city has actually done a great job opening up. The Merchant Tavern is on a street downtown called Water Street, and this year they closed it off to open a pedestrian mall. Now all the restaurants along the street have patios, which has been a huge help. It's great to see how busy they've all been.
Without this pandemic happening, I don't know if the pedestrian mall would have happened especially so quickly. It was nice to see the city push to evolve.
What's one piece of advice you'd offer fellow pastry chefs getting back to work?
You have to be willing to pivot. Take the punches as they come and, if necessary, change what you were doing before. Just go with it, but don't compromise what you do.