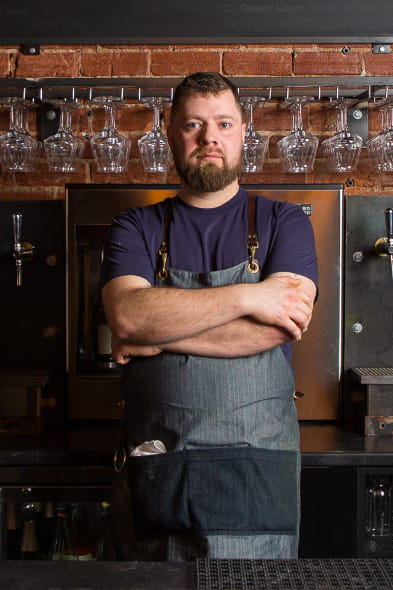 Creating Fine Dining in The Cozy Capital
March 06 2020
Raised and trained in the nation's capital, Chef Justin Champagne knew exactly where he wanted to be the second he got the call of his dreams.
After building his fine dining skills in renowned restaurants such as Atelier in Ottawa, Atelier Crenn in San Francisco and Hawksworth Restaurant in Vancouver, Chef Champagne headed to Montreal, Quebec to assist with the opening of Pastel, a fine dining French-Japanese establishment. Less than two months and one call later, he found himself back in Ottawa as the Executive Chef of Ottawa's Bar Lupulus.
We caught up with Chef Champagne to find out how exactly this journey took place and what's happening on the line today.
You've worked on-the-line in kitchens across North America including, Atelier Crenn, Hawksworth Restaurant and Atelier. What led you to becoming the Executive Chef of Bar Lupulus?

What lead me here was spending five years with Chef Marc Lepine at Atelier. Lepine was one to really push you into thinking outside of the box and keeping your career moving forward. At the five-year point, we both decided that it was time to try to move into more of a leadership role.
I moved to Montreal briefly to be part of the opening team at Pastel with Chef Jason Morris; he was a phenomenal chef. 40 days later, Anthony Spagnolo from Bar Lupulus gave me a call and asked if I wanted to run the kitchen. Since I love beer and the team at Bar Lupulus, I had to jump on this opportunity and moved back to Ottawa.
Bar Lupulus' style of cuisine is a fusion of your background in fine-dining and passion for beer. Describe your flavour process and approach to bringing this concept to the centre-of-the-plate.
Chef Marc Lepine, and Chef Eli at Hawksworth Restaurant both taught me to bring a flavour profile that is unique but also has a little bit of a safe zone. You want to pull somebody out of their comfort zone but in a way that they feel comfortable leaving it. For example, it might be pairing a koji-fermented guinea fowl with a nice homey risotto underneath. Guests taste something that they can relate to while also tasting another ingredient they might not have tried before.
Explain the cooking techniques that you utilize to elevate the flavours of the ingredients.
When I think about a dish, I consider textures and make sure there's something that's crunchy, another that's smooth and an additional element they can really bite into. For example, with lamb-stuffed anolini I have the nice, crispy fennel in there to add a different texture. Visually, it's stunning and also a little bit different from what you'd see on a normal plate.

What are the biggest challenges in serving your style of cuisine offered at Bar Lupulus?
The biggest challenge behind my style of cuisine is accepting mistakes. For example, when you're trying to make a new dish but something about it just doesn't work out. That can be a really big kick to one's confidence. When you're trying to create food, and you're using outside of the box thinking to bring new experiences and uniqueness to a dish, you're bound to fail at least a couple of times here and there.
One piece of advice you would provide a chef looking to elevate their dishes?
Trust the process. It might not seem like you're going very far one day, or you might feel like you've hit a roadblock, but just trust it. Keep moving and pushing forward and everything will eventually work out the best that it can.

So, what's next for Bar Lupulus? How would you like to see the restaurant evolve?
I think we're currently in the thick of all that I want to see happening here. For Anthony and myself, it's just a matter of pushing forward. We're continuing to come up with new flavour profiles, educating our customers and trying to make a fine dining style of cuisine but in a relaxed, homey atmosphere.