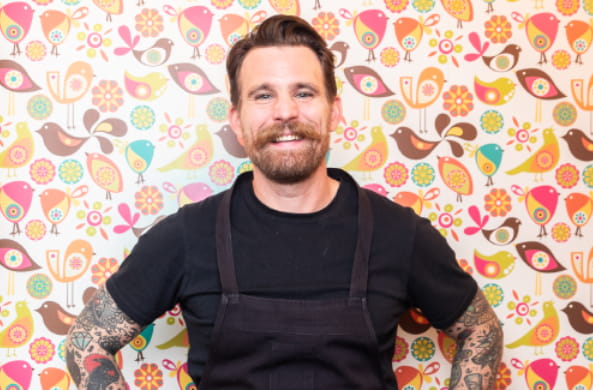 Building A Restaurant Group
November 13 2020
Born in Saskatchewan, Chef Dale MacKay's early culinary career as a fry cook in Vancouver helped him discover his deep passion for food. This led him to London, England, where he built upon his experience at Claridge's, a Gordon Ramsay restaurant.
After stints at Ramsay locations in Japan and New York, he returned home to become the executive chef of Lumière in Vancouver. He opened two restaurants here and found time to win the first Top Chef Canada competition.
In 2012, he decided to close his Vancouver locations, and a year later he returned to his hometown of Saskatoon to open the first of four restaurants under what would become his Grassroots Restaurant Group.
We talked to Chef MacKay about how each location came to be, how they operate within the group and how the community came together in Saskatoon's time of need.
Under Grassroots Restaurant Group, you've established some of Saskatchewan's top restaurants, all of which have their own unique concept. What was your process for developing each?
We don't like doing the same thing over and over, especially in a small city. The first of the four was Ayden Kitchen + Bar, named after my son who was twelve when we first opened. Ayden is a collection of everything I've learned over my career. The goal was world cuisine using flavours from India and Thailand, all driven by French technique. For me, it's the most fun place to create food because we have no boundaries. It sounds chaotic, but all the food works together on the menu because it comes from the same chefs.
Little Grouse on the Prairie, our second restaurant, is named after a TV show and our provincial bird. We wanted to create something with the feeling of a grandma's kitchen. You eat together family-style and watch the chefs work. Little Grouse isn't just an open kitchen, it's completely exposed. No matter where you are, you're only about twenty feet away. The pasta is all handmade to order, which really makes a big difference in taste. I love little Grouse ¾ it's probably one of my favourite places to go for a casual dinner.
Our third restaurant is Sticks and Stones. My business partner and best friend, Christopher Cho, is Korean but was born in Brazil and grew up in Ontario. I lived in Japan for three years where I gained a lot of knowledge of Japanese food and a passion for Asian cuisine. I also visited Korea for three months where I learned traditional and newer techniques from a Korean master chef. When we first opened, Cho's mom flew all the way here to make kimchi with us for two weeks, making sure we did it the real traditional way. Sticks and Stones is probably the city's favourite since we do ramen and sushi. I eat there three times a week because it's delicious and getting good sushi in Saskatchewan isn't easy.
Our fourth restaurant, Avenue, is in Regina. We found the space before anything else. It was perfect, so I literally just approached the owner and said, "how can we be in this building?" It turned out to be an amazing partnership. Three of our four restaurants are in heritage buildings over one hundred years old. Avenue has beautiful 30-foot ceilings and 18-foot arch cast-iron windows. For Hospitality Design of the Year, we got first in the Americas and third in the world. We love Avenue; it's similar to Ayden since we don't have too many rules culture-wise, but it's generally more on the French side. We do more traditional recipes like wellingtons, beef tartare, whole roasted chicken rotisserie and chicken for two. We still add little twists like aloo gobi croquettes and yuzu pork ribs.
Explain your day-to-day role as the Founder of Grassroots Restaurant Group. How does it change between restaurants?
I try to pop into each restaurant every day and talk to the chefs and general managers. I spend a good amount of time on the computer checking emails, taking care of promotional stuff and doing as much of the marketing in-house as possible. I also spend a lot of time on the road, being in Regina two to three days a week.
Prior to COVID, I travelled at least once a month for different events. I'd spend two months of the year in Toronto doing filming on Food Network shows if I was lucky. That was awesome for Saskatchewan because we really want to be on the national stage. It helped put the province and Saskatoon on the map as a food city.
The biggest thing is communicating between all the locations. It's a restaurant group so we want everyone to feel like they play a part. We don't pick favourites and the chefs really do connect and talk. If someone finds a great deal for beef, fish or a new product, I facilitate and communicate that between all of the restaurants while preserving their individual identities.
How do you collaborate with each of your Executive Chefs to create your menus?
I'd say the menus change the most at Ayden and Avenue. We flip their menus seasonally as things go in and out. I'm also very big on numbers and costs. The only way these restaurants will be here in ten years is by running them efficiently.
When a chef wants to do a dish, they'll call to say, "Hey, I'm working on a couple of dishes, are you able to come down?" Ben and I will taste the dishes and talk about them. If I don't like something, we'll move on and try another, or I'll give little tweaks. Often, they only need a few minor changes whether in acidity, use of the right products or avoiding repetition.
I really do expect the head chefs to bring the ideas and flavours for us to talk about. Chefs are artists but need time to grow into this; you're not just given the keys to run with. It's a collective thing. Everyone respects each other's opinions because we're connected and chat all the time.
What are the biggest rewards and challenges in owning and operating a restaurant group?
Our guests are obviously front and centre because that's who we do this for. When someone sees you on the street or messages to say, "I was at so-and-so restaurant last night and it was amazing," it makes you feel really good about what you're doing.
The second would be the staff. I love our day-to-day interactions: chatting with them and trying to inspire them. Since humour is a big thing, you need to keep people motivated and make sure they're progressing in life. It's about mentorship, not just food. How are they doing at home? Are they making enough money? All of those little things feel more personal.
I'm a firm believer in staying with certain chefs or groups for long periods. I was with Gordon Ramsay for seven and a half years and Daniel Boulud for four years. I'm big on finding people who genuinely care about you, your progression as a chef and as a human. We try to do that and make sure we're mentoring on more than food.
People do need to understand the financial logistics behind restaurants, and I don't think that's taught very often. Others can be very guarded with that stuff, whereas we show everyone the numbers. Head chefs especially need to know the income and costs so they can develop as managers. Then, if they do eventually leave and open a restaurant, they'll become successful because they have knowledge beyond how to cook.
Restaurants are notoriously difficult. One little mistake with location or concept can mess you up. The profit margins are low no matter what sector you're in, from fine dining to casual. You have to be efficient and trust your staff. What gives me the most stress is losing employees and trying to find new ones. Without great staff, you won't have a great restaurant.
I love restaurants and the food service industry so whenever I get asked this kind of question, I could go on forever, but I wake up in the morning loving what I do. I've had some failures; I've shut down two restaurants that I've owned in the past, but I haven't become jaded. I think I've become smarter. You need to know where to put your emotions and energy. I used to get very angry or over-passionate about things that didn't really matter to the restaurant or guests. Becoming more mature over time has brought me relief to things that used to give me stress. It's a terrible business if you don't love it.
How has it been operating the restaurant group this year with the pandemic compared to previous years?
As far as being in Canada, I'm really happy. Saskatchewan is taking this very seriously and we really respect each other. People wear masks everywhere they go; the shutdown was quite effective, and our numbers have stayed pretty reasonable. Everyone here is doing their part and we're proud of that.
We did takeout throughout lockdown. People were very supportive. I found they would go out of their way for us. They really felt for the people that couldn't make money or work due to the shutdown. We weren't expecting people to come from Toronto, Vancouver or Calgary for business and tourism. Local was always our focus but we're even more so now.
We were really worried about the farmers ¾ we have two or three that provide almost all our products each year. They grow whatever we need so not knowing if we'd be able to reopen and buy all of that stuff is as stressful as shutting down our businesses. They make our restaurant really great with all these amazing locally grown vegetables and meats.
When we were allowed to reopen, we changed the menu every two to three days to accommodate all these different ingredients coming in. We managed to buy everything we promised to.
The fifty percent capacity is challenging because your costs don't change. We've been greatly supported by the government as far as wage subsidy goes and our landlords have been great about using the rent subsidy as well. Overall, the goal right now is not necessarily to make money, it's to avoid losing money, stabilize and keep going until we're out of this pandemic.
We're really proud we got to rehire almost all of our staff, and I think we're better off than we were. If you don't come out of this a better person, you need to look harder at yourself. It was a time to reset, look at our businesses and ask what's working and what's not. How can we be more profitable? Where can we cut? Where can we do better? I'm lucky to get that clarity and have great business partners. That being said, I wouldn't want to do 2020 again.
What's next for Grassroots Restaurant Group? How would you like to expand your business in the coming years?
My partner and I were just about to start renovating to create an event centre in Regina in the same building as Avenue. That's something we'll still do, but we're glad it's on hold since event centres are all about gathering large crowds.
We don't have grand ideas for opening anything new right now. It's just about maintaining quality and keeping our guests coming in. That's what's special about having head chefs and general managers in each restaurant: their passion will continue pushing us to evolve. I can't change everything ¾ nor can my business partner ¾ so we rely on our staff to help move things along.