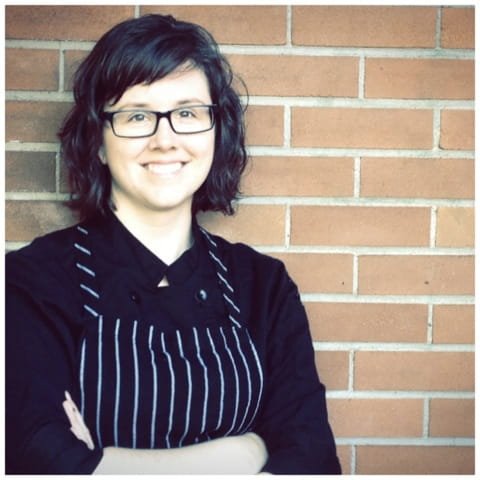 Breakfast Elevation – Taking the Most Important Meal of the Day to New Levels of Flavour
December 22 2017
Raised in rural Northern Alberta, Chef Trish Gill always had a growing interest in the culinary arts. With a growing appreciation for wild, home-cooked meals living in a community of hunters, fishers and gardeners, Chef Trish Gill started her foodservice journey in a local dish pit and never looked back.

Today, she is the reigning champion of comforting breakfast foods, working out of her Windsor-based restaurant, The Twisted Apron.

We spoke with Chef Gill to find out more about her passion and flavour processes behind taking breakfast beyond the typical scrambled eggs and avocado toast.

You've been recognized as Windsor's breakfast queen for developing the ultimate morning comfort food with a twist. Can you share your inspiration behind this style of cooking?

I was definitely born with a passion for the first meal of the day. When I was maybe three or four years old, my mom woke up at 6:00am to find me making French toast for myself.

Growing up in such a large family, gatherings were always a special time and I guess that's how I approached cooking for guests in the restaurant as it should also be a special experience. If I'm in a restaurant, ordering off a menu, it's going to be something I normally wouldn't make for myself and that's what I like to do for our guests. I create something that they wouldn't normally think of or want to complete first thing in the morning.

Can you describe your flavour process for taking common breakfast offerings like pancakes and waffles to the next level in terms of the cooking techniques that you use?

I like to use unexpected ingredients but in a very familiar way. For example, using banana bread but cooked like waffles or savoury pancakes stuffed with cheese and greens.

Mixing sweet and sour flavours is another one of my signature techniques. For instance, when I was a kid, one of my favourite pancake toppings was sour cream and brown sugar which goes well together and hits all of those flavour notes.

As you opt for more unique and un-common ingredients, and are known for using fenugreek, can you explain your selection process and why you feel these ingredients' flavour profiles pair well with your breakfast dishes?

Fenugreek is one of my go-to's and is a pretty easy for me to use in breakfast cooking because it's often used in artificial maple syrup flavouring which adds that familiarity aspect.

In general comfort food is traditionally super heavy so I'll look to different spices to brighten up my dishes. Sumac is a prime example of this because it has a citrusy salinity to it.

Another example of this would be the fact that we add caramelized onions to most everything in the restaurant (like our breakfast hash and sandwiches). I like to add star anise to the onions and cook them together. It creates the same aromatics as the Maillard reaction, just like with grilled meats and super umami flavours. They help to stimulate the appetite.

Smoked Paprika is also in the majority of our dishes. This spice adds earthy notes and smokiness to our menu items such as, breakfast sausages and our sauces.

What's one piece of advice you'd give to chefs looking to elevate their breakfast menus, making them stand out amongst the crowd of breakfast restaurants?

Comforts are classic for a reason, people love them. I would recommend staying with the basics but travel the world and look for inspiration. For example, hollandaise doesn't have to just be a base of lemon and white wine. Add some spices to it. Add a different type of acid like lime juice and cilantro or another type of vinegar. It makes all the difference.

Which new flavours and ingredients can we see making their way to the centre of the plate at your restaurant?

We always try to use seasonal ingredients and we're constantly changing our menu. Windsor is a fairly blue-collar town and guests know exactly what they like.

I would like to push the boundaries a little bit and get guests really excited about flavour profiles they haven't tried yet like za'atar, chilies, turmeric, cumin and fenugreek to name a few.

As for ingredients, I think we'll add more vegetables to our menu. I'm totally a carnivore so what I like to do is treat my vegetables like I would a protein, using heavy searing, smoking and grilling, to get as much flavour out of those vegetables as possible. By simply marinating and grilling carrots makes a world of difference.